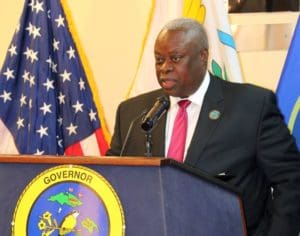 A majority of public schools will open as scheduled Sept. 4, but Gov. Kenneth Mapp said at a Wednesday news conference that safety concerns with modular and related electrical installations have delayed the opening of others until Sept. 17.
And then there's Arthur Richards Elementary on St. Croix, whose opening is to be determined.
Opening on Sept. 4 on St. Croix will be: Alfredo Andrews, Alexander Henderson, Pearl B. Larsen, Juanita Gardine, Ricardo Richards and Claude O. Markoe elementary schools, along with Elena Christian (at the current Manor School site) and John H. Woodson junior high schools and the St. Croix Central High School. Educational Complex will also open, along with its Career and Technical Education and Vocational Education programs.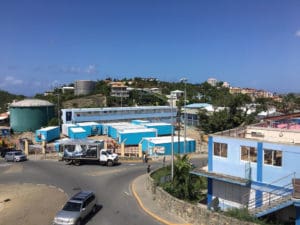 On St. John, Julius Sprauve will not open until Sept. 17.
On St. Thomas, schools opening Sept. 4 are: Joseph Sibilly, Jane E. Tuitt, Leonard Dober and Ulla F. Muller elementary schools (Lockhart Elementary and Gladys Abraham students will share the Muller campus,) along with Bertha C. Boschulte Middle School, the Raphael O. Wheatley Skill Center and the Adult Education program.
Neither of St. Thomas' high schools will open until September 17. Students from Addelita Cancryn will also begin school at CAHS – with classes held in the modulars on the CAHS field – at that time. Joseph Gomez Elementary on St. Thomas, along with Eulalie Rivera and Lew Muckle elementary schools will also reopen Sept. 17.
For any schools able to open before that date, the extra time will be spent going through student and teacher orientations, and sessions on how to access the facilities, the governor added Wednesday.
Mapp spoke about his disappointment with contractor AECOM in getting the modular installed on time. While company officials were confident they would hit an earlier date of Aug. 28, Mapp cited challenges that included logistics, getting sites identified and getting materials produced in factories from Florida, Georgia and Pennsylvania to arrive on island at the same time. There was also coordination needed for delivery of a Sprung structure being put together in Utah.
"They assured us the schools would be ready, so I was going with the information I had," Education Commissioner Sharon McCollum added Wednesday as she fielded questions from the media about the holdups.
Mapp likened the situation to residents having to rebuild their homes, and getting stuck by delays from contractors.
"When we visited the sites, we had to make really an informed decision about what sites our children should learn in and what conditions our teachers should work in," he said.
The fine line, however, comes in completing permanent repairs on damaged campuses that need to be eligible for a reimbursement from the Federal Emergency Management agency. Temporary repairs will instead by ongoing, and Mapp said the government is still assessing each school facility with both federal partners and its consultants, to see what can be taken care of permanently.
Mold remediation, he added, is at the top of the list, along with replacing kitchen equipment and furniture in six local schools.