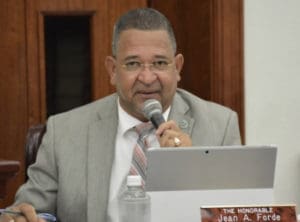 While administration officials peg the structural deficit at $200 million per year, and government agencies face yet another year of budget cuts impacting services, the Legislature and Gov. Kenneth Mapp are sharing credit for pay raises for V.I. government employees in the remaining weeks before the election.
July 26, a week before the Aug. 4 Democratic Party Primary, Democratic Sens. Jean Forde, Kurt Vialet and Marvin Blyden issued a press release announcing legislation for a $5,000 increase to the base government salary, bringing it to $25,000 per year. The pay raises were to take effect in October, right before the election. (See Related Links, "Days Before Primary, Forde and Vialet Propose Government Employee Raises," below.)
Four days later, Mapp, who is running for reelection as governor as an independent, held a press conference trumpeting a slightly larger increase to $27,040 and an array of other government pay raises. Those larger pay raises started taking effect sooner, at the beginning of August.
Monday, the Finance Committee voted to send the Legislature's pay raise bill out of committee after amending it to match Mapp's larger increase. And Mapp issued a press release Monday again trumpeting his larger package of pay increases.
Forde said the bill had nothing to do with the upcoming election because he introduced it in 2017.
"In 2017 this was not an election year. That is to be highlighted for all the distractors who say we only do things like this because it is an election year," Forde said.
According to the Legislature's bill tracking system, Forde submitted a draft of the bill in January 2017, the Legislature registered it and sent its formal first copy back to him Jan. 20, 2017. The Legislature's website says "date introduced: 7/17/2018."
Senators and administration officials both say the current minimum pay level is very difficult to live on. At Monday's hearing, Budget Director Julio Rhymer said at $27,000 a government employee could qualify for some home ownership programs while that employee could not qualify at the current $20,000 minimum government salary.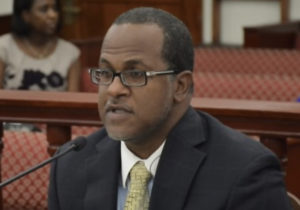 Forde said senators consulted with the Legislature's post auditor and administration officials and found "we can sustain $27,000" so they would amend the original bill to match Mapp's increase.
He said the legislation was needed despite the executive order.
"The governor can issue executive orders but that can be changed. … This will codify it and make it law," Forde said.
Administration officials testified in support of the bill at Monday's hearing, saying they were "sustainable" and that ArcLight's announced, but not guaranteed, partial restart of the former Hovensa refinery would increase revenues by enough to cover the cost of raises as well as ongoing severe structural budget deficits.
Although its owners have said they hope to reopen the refinery they have not committed to do so. The Legislature just approved a new agreement negotiated by the Mapp administration that gives the companies involved (ArcLight and Limetree Bay) several more years to decide if they will reopen or not. During hearings on that agreement, company officials and V.I. government consultants asserted the refinery would restart but consistently declined to guarantee it.
While administration officials spoke of the restart as a certainty, when Jake Erhard of ArcLight Capital, parent to Limetree Bay testified to the Legislature, he qualified the promises.
"Assuming Limetree is successful in effecting a restart, the proposed project would bring considerable benefits to the USVI," Jake Erhard of ArcLight Capital, parent to Limetree Bay testified to the Legislature.
"There is not an affirmative duty" to restart the refinery, Geoffrey Eaton from Winston and Strawn told senators at the same hearing.
Sen. Nereida Rivera-O'Reilly said she supported the idea of pay raises "but we know the realities of our financial situation." She asked if the administration had data on the likely budget cost of the increases.
Rhymer said just increasing the base pay to $27,040 would cost about $6 million; while the other pay raises in the executive order would bring that cost to "about $11.1 million going forward."
Sen. Tregenza Roach (D-STT) asked how much the administration was setting aside for these pay raises and all collective bargaining negotiations for the next year.
"It will be $36.4 million," Rhymer said.
"You are telling us we can sustain these pay increases?" Sen. Positive Nelson asked.
"Yes," Rhymer said.
"At the same time you are telling us we have a structural deficit? … What is the structural deficit?" Nelson continued, referring to the territory's ongoing, unresolved structural annual budget shortfall.
"The structural deficit could be $200 million roughly," Rhymer said.
Nelson asked how much revenue growth the administration anticipated from the hoped-for refinery restart.
"About $170 million in revenue growth. … I am being very conservative," Rhymer said. At a later hearing, Rhymer said $170 million is the estimate of the temporary increase in revenue from post storm reconstruction.
That would be more revenue than Hovensa produced. A 2013 V.I. Bureau of Economic Research report calculated the refinery closure caused "an annual decline of approximately $140 million," in tax revenues.
Limetree and ArcLight officials testified to the Legislature that any new refinery operation would be smaller, refine less oil and have fewer employees than Hovensa.
The Mapp administration has raised pay levels in the face of budget deficits before.
In 2016, Mapp also increased salaries, at an annual cost of $20 million and the administration pointed to the massive size of the structural deficit to indicate the raises were sustainable.
"Are you comfortable that we are going to be able to sustain these salaries?" Sen. Jean Forde asked back then.
"It would not make our situation any worse," Bowry said in 2016, adding "we have a structural deficit of about $100 million on an annual basis and that will face us next year also."
Voting to send the bill out of committee for further debate were: O'Reilly, Roach, Vialet, Blyden, Sens. Dwayne DeGraff (I-STT), Neville James (D-STX) and Brian Smith (D-At Large).