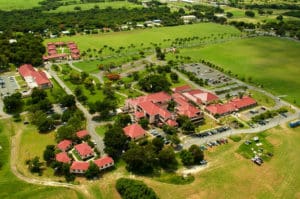 UVI to lead STEM Leadership Research through National Science Foundation Grant The University of the Virgin Islands will lead a collaboration of four entities that received a $9 million award over five years in funding from the National Science Foundation to create the Center for the Advancement of STEM Leadership (CASL). This center is the nation's first broadening participation research center. The four partner institutions involved in the execution of the grant are the University of the Virgin Islands, North Carolina A&T State University, Fielding Graduate University and Association of American Colleges and Universities.
CASL's goal is to serve as the nation's premier intellectual and scholarship-generating resource for examining and determining the kind of leadership that broadens the participation of African Americans in STEM (Science, Mathematics, Engineering, Mathematics). Likewise, CASL aims to meaningfully contribute to the development of next generation leaders who are able to preserve the legacy of HBCU success. Through its wide-ranging objectives of broadening participation research, expanding STEM education, and developing mainstream outreach and knowledge transfer, UVI will be the lead institution charged with achieving the grant's research objectives.
More information is available in a news release on the Media Section of the UVI website – http://www.uvi.edu/
UVI Students to Participate in NSE Programs in Fall 2018 Nine UVI students on the Albert A. Sheen Campus on St. Croix will commence studies at other universities in Fall 2018 and Spring 2019 through the National Student Exchange Program (NSE).
The National Student Exchange Program provides students with the opportunity to study at other institutions in the United States including Puerto Rico and Guam. Students learn about different cultures, different geographical locations, explore graduate school and employment options, enroll in courses not presently offered at UVI, expand their world view, and experience personal growth and enrichment.
Patricia Towal, director of counseling and career services and NSE coordinator on the Albert A. Sheen Campus, says that study abroad programs offer students an amazing life-changing experience.
"Watching our students prepare to exchange and seeing the results when the students return is truly a thrilling experience," said Towal. "Stepping out of their comfort zone brings so many growth benefits to our exchange students as they meet new experiences, new cultures, new people, and new challenges. Our students rise to the challenge brilliantly."
More information is available in a news release on the Media Section of the UVI website –http://www.uvi.edu/
Coastweeks Seeking Volunteers for Debris Clean-up Beginning Sept. 15 The Virgin Islands Marine Advisory Service (VIMAS) is seeking volunteers for beach clean-up starting on Sept. 15 and continuing through Oct. 31.
The first beach clean-up will be at John Brewers Bay at 9 a.m. on Sept. 15. This is an opportunity to help with the removal of harmful debris from our beaches that could negatively impact wildlife.
For more information, contact Howard Forbes at 693-1672 in the Center for Marine and Environmental Studies or e-mail: [email protected].
UVI Plays Vital Role in VI Ocean Glider Pilot Project The University of the Virgin Islands (UVI), through an agreement with Ocean and Coastal Observing – Virgin Islands (OCOVI), has lent its support to housing data-collecting underwater drones that will aid in improved hurricane forecasting.
The project to deploy ocean gliders in USVI waters began on July 17. The deployment schedule saw the first glider going into the water 15 miles south of St. Thomas-St. John on July 17, followed the next day, July 18, by two deployments north of St. Croix and one west of St. Croix. On July 19, the fifth Glider was released at a station northwest of St. Thomas.
The summer long project includes ocean gliders plying the waters of the US Virgin Islands as a means of advancing the understanding of ocean characteristics and contributing to improving hurricane forecast models. Additionally, two of the gliders are carrying passive acoustic recorders to listen for whale sounds.
"UVI's Center for Marine and Environmental Studies and its emerging oceanography program is very excited to be able to participate in this important project," said Dr. Paul Jobsis, acting director of the Center for Marine & Environmental Studies. "We plan to continue this work in the future with OCOVI, NOAA, the U.S. Navy and CariCOOS-UPR," he said. "The logistics and student involvement we were able to facilitate is important. UVI students are some of the best and this shows them that globally important science is happening in the Virgin Islands."
More information is available in a news release on the Media Section of the UVI website – http://www.uvi.edu/