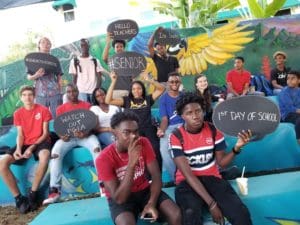 The students of Virgin Islands Montessori School & Peter Gruber International Academy (VIMSIA) attended their first day of school on Monday, as the school marked its 55th opening day. Staff, administrators and parents were happy to see familiar faces and welcome many new friends, both to the school community and the U.S. Virgin Islands.
"This will be our best year yet," said Head of School Michael Bornn, adding that the theme for the year is derived from the Greek word "meraki," which means to do something with love, soul and creativity, to leave a piece of yourself in your work and to leave something behind. "We as educators are constantly doing this," said Bornn.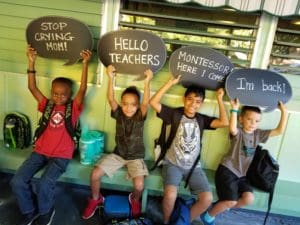 With over 65 new students, this year's Peter Gruber International Academy (PGIA) seniors are glad to make new friends and anxious to end strong, while working towards their International Baccalaureate (IB) diplomas. Last year, in addition to earning a high-school diploma, 60 percent of VIMSIA seniors earned the prestigious and highly coveted IB diploma, which has created various new collegiate opportunities. Only a small percentage of seniors in the U.S. earn this degree, which is respected around the world.
In the PGIA, students started off the day with 30 minutes of a meet and greet social and were encouraged to welcome new friends.
"The PGIA is going to tackle the 2018-2019 school year. We are in excellence mode with high expectations and lofty goals," said Gloria Arpasi, director of PGIA.
"It feels great to be back for the 2018-2019 school year. I loved greeting all the parents and students as we met on the turf of our second home we call VIMSIA. I can already feel that it is going to be a strong year full of student learning and growth!" said Michele Weichman, dean of students.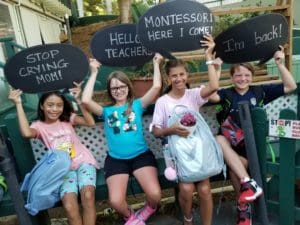 Like so many other schools in the territory, the summer months were used to rebuild and renovate damaged spaces. "Getting the school back to tip-top shape took a village, and we are so thankful to the parents, staff and volunteers who helped not only improve VIMSIA but propel it forward, becoming one of the leading schools in the U.S. Virgin Islands," said Bornn.
VIMSIA was first established in 1964 as an AMI accredited Montessori School. The tradition is continued as an accredited Association Montessori Internationale school for ages 3 – 12, and the school has become an authorized member of the International Baccalaureate World. Research from leading institutions shows that IB students are more likely to succeed in higher education than those who attend traditional school.
To learn more about VIMSIA, visit www.vimsia.org.