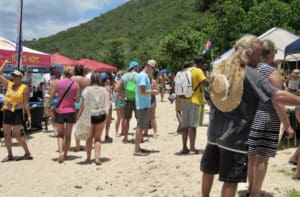 The air was thick with the aroma of spices and meat Sunday as community members gathered in Brewer's Bay in St. Thomas Sunday for the 34th Chili Cook Off.
The event, hosted by the Texas Society of the Virgin Islands, had 41 participants, with eight of them offering a vegetarian option. This is the 14th year the event has included vegetarian options.
This year's theme was VICHILISTRONG, highlighting resilience after Hurricanes Irma and Maria.
"We usually get many volunteers from the mainland to help out, but after the hurricanes there was not enough hotel space to accommodate them. With as much as we went through during the hurricanes, imagine how hard our local charities were hit," Ackerson said.
A range of community figures had chili to offer. Local businesses including Pro Solar System and KLR Services went up against nonprofits and community groups such as Rotary Club St. Thomas East and the St. Thomas Sports and Social Club.
Some political candidates also took part in the festivities. Attendees had an opportunity to taste chili prepared by supporters of gubernatorial candidate slates Janelle Millin Young and Edgar Bengoa, Albert Bryan and Sen. Tregenza Roach, and Adlah Donastorg and Alicia Hansen, as well as Sens. Jean Forde and Marvin Blyden, and Senate candidates Donna Frett-Gregory and Stedmann Hodge Jr.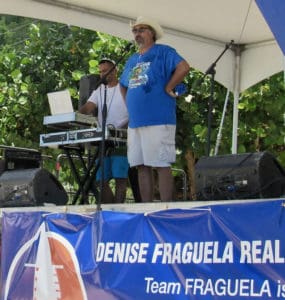 The Family Resource Center took the time to advertise some of its own fundraisers. After extensive hurricane damage closed the group's thrift shop Cece's Closet, Yacht Haven Grande has offered its Havana Nines location for them to open up shop on Aug. 31 and Sept. 1. The event is called Shopping with Sparkles: Back to School Edition, and school supplies will be available.
One booth named Ella's Chili used its entry to bring awareness to Rett's Sydrome, a rare neurological disorder involving a deletion on the X chromosome. The young girls in which it occurs may lose motor functions, and seizures are common. The namesake of the chili and the group Ella's Hope is Ella Gaspard. Donations for Rett Syndrome research are being collected through the Community Foundation of the Virgin Islands.
When speaking of his hope for the event, Ackerson said "I hope the public shows up to appreciate what we were all able to get through. This is a great event for us to come together and celebrate the ways we have all helped our friends and neighbors."
Chili Cook Off entrants ranged from restaurant owners and staff to individual chefs, all bringing a unique blend of spices and flavor to the competition.
Winners were selected from the small-show competitors. The large show competitors, chefs who prepared the best vegetarian chili, and additional praise was given to the top 10 competitors overall. They were Claire Chapman, Georgeann McNicholas, Jahmal Dyer, Donald Pomeranz, Shereika Mathurn, Jasper Templeton, Lori Abbotts, Kathy McCallister, Heidi Erwig and Heidi Taylor.
In the small-show competition, Not My First Rodeo captured first place, with Ocean Safari in second and Dog House Pub in third.
Heidi's Honeymoon Grill placed first place in large-show. Denise Fraguela Real Estate placed second, and Pomerosa placed third.
Donald Pomeranz's vegetarian chili won first place in that category, while Marleen Dykhuis and Heidi Erwig placed second and third place respectively.
The Texas Society is known for its charitable donations. Funds collected at their annual fundraisers is regularly used to support community organizations including a University of the Virgin Islands scholarship.
In addition to selling tickets for chili tasting and drinks, shirts commemorating the event were also on sale.
The Cook Off was sponsored by Coors Light, Captain Morgan, Denise Fraguela Real Estate, JetBlue, Tshirt1, The Department of Tourism,Theodore Tunick & Company, Viya, V.I. Lottery, WAPA, Fortress Storage, KLR Services, Merchants Commercial Bank, Natural Food Grocery & Deli, Crowley, Heidi's Honeymoon Grill, Caribbean Packaging, and Banco Popular.
Entertainment for the Cookoff was provided by DJ Cypha, and the Jake Bradley Band.