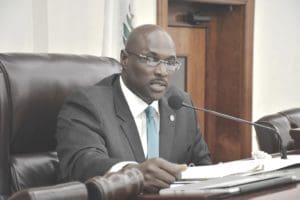 Six senators voted Wednesday to appropriate money that may not exist, in an amount with no relation to any projected costs, for a project that may never occur, by re-appropriating previous senators' appropriations of arbitrary amounts for other projects that never happened.
The bill, (32-0247) sponsored by Sens. Novelle Francis (D-STX), Nereida Rivera-O'Reilly (D-STX) Kurt Vialet (D-STX) and Janelle Sarauw (I-STT) nominally appropriates $2 million to renovate a derelict facility in Estate Anna's Hope into a mental health facility and $1 million "for the development of Outpatient intensive treatment program" (sic).
No one testified for or against the bill, which was added to the Health, Hospitals and Human Services Committee agenda at the last minute. O'Reilly said there would be testimony when the bill is heard in the next committee. The departments of Health, Property and Procurement and possibly Public Works would need to carry out the two projects of creating a facility and a program. If it occurs, those entities would issue requests for proposals and approve scopes of work, determining the actual cost. The amounts necessary to actually carry it out are as-yet unknown. A treatment program would require ongoing, annual funding.
The legislation has two nominal sources of funding: $1 million is "re-appropriated" from a 2014 piece of legislation (Act 7697) that appropriated $1 million from "(a)ny refund from CIGNA to the Government of the Virgin Islands for overpayment" for the Gov. Juan F. Luis Hospital to restore its acute care inpatient psychiatric unit. That unit was shut due to budgetary issues in 2012.
It is not clear whether this 2014 funding exists currently. The V.I. government has been facing severe budget shortfalls for the past several years. The government is years past due in payments to multiple vendors, including around $6 million it owes the operators of the territory's sewage treatment plants. It currently owes many tens of millions of dollars in past-due utility bills and tens of millions of dollars in unpaid tax refunds. The 2015, 2016, 2017 and 2019 V.I. Government executive budgets make no mention of millions of dollars in refunds from CIGNA, nor have millions of dollars in refunds been mentioned in the several legislative hearings on last-minute renewals of the government's policies with CIGNA.
The project senators previously appropriated money for four years ago from "any refund" from CIGNA never happened.
Another $2 million is from funding in the 2016 budget from the St. Croix Capital Improvement Fund to "access Federal New Market (sic) Tax Credit funding" to build "a new Herbert Grigg Home for the Aged."
Grigg home was severely damaged in last year's storms.
That project also did not occur. One factor may have been that the Federal New Markets Tax Credits are tax credits for private development, not a funding source for public construction. Another may be the absence of cost estimates or a plan from the Department of Health or Public Works to build a new Grigg Home. On several occasions under the current and previous governor, members of the governor's financial team have testified that the St. Croix Capital Improvement Fund was already over-appropriated. (See: Senate and Government House Scour Capital Project for Unused Funds)
Senators' discussion focused on St. Croix's urgent need for public mental health care rather than the feasibility of the legislation.
While introducing the bill, Francis said the mental health unit at Gov. Juan F. Luis Hospital was closed in 2012 and not replaced.
"Incarceration is not the answer for one who is in crisis and needs to be stabilized," Francis said.
"We sought to use the bitumen funds and were told the funds could not be used. We didn't give up on finding a funding source. We persevered," Francis said. The bitumen funds refers to $6 million Limetree Bay Terminals paid the government in lieu of rehabilitating some tanks for the government to use for bitumen to make asphalt.
Rivera-O'Reilly said there will be testimony when the bill is heard next in the Rules and Judiciary Committee.
"We felt it was essential to move the bill today," so that it could be approved in a session planned for the end of the month, she said.
Vialet also mentioned the closure of the mental health unit at JFL and the lack of any public in-patient mental health facility.
"We don't have an Eldra Schulterbrand facility. … Patients go to the hospital and are let go after a few days," Vialet said. That long-term mental health care facility is on St. Thomas.
Whether this appropriation will result in the envisioned new center is unclear. The V.I. Legislature frequently makes appropriations for projects that never happen. In years past, senators have made appropriations for many purposes, from road repairs to community centers, disconnected from any actual cost estimates, seeking to fill a need. Sometimes a governor vetoes the appropriations, saying the amount is not enough to get the job done, or that the money cannot legally be used that way. (See: "DeJongh Vetoes Items Before Signing Bond-Authorization Bill.") Other times, the appropriation is signed but simply languishes until the funds are re-appropriated to other uses or evaporates when revenues fail to meet projections.
For example, several years back, Sen. Wayne James championed a $1.5 million appropriation of bond funds to rebuild Durant Tower in Frederiksted. The original "tower" was an attractive Victorian-era house with a tower-like structure built into it. It burned down in 1989. The executive branch made no moves toward starting the project and the funds were eventually re-appropriated. (See: The V.I. Budget Crisis: Part 9, Hyperactive Legislating)
However, the territory is authorized to receive up to $1.8 billion in funding for infrastructure from the U.S. Department of Housing and Urban Development. Government House is putting together the proposals for those grants. Whether the executive branch's proposals include any sort of in-patient psychiatric facility is not yet known.
Voting to send the measure on to the Rules and Judiciary Committee were: Vialet, Francis, Rivera-O'Reilly, Sens. Marvin Blyden (D-STT), Dwayne DeGraff (I-STT) and Sammuel Sanes (D-STX). Sen. Janette Millin Young was absent.