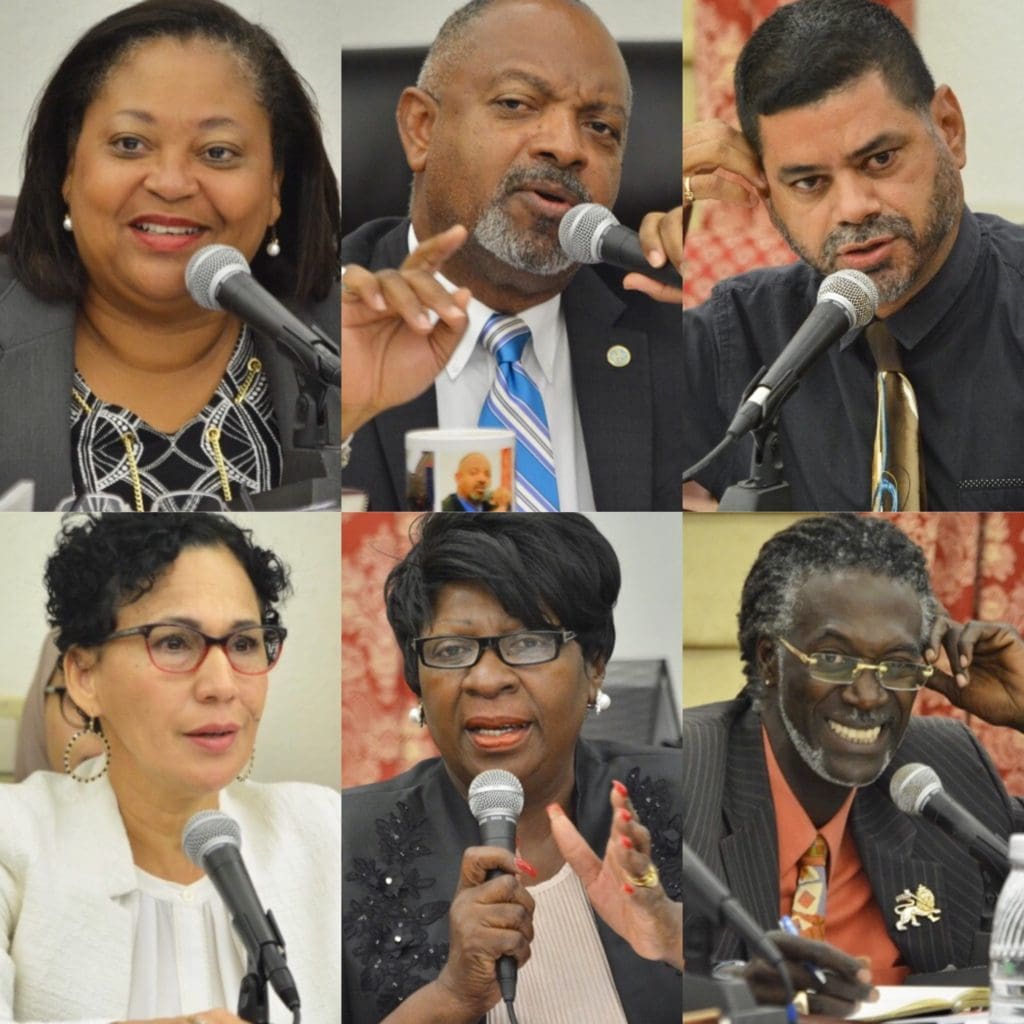 With at least six veteran lawmakers exiting the Legislature come January, some senators say the institution will need to lean on experienced central Senate staff to hold the ship steady as neophyte lawmakers navigate their first term in office.
"I think it's going to be a transformation, but the process is what it is," said Sen. Myron Jackson (D-STT), the third-term senator and sitting senate president who recently secured his party's nomination in a bid for a fourth term in November.
Jackson noted that the Senate is poised to lose some of its "anchors" this year. Opting out of the St. Thomas Senate race are Sen. Janette Millin Young (D-STT), who is running an independent gubernatorial campaign with running mate Edgar Bengoa, and Sen. Tregenza Roach (IND-STT) who recently sailed to Democratic primary victory as gubernatorial candidate Albert Bryan's running mate.
On St. Croix, four outgoing senators will leave a gaping hole in the senate establishment. Sen. Alicia "Chucky" Hansen (IND-STX) is currently running for lieutenant governor under independent gubernatorial candidate Adlah "Foncie" Donastorg. Sen. Sammuel Sanes (D-STX) ran an unsuccessful campaign under Democratic gubernatorial candidate Allie Petrus while Sen. Positive T.A. Nelson (ICM-STX), after a back and forth with the Board of Elections, is backing off from his fight to stay on the ballot as an independent candidate for governor.
Meanwhile, Sen. Nereida Rivera-O'Reilly (D-STX) declared she is simply no longer running for office, although she posted a status update on her Facebook page Thursday night that she was running a "writing campaign" to "keep them honest."
The sheer number of vacated seats will almost surely absorb freshman senators, but this will not throw a wrench in the gears of the institution, according to some lawmakers. Nelson, who is in his seventh term, said institutional knowledge lies in the Senate's central staff.
"Yes, there are some political maneuverings that an experienced senator has and having relationships with individuals within agencies also is a plus for a senior senator," said Nelson.
"But central staff is really who guides the senators," he added. "With their personal staff, individuals with some know-how as it relates to writing policies, and maneuvering through the legislature, a new senator can be alright."
Sanes, who is in his fifth term, agreed, sharing how an experienced staff got him through his first term.
"When I first started as a freshman senator, I was very lucky to have a chief of staff that had over 25 years experience in the Legislature and she really helped me out a lot," said Sanes.
"I do hope that some of these individuals who are coming in will at least get individuals who have experience as part of their staff, which is very important," he said.
Some newcomers do carry varying degrees of government experience. Top St. Croix vote-getter Alicia Barnes served as commissioner of the Department of Planning and Natural Resources while Donna Frett-Gregory served as Education Commissioner, both as recently as the DeJongh administration. This will come in handy, said lawmakers, in terms of knowledge of how the various agencies of government operate and the specialties these senators bring with them.
On the other hand, this means that with the loss of specific senators also comes the loss of their specific skill sets and knowledge.
"Some senators in the past were housing czars, or they were in finance, or they dealt with public works, or dealt with energy specifically, and that was their agenda," said Jackson.
"Last year, we lost [former Sen. Clifford] Graham, and that was also a loss to the institution and the skill sets that he brought. He most likely would have been the chairman of the finance committee again," Jackson said.
Whatever their level of experience in government, freshman senators will have to step up and learn quickly on the job, said lawmakers. Nelson suggests taking to heart the few days of pre-swearing in orientation, brushing up on their parliamentary procedures and Robert's Rules of Order, and getting acquainted with the various administrative divisions within the Senate and their functions. Even then, new lawmakers will always hit a learning curve, he said.
Jackson agreed, saying new senators come in with the expectation of checking off their platforms within their two-year term, but end up getting overwhelmed by the multi-stage and time-consuming process of getting a bill through to committee.
"There are hundreds of bills that come through a legislature; many don't get to the floor because of the backlog of legal counsel," Jackson shared. "You're fortunate if you could get the number of bills that you could get through to committee and it requires skill and efficiency and competence to get your bills through and to get consensus."
In spite of these challenges, a fresh batch of senators is not necessarily a bad thing, said Nelson. He sees the current legislature as "totally controlled by the governor," and new blood in the senate might mean enough independence, he said, to hold administrations accountable.
"We are the checks and balance, and I believe the 32nd Legislature, in many instances, has given up its authority to actually be that check and balance," he said.
Nelson is not the only outgoing senator who thinks the executive branch needs to be reined in, and as a result, decided to join an unusually large number of senators challenging the executive branch by joining gubernatorial tickets this election year.
In the last several gubernatorial elections, the trend regarding sitting lawmakers running against incumbent governors looked different. In 2010 and 2014, only two gubernatorial teams ran, while three teams competed in 2006. The 2002 election year saw one of the largest pool of gubernatorial teams, but few included incumbent senators.
Sanes said he joined the Petrus ticket this year to expand his horizons, but added that taking a chance to challenge the administration was also born out of frustration at the executive branch's resistance to implementing laws coming out of the Senate.
"And I'm not just talking about just this administration," he said. "It is unfortunate that past administrations have ignored laws that have been passed by the senate. So for me it was a step in the right direction, being part of the branch that can actually implement some of the laws that the senate has passed."
Nelson spoke more bluntly, airing his protests against Gov. Kenneth Mapp that drove him to run for governor.
"I think his priorities are misplaced, I think his arrogance is overbearing, he lacks sensitivity to families and how they are impacted by what is said and done by our chief executive," Nelson said.
In the end, while incumbents have a variety of reasons for stepping out of the Legislature, they all contribute to one result: a relatively fresh-faced 33rd Legislature come January. For Jackson, this has the potential to bring "better efficiency" to the establishment, but that would still involve learning the culture and the processes quickly.
"You get in there and it's quite different from thinking about how you're going to function because the institution is a culture unto its own, however good, however bad," Jackson said.