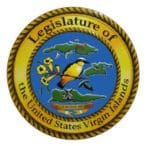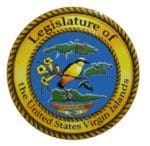 Work will begin on Sunday, July 29, to remove several mahogany trees from the grounds of the Legislature of the Virgin Islands on St. Thomas that are in jeopardy of causing major structural damage to the historic Capitol Building, according to a press release issued Saturday by the Office of Senate President Myron D. Jackson.
The tough decision to remove the trees was made after consultation with a certified arborist. The conclusion was that hurricane winds of the force experienced last summer could cause the trees to fall into the roof, further compromising what once served as the historic battery.
The trees in question are about 100 years old and stood witness to the 1917 Transfer Ceremony, framed Charlotte Amalie High School graduations that once used the site as a campus, and other government operations.
"It is heartbreaking to see these ancient mahogany trees go in order to save our building. We honor the long role they have played in anchoring this historic site, providing us with their shade and beauty," Sen. Jackson said.
"We look forward to sharing them [with] our skilled Virgin Islands woodworkers who can convert one of the highest quality woods in the world into fine works of art and craftsmanship."
For more information, call 693-3519.