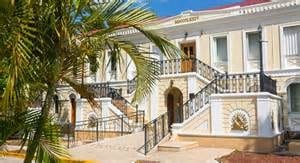 Sens. Jean Forde (D-STT) and Kurt Vialet (D-STX) introduced legislation this week to raise the minimum annual salary for full-time government employees from its current $20,000 to $25,000. The announcement comes nine days before the Aug. 4 Democratic Party primary.
There are 14 democrats vying for seven St. Thomas slots on the general election ballot and 17 democrats competing for St. Croix's seven slots. If enacted, the pay raises would take effect Oct. 1, or five weeks before the general election.
In a statement, both senators said an increase is long-overdue, as the minimum wage for government employees has not changed since January, 2007.
"You simply cannot expect a person to live on the same salary they had eleven years ago. The working class, that moves this territory forward, can no longer be ignored," Forde said.
"With the help of my colleagues, I enacted legislation that successfully increased the minimum wage to $10.50 for private sector employees as it was clear that workers and their families could not survive on $7.25 an hour. Now it is time to bring similar relief to government employees, who have waited even longer for a minimum wage increase," he said.
Vialet agreed, adding he also sponsored the private sector minimum wage increase.
"Because this measure involves the finances of the Government of the Islands, the Finance Committee, which I chair, will be the committee of origin. As such, the Legislative Post Auditor is currently analyzing the medium and long-term costs of the wage increase and we are confident that it is sustainable."
Both senators said fiscal conditions are improving, making the expense feasible. But the territory still has a structural deficit met only through draconian budget reductions and multiple agencies, from the courts to the schools, are struggling to meet their mandates after years of back to back cuts.
Vialet said by coupling responsible fiscal management with the expected increase in government revenue, the 32nd Legislature should be able to satisfy this minimum wage increase without having to increase the Fiscal Year 2019 budget.
"In short," Forde concluded, "this bill is being introduced at this time for two reasons: first, we now know how it can be paid for; and second, Senator Vialet and I are of the unshakeable belief that our struggling employees at the bottom of the pay scale must be the first people to reap the benefits of increased economic activity. Matters such as increasing the government minimum wage and making all government employees whole will be high on our agenda. Someone has to put the people first."
They said the bill is expected to be heard in the Committee on Finance within the next few weeks.
Most government employees make more than the minimum, so the change would impact a relatively small number of people. The V.I. government currently has 4,962 employees, with a payroll, including taxes and benefits, of $392 million, according to Gov. Kenneth Mapp's FY 2019 budget proposal. That comes out to an average of $79,000 per employee, inclusive of employer pension contributions and health insurance premiums.
The Department of Education is by far the largest employer, with nearly 2,500 full-time equivalent employees, of whom more than 400 would receive some raise and around 250 (roughly 10 percent) are closer to $20,000 than $25,000. Those numbers are estimates based on the personnel listing in the Legislature's post audit report for the department's FY 2019 budget.
If similar ratios held across the entire government, this very rough sampling would suggest not more than 1,000 government employees could see pay increases of between $1,000 and $5,000, costing in the approximate neighborhood of $5 million in total to implement.