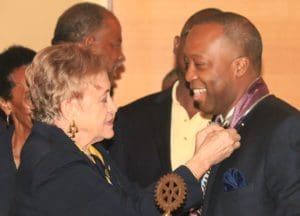 The Rotary Club of St. Thomas II installed its 40th president and board on July 11 at the French Quarter Bistro in Frenchtown.
The installations of President Kirk Callwood Sr. and the new board were a representation of transition and continuity for Rotary II. The board took the oath to lead the second oldest Rotary Club in the St. Thomas-St. John District for the 2018-19 Rotary year with a goal to strengthen the club to better serve the community through needed projects, programs and partnerships, especially in this time of ongoing recovery from the hurricanes of 2017.
As one of the new leaders of the more than 35,000 Rotary Clubs in the world, President Callwood also pledged to continue building an essential pool of Virgin Islanders through Rotary's "New Generation Clubs": EarlyAct, InterAct and RotarAct, which provide leadership and community service experience for youths and young adults.
The 2018-19 Board of Directors all pledged to support the tenets of Rotary and serve the community. The new board members include: Kirk Callwood Sr. (president), Albert Richardson (president elect), Clarence Payne (vice president), Shaniece Charlemagne (secretary), Ludence Romney (treasurer), Cassandra Mallory (membership), Yvette Sutphin (new generations), Loretta Lloyd (fundraising), Marie Hermann (scholarships), Damico Nicome (foundation), Tonia Garnet-Stapleton (public relations), Peggy Simmonds (immediate past president), Ray Barry (sergeant at arms), Vernice Gumbs (club administrator) and Feldear Webster.
The new president brings over 20 years of treasury, finance, management and executive experience with multinational companies as well as years of community service to Rotary and the Virgin Islands. His community leadership includes serving on the Board of My Brother's Workshop and working with youth as a football athletic director for the Virgin Islands Sports Training Academy (VISTA).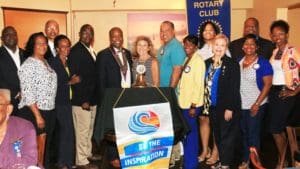 The main driver of Callwood's community engagement is his desire to support the community that has been important to his success as a professional and individual. He is a strong example of the Rotary International 2018-19 theme "Be the Inspiration." The St. Thomas community will benefit from his passion for service and understanding of the Rotary motto "Service above Self."
Rotary International unites leaders from all continents, cultures and occupations to exchange ideas and take action in communities around the world. It directs its efforts in six areas to enhance local and global impact: promoting peace, fighting disease, providing clean water, saving mothers and children, supporting education and growing local economies. www.Rotary.org
Rotary Club of St. Thomas II Facebook: https://www.facebook.com/RotaryII/. EarlyAct (Community Service for Kids): http://www.earlyact.com/. InterAct (ages 12-18): https://www.rotary.org/en/get-involved/interact-clubs. RotarAct (ages 18-30): https://www.rotary.org/en/get-involved/rotaract-clubs. Rotaract of St. Thomas II Facebook: https://www.facebook.com/rcstt2/.