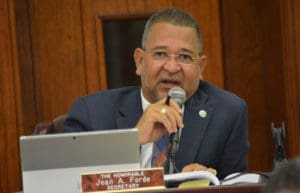 One hour into the Department of Education's budget testimony to the Senate Finance Committee on Monday, sparks began to fly after Education officials declined to answer certain personnel questions without first looking at their records.
Department of Education officials were defending their $172.2 million budget for fiscal year 2019, almost $150 million of which would go toward personnel and fringe benefits for teachers and support staff serving some 10,868 students currently enrolled in the territory.
Sen. Jean Forde (D-STT), who criticized the department as "top heavy," lambasted Education Commissioner Sharon McCollum for failing to answer immediately whether specific positions, totaling $277,000 in annual salaries, currently exist within the administrative division of the agency.
McCollum repeatedly said she needed to look into their records before she could answer the question, but Forde insisted he merely wants to know if the positions exist.
"This is nonsense," said a clearly incensed Forde. "There's a confidential assistant to the commissioner, an executive assistant to the commissioner, an executive secretary to the commissioner, an executive assistant to the deputy commissioner which we don't have, a special assistant to the deputy commissioner which we don't have."
According to Forde, he is not interested in the names of people currently holding the positions, only in whether there is a need for such positions eating up parts of the budget, especially when there are support staff such as kitchen workers earning less than minimum wage, he said.
"I need justification for some of these numbers," said Forde. "We still have very little maintenance taking place in our schools. Otherwise, we're just going to take them out of the budget."
Sen. Kurt Vialet (D-STX), who chairs the committee, had to call for a recess to give McCollum time to look for the information.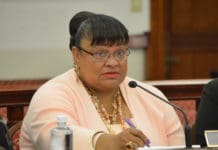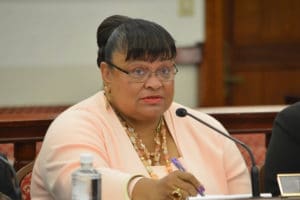 McCollum, whose office has a total of 21 employees, explained some of the positions in question. She said the assistant commissioner, who has been out on medical leave for some time, has submitted her letter of retirement, leaving a vacancy. The executive assistant to the commissioner position actually serves as the director of philanthropy and charitable donations, and the executive secretary is the employee who sits in an administrative support capacity outside her office.
Another position, listed as executive assistant, is the athletic division director, which is different from the physical education director position. The two positions that Forde raised – executive assistant to the deputy commissioner and special assistant to the deputy commissioner – are part of the fiscal division and have been on the books. The confidential assistant to the assistant commissioner position is vacant, said McCollum.
McCollum added that some of these positions are so named "for funding purposes." Vialet, however, still asked for an updated personnel list because some vacant positions are marked as filled in the Legislature's post audit report, which he fears could later lead to duplication if the department were to mark them vacant later on and result in an additional salary request for those positions.
Teacher Salary Increases
Some $10 million for contract negotiations is embedded in the budget, earmarked for the office of the commissioner, which went up from $4 million last year to $23 million. According to McCollum, the $10 million would fund any salary increases for teachers and support staff.
McCollum said that ongoing negotiations prevent her from discussing specific figures but conceded that Gov. Kenneth Mapp did speak with teachers' unions, including the American Federation of Teachers, and that a $10,000 raise for the basic teacher salary, currently set at $34,000, is on the table.
Education officials were reluctant to give a ballpark figure for the total cost of that proposed increase. Vialet, after doing his own calculations, said it would cost the department some $10.4 million to fund the salary increases for teachers only, not including the supporting staff.
"One of the things that we are also discussing with AFT is not funding 100 percent the first year but it doing over a three-year increment, doing 50 percent the first year, and then 25 and 25," said McCollum.
Vialet said the budget needs to ensure that the salary raises take effect by the beginning of the next fiscal year.
"The intent of this budget is to include a raise effective October 1, not to include $10 million and it's going to come whenever," Vialet said.
McCollum also assured lawmakers that by the start of the 2018-2019 academic year, Virgin Islands public school students will be taken off split-sessions that resulted from massive damage to local school structures sustained during Hurricanes Irma and Maria.
Before the storms, the public school system served 13,194 students, but lost 2,356 in their aftermath. The remaining students who go to schools that had to be abandoned because of structural issues have been sharing spaces with schools that remained functional.
According to McCollum, work on the temporary modular classrooms is ongoing. Foundations are being poured, she said, and some 10 ships bearing the modular units should begin arriving in the territory within the next week. The modular units arrive in halves; with 80 halved per shipload, the department should see some 40 modular units arrive at a time.
Career and Technology Education Board
CTEB acting Chairperson Ilene Garner also presented her agency's budget Monday, totaling $509,250 for fiscal year 2019. The nine-member board is charged with the administration of all career and technical education programs in the territory.
Garner said one of the misconceptions about embarking on vocational or technical career is that it is an easy task. These types of careers actually require higher math and verbal skills, said Garner, and usually yield high wages. A starting plumber, for example, can earn more than $50,000 a year, way more than the starting salary for many entry-level positions in the private or public sector.
CTEB endorses public outreach that exposes students to their post-secondary school options, something that lawmakers encouraged. However, attracting CTE teachers to work in academia poses a challenge when they can easily earn more money in their own private practice or working for private companies. In addition, in order to be certified to teach in local public schools, CTE teachers require coursework on pedagogical knowledge in addition to training in their particular fields.
The territory has 101 CTE teachers, said Garner, and roughly 60 of them are fully certified. CTEB is discussing online options for completing the requirements for certification with the Department of Education. The University of the Virgin Islands offers some professional development courses that CTEB is considering to credit as part of the coursework required for certification, said Garner.