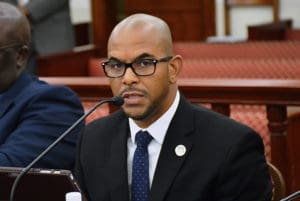 At a budget hearing Wednesday, Commissioner of Public Works Nelson Petty Jr. presented a list of extensive repairs planned for the territory's storm-damaged and otherwise outdated infrastructure, prompting some senators to express worries about recommended cuts to the department's budget.
Gov. Kenneth Mapp's recommended FY 2019 budget for Public Works contains an appropriation of $18.55 million from the General Fund and an additional $1.8 million from various local government funds. That's a 12 percent decrease compared to the department's FY 2018 appropriation. The bulk of the cuts – $850,000 – would come from personnel services.
The department is also expecting to receive less in federal grant monies from the Federal Highway Administration and the Federal Transit Administration than it did in FY 2018 – $17.2 million as opposed to $18.7 million.
"How is a department this large with so many projects to complete, and so many pots on the fire, how are you going to deliver with less money?" asked Sen. Nereida Rivera-O'Reilly.
In April, Mapp announced that, mostly as a result of the 2017 hurricanes, the territory has access to $1.2 billion in federal funds to overhaul the territory's roads over the next three to five years.
"How can you not have an increase in personnel services when you're dealing with capital outlay like that?" said Sen. Neville James, adding that he felt the decreased budget "made no sense" given all the projects DPW is faced with.
Petty told the Senate Committee on Finance that DPW is looking at avenues outside its standard budget to finance a planned increase in capital outlays. He also said some of the increase in capital outlays in the department's budget will go to contractors hired to help complete the task of restoring roads and infrastructure in both districts.
According to testimony from Petty, upcoming road repairs on St. Croix will include the paving of streets throughout Christiansted, including Queen, Strand, Hill, East, West, Smith, Prince and Market Streets. A grant from the U.S. Department of the Interior that is funding the paving of those streets is also funding renovations of Hospital, Queen, New and Hill Streets in Frederiksted.
Contracts have been procured and work has started on roads in Estate Calquohoun and Sion Hill, according to Petty, and "it is also the goal of the division to have Routes 64, near Cruzan Rum; 707 – Casper Holstein Road; and 622, in the vicinity of Work and Rest, all repaired during this fiscal year."
On St. Thomas repairs to address drainage issue are almost complete in the areas of Drake's Seat and Coki Point Road, Petty said, and the division also will soon be resurfacing General Gade and Silke Gade in St. Thomas, and Enighed Pond Road and a segment of Route 107 in Coral Bay, St. John.
DPW is planning to repair all roads damaged by Hurricanes Irma and Maria that have been deemed eligible for FEMA funding, but Petty said a shortage of personnel has slowed down that process despite $7 million in FEMA money already obligated for that purpose, with much more expected to be approved.
"The bottom line is that the roads in this territory are in deplorable condition," Senate President Myron Jackson said. "The infrastructure in this territory is in bad shape."
Petty said he expects the department to ultimately receive more than $500 million in federal funds for disaster-related road repairs.
DPW's Office of Highway Engineering, which receives funding for projects from the Federal Highway Administration, also has more than $60 million worth of projects underway or soon to begin in the territory. Those projects include St. Thomas's behind-schedule Main Street Enhancement project, which Petty said Wednesday is 30 percent complete and due to be completed in 2019.
The department also has several infrastructure projects being funded by Grant Anticipation Revenue Vehicles (GARVEEs), a type of debt financing mechanism used by many states to finance highway projects. These include the $42 million Veterans Drive Improvement project – planning for which began more than three decades ago and which broke ground in May – and the $15 million, six-segment restoration of Melvin Evans Highway on St. Croix. The first segment of the Melvin Evans work is 45 percent complete, according to Petty.
Many ongoing and planned capital improvement projects, which don't include road construction and repairs, were also listed in Petty's testimony Wednesday.
Those projects include ongoing renovations of the Florence Williams and Athalie McFarlane Petersen Libraries, the restoration of the storm-battered Eldra Schulterbrandt Long Term Care Facility, and track projects at Central High School, St. Croix Education Complex and Ivanna Eudora Kean High School.
Also included on the department's list is the construction of Frederiksted's Paul S. Joseph Stadium Complex, to include a 3,500-seat baseball stadium, a 750-seat softball field, festival facilities and 425 parking spaces. According to Petty's testimony, site preparation will conclude in December and construction will proceed on the project through 2019.
The Fort Christian Conservation project will complete its second phase with the addition of lighting fixtures in October. A phase three to include landscaping and site improvements around the fort has not yet been funded or designed.
According to Jim Grum, DPW's capital improvements program engineering administrator, contract negotiations are underway for restoration of St. Thomas Government House and the Battery on St. John, both to be funded through FEMA.
"In the meantime, can we do some protective measures to the building rather than leaving it open to the elements still?" Sen. Jackson asked regarding the Battery, the more badly damaged of the two buildings by 2017's hurricanes.
At Wednesday's hearing, Petty also told senators Public Works is in the process of modernizing and expanding public transportation in the territory, but the budget does not include the funds to make proposed improvements run smoothly.
He said DPW plans to begin the upgrading of bus shelters in the first quarter of Fiscal Year 2019. The department plans to purchase 15 new buses – five "heavy duty" and 10 "medium duty" buses in 2019.
"These buses will be equipped with new state-of-the art features to include; automatic voice announcement systems, on board next stop LED signs, single point Wi-Fi, and site stop surveys," Petty said.
He added that it will take an additional $1.6 million not included in Mapp's recommended budget to hire the drivers, mechanics and utility workers needed to operate expanded bus service, and to cover increased fuel and part costs.
DPW is also continuing to pursue the development of a ferryboat system around Charlotte Amalie harbor with service to and from waterfront, Crown Bay, Havensight and Water Island.
Wednesday's hearing was an information gathering session with no votes taken. Present were Sens. Jackson, O'Reilly, James, Marvin Blyden, Dwayne DeGraff, Kurt Vialet, Tregenza Roach, Novelle Francis, and Jean Forde. Sen. Brian Smith was excused.