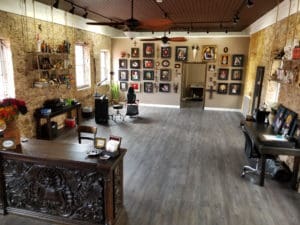 Salt of the Earth Tattoo has moved into a commercial space above Creque alley, a romantic walking strip of stonework, the name of which was made famous by the sixties group The Mamas and the Papas in a namesake song released in '67.
Their new location, formerly occupied by the local non-profit Community Foundation of the Virgin Islands, doubles their operating size, offering more opportunities for the owners to develop their brand. It's a second floor walk-up in the TOPA owned building that runs across from Royal Dane Mall, directly above the cafe/restaurant Pasta Go Go.
Tattoo business for the establishment is steady and growing despite the aftermath of "Irmaria" and a fragile downtown economy that is working to revitalize a potentially world-class historic district reportedly on the skids.
The owners of Salt of the Earth, Kristin Forbes-Mullane and Toby Mullane, are a husband-wife duo who visited St. Thomas regularly for 15 years before relocating from Phoenix and becoming residents of the territory in 2016. Their shop is one of three tattoo establishments on St. Thomas, with an exclusive element to their branding; their shop is also a curated art gallery and studio, exhibiting the paintings and other art of chief tattooist, Forbes-Mullane.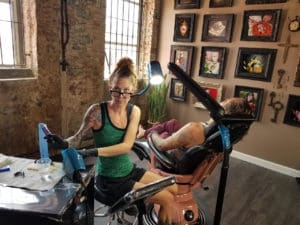 Forbes-Mullane has proven herself to the local art community and her growing client base as a multi-talented artist. Her husband is a linchpin, running their communications and appointment scheduling from a reception desk as the buzz of Forbes-Mullane's tattoo gun drones at the rear of the shop.
Tattooing and consultations are conducted by appointment and walk-in-inkings are not typically facilitated. Two to three weeks of appointments are usually on the books at any given time, according to Mullane. Forbes-Mullane consults with clients on tattoo design and artwork during morning hours and begins tattoo sessions around 11 a.m., as many as seven days a week.
As businesses have suffered loss and/or closure due to Hurricanes Irma and Maria, the couple have looked at recent history as one of transition and growth. So they've doubled down in their new space despite a loss in revenue before the territory edges back to a state of normalcy.
"I don't think we knew a storm would come, but it has all felt right," said Mullane. "A lot of things have happened to us since we've been here that just seem like they were meant to be. Whatever happened to lead us here was the right thing."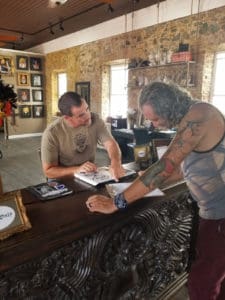 Mullane recalls the time when they were preparing to open their previous location. "We went to film screening at an art space and they happened to be showing a documentary called Salt of the Earth. We had just prior decided to use that as the name of our shop. It gives me goosebumps to talk about … that the universe was telling us something, and that was probably the first moment in my life that I really felt like that."
Forbes-Mullane gravitates towards themes that are dark and macabre. Her artist statement says she "works to blend the beautiful and the ugly to create a narrative of wonder and curiosity." The tattoo shop mirrors this approach, and the result aims to impress customers in both style and effort – a welcoming, clean, yet mysterious atmosphere with somewhat gothic accents sans pop culture fluff.
"When we started looking for a space, we went to Royal Dane Mall first," said Forbes-Mullane. They felt that Charlotte Amalie's downtown vibe was a magnet for their interests, what they wanted to represent, and where they wanted to conduct business. They became determined to root themselves in the district. This vision did not consider the heavy tourist foot-traffic on Main Street or Waterfront, or potential revenue from people visiting the island as opposed to local clientele.
"Tourists look down the alley from Main Street and think 'well it looks cool' but they aren't sure, and if they don't see a million other people conglomerating there they won't go there," said Mullane.
"High visibility wasn't really a concern – we never really talked about it as being a negative. We just focused on how these buildings are so cool and thought, we'll make it work,'" added Forbes-Mullane.
Phillip Sturm, a longtime downtown business and property owner and historian, views Salt of the Earth Tattoo as a quality business that is a welcome sign of diversification to an area that many residents consider overrun by jewelers and corporate entities that do little for the island's economy outside of the cruise ship bubble.
"It's young, it's vibrant," said Sturm. "We should get more people like that on the island. Downtown used to be the primary economic organ of this place, before Havensight and so on. People lived and worked downtown without needing a car. It was the place. There were grocery stores and all of the apartments above the jewelers were occupied by residents."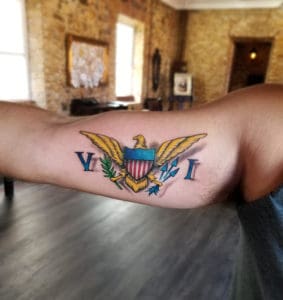 Dan Provenzola, who has worked for Palacio Jewelers on Main Street for over three years agreed that downtown could benefit from a diversification in business and flavor. A recent client of Salt of the Earth, Provenzola recently endured a three and a half hour session, receiving an inked homage to the Virgin Islands – a variation on the V.I. flag on his inner arm.
"She's an amazing artist, a true artist," he said.
In regard to downtown enhancement, he said, "The landlords need to open it up to more options. Not everyone on those cruise ships wants just jewelry either. It really needs to be spread out."
Salt of the Earth Tattoo, despite its location, doesn't cater to tourists. Many new concepts for their new space are on the table. Forbes-Mullane is "actively-informally" seeking an international guest tattoo artists to work for the business so they can accommodate more clients. A primary concern is producing quality and upholding their commitment to high standards of practice.
"It's a small island – word gets around quick for good or for bad," said Mullane. "We try really hard to have a good reputation and put out good work. So being selective about who we work with is really important."
The couple have considered adding body piercing and merchandise, but are in no rush to force growth and rely on an organic approach.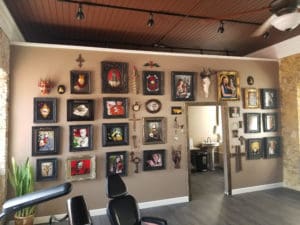 "It'll all happen when it's right," said Forbes-Mullane. Also under consideration is hosting art events where artwork by local artists can be exhibited inside their shop and gallery openings can be conducted.
"There are a lot of artists on this island and not a lot of places to show their work," said Forbes-Mullane.
The V.I. government has committed to revitalizing downtown with measures such as municipal enhancements and economic development incentive zones for businesses. The planned implementations and other proposals have been applauded by business and property owners. The couple hope that these developments bring new businesses that are focused on brands and products that are unique.
"We'd love to see diversity in the types of stores in town … more local art and craft items, clothing. Even cafes and restaurants," said Forbes-Mullane. "Everything now shuts down around 5 p.m. Additions like that would bring more locals to town and maybe even create a new night scene."
Salt of the Earth Tattoo shop is open from 10 a.m.to 5 p.m. Monday through Saturday and by appointment. The shop's website is at saltoftheearthtattoo.com, and it can be reached by phone at 340-776-8288.