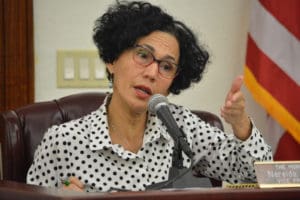 At the end of a hearing Wednesday at which senators criticized the V.I. Carnival Committee for its "opaque" and "inadequate" accounting, members of the Legislature's Committee on Workforce Development, Consumer Affairs and Culture voted to subpoena the non-profit's records.
The VICC, which organizes the annual cultural event on St. Thomas, is funded through a mixture of government funds, private sponsorship and its own generated revenue, with the government contributing the most money. This year government funding accounted for $545,000 of Carnival's $898,000 budget.
The VICC has for years come under fire from lawmakers for a lack of transparency and clarity in its bookkeeping, and sometimes even the absence of members called to testify before the Senate and the refusal to turn over records.
Sen. Nereida Rivera-O'Reilly Wednesday made the motion for a subpoena of all the VICC's contracts, bank and credit card statements, and a list of sponsors and amounts donated, covering the years between 2015 and 2018, to be delivered to the Committee on Workforce Development, Consumer Affairs and Culture by July 20.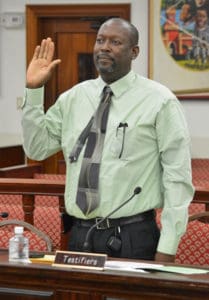 All senators present – Sens. O'Reilly, Janelle Sarauw, Myron Jackson, and Janette Millin Young – voted in favor of the subpoena after a hearing that at times frustrated their attempts to get clear answers.
Partly responsible for those frustrations was the absence of the VICC's chairman, vice-chairman and treasurer after the date of the hearing had already been shuffled once to accommodate their schedules, according to senators. Only committee Executive Director Halvor Hart was present to provide testimony on the VICC's activities and financial records for 2018.
Hart brought to the hearing some of VICC's financial information, but senators expressed dissatisfaction that it was organized only by broad categories, and not printed from any official bookkeeping software.
O'Reilly said she has been in the Legislature long enough to see the pattern of the VICC "refusing to open its books time and time again."
"We ask the same questions, we beat around the bush, we dance calypso with you, but we really, really at the end of the day accomplish nothing," O'Reilly said before recommending the subpoena.
According to information provide by Hart, expenses for Carnival 2018 came in slightly over budget at $928,250. Hart had a list of contractors hired by the VICC, including local and international bands and artists, but amounts paid to each were not listed, and copies of the contracts were not on-hand.
Between professional services and entertainment contracts, the VICC paid out more than half a million dollars for the 2018 Carnival. Travel cost another $93,000 and prizes more than $71,000.
The numbers provided also had apparent errors, including Hart's own salary, which was listed at $29,298 but is in reality $50,000. Senators questioned why the category labelled 'postage and shipping' was a seemingly high and even $10,000, to which Hart replied that the VICC had to use expensive FedEx shipping to get items to the territory on-time for Carnival this year.
Senators also questioned why the category 'electricity' was almost $16,000. Hart explained that the number included not only utility bills but also money paid to electrical contractors.
Hart said the VICC is preparing a more in-depth financial report for its August budget hearing before the Senate Committee on Finance. But at past budget hearings, senators have also been critical of the VICC's preparedness and the clarity of its bookkeeping.
Senators were not satisfied by Hart's responses when they asked him why the VICC financial information was not presented in a more thorough and formal manner. O'Reilly asked Hart if the committee uses bookkeeping software, to which Hart replied that QuickBooks is used.
When O'Reilly followed up by asking why the committee did not print "easily generated" QuickBooks reports, Hart said he cannot print a report until the fiscal year is finished on June 30.
"I know how to use Quickbooks, you don't have to wait until the end of a fiscal year to generate a report. you can actually generate a report in the middle of a month, in the middle of a week, in the middle of the day," O'Reilly said.
O'Reilly continued her line of questioning by reminding Hart he had been placed under oath at her request. She asked if he was aware of any document shredding happening at the VICC.
"Not currently," Hart said.
When O'Reilly asked whether that meant there had been previously, Hart responded that "some documents that were messed up by the hurricane were thrown away. That's what I know of."
O'Reilly asked twice if they were important documents that would shed light on some of the topics being discussed. Hart responded both times that he was not present at the documents' disposal and had not been asked for approval beforehand.
"No one asked the executive director or confirmed with you whether documents should be shredded?" O'Reilly asked.
"No senator," Hart said.
"Did that not alarm you?" O'Reilly continued.
"I would say, yes," Hart replied.
O'Reilly also asked directly if cash was being siphoned off of money meant for Carnival activities.
"Off the two accounts of the Virgin Islands Carnival Committee, I would say no. No monies were siphoned off that came through me," Hart said, before adding that he deals with all funds that come through Carnival's sponsors and the Department of Tourism.
Sen. Sarauw asked if the VICC's treasurer was planning to resign.
Hart said he wasn't sure, but when Sarauw said she had knowledge that that was the case, Hart appeared to acknowledge it to be true.
"She's not happy with the financial …" Sarauw began, trailing off before finishing her sentence.
"I'm frustrated, I really am today," said Sarauw. "Nothing is free, and I can't fathom why there has been no accurate accounting. And this has been the culture for years."
"Contracts are being made with no legal advice," she continued. "You are before us again with no CFO. You are before us again without the chairman and the vice-chairman, who happens to be a [Senate] aspirant."
Senators floated the idea of having the Department of Tourism directly organize Carnival since it is required as a government agency to be transparent.
"This can't fly anymore," said Sarauw.
During his written testimony, Hart said, "After being hit with two Category 5 hurricanes, our focus was to provide entertainment for the enjoyment of our residents of the V.I. to help relieve stress, and I believe that was achieved."
But senators expressed skepticism throughout the hearing.
"I can't even say congratulations, job well done. I can't," said Sarauw. "We have to demand excellence of our agencies, and accountability and transparency."
Sarauw said at the end of Wednesday's hearing that she was also putting the St. John and St. Croix Festival Committees on notice about the importance of clear and accurate accounting.