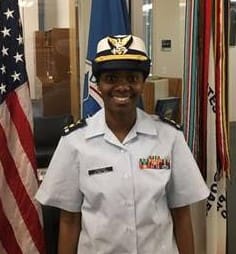 U.S. Coast Guard Senior Chief Yeoman (E8) Claricia Gautier, a 1995 graduate of Central High School, St. Croix, U.S. Virgin Islands, was promoted to the chief warrant officer grade, personnel administration specialty at the Coast Guard headquarters in Washington, D.C.
Coast Guard Officer Gautier is currently the Coast Guard Reserve assignment officer where she maintains 1,400+ junior and senior enlisted personnel assignments. Her previous military assignments include: Pay & Personnel Center, Topeka, Kansas; Coast Guard Sector, Miami, Florida; Coast Guard District Seven Miami, Florida; Coast Guard Integrated Support Command, Miami, Florida, and as a seaman recruit at Training Center, Cape May, New Jersey.
Her advice for students is to shoot for the stars and never give up on academic and professional goals. Gautier joined the Coast Guard in October of 2002, and her rise through the ranks has been on a steady course of excellence, advancements and professionalism. She added, "never let your past dictate your future."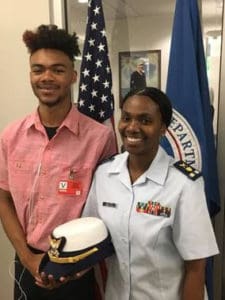 She holds a Bachelor of Science in Human Resource and Organizational Leadership, an Associates of Arts in Business Administration, and she is pursuing a Master of Business Administration in Human Resources. Her son, Lionel, was present at her promotion. She is the daughter of Conrad Prevost and Ghislainne Lazarre of St. Croix and Guadeloupe, respectively.
Her professional accomplishments include Instructor Development course, the Chief Petty Officer Academy, Three CG Achievement Medals, the Commandant's Letters of Commendation, four CG Good Conduct Medals and Sailor of the Quarter.