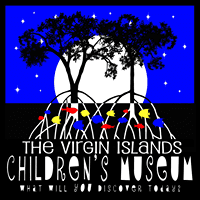 The Virgin Islands Children's Museum will be celebrating International Museum Day with a weekend full of fun activities to raise awareness of how important museums are in the development of society. The last few years, International Museum Day has been experiencing its highest involution with almost 30,000 museums that organized activities in more than 120 countries.
All activities are included with the price of admission: $8 per person, children age 2 and under are free.
Friday, May 18:
10 a.m. Kids Yoga is back for toddlers and little ones, ages 2-5, and their parents or caregivers. It is never too early to teach mindfulness and concentration. Kierstin Graham, the new teacher, has amazing energy and makes an immediate connection with children. Bring a mat; stay and play at the museum after class.
3:30 p.m. Pop Up Science – Bats Among Us! Fun and informative, learn about the science behind native bats and their importance to our ecosystem. This activity will include a scavenger hunt.
Saturday, May 19:
10:30 a.m. Pop Up Reading and Music Hour!  There will be readings from the museum's wonderful collection of books, which have been made possible by Scoops and Brew and The Carol Lotz-Felix Trust.  The professor will be here to rock on with the kiddos after the reading.
1 p.m. KEVA Plank Building Challenge! Do you have what it takes? How tall can you build in five minutes?
Sunday, May 20:
1 p.m.  UVI Physics Professor Dr. Smith will give a terrific presentation on sound.
In addition to these activities, the museum is offering 10 percent off on all family memberships purchased between Friday, May 18 and Sunday, May 20.  Memberships are $155 for a family of four and include unlimited visits to the museum for one year, plus other special perks.
The Children's Museum operating hours are 10 a.m. to 5 p.m., Wednesday through Saturday; 11 a.m. to 4 p.m. on Sunday.
For more information, contact Sarah Erickson, director of development and curator, at 228-1311; [email protected] or www.vichildrensmuseum.org