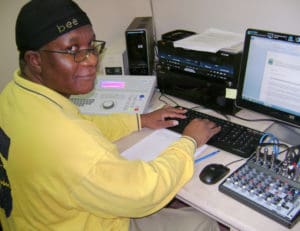 At a Perma-Plaque ceremony at Government House in Christiansted Monday, the 32nd Legislature recognized outstanding V.I. residents in the fields of journalism, agriculture, military service, horse racing, culture and quelbe music
Alvin Southwell, or Alvin Gee, as he was know to just about everyone in the islands, was recognized for his long career in broadcast journalism. For decades, if there was a news event on St. Croix, Gee was there. If the event was on one of the other islands, he was calling the principles to get comments for his news shows.
Gee was well-liked by his fellow journalists and always willing to give a hand to a new journalist. His government sources commented after his death in August 2015 that he was fair in all his stories. He worked in programming and news directing at WRRA 1290 Reef Radio, WSTX Radio 970, Isle 95, FM 99, and lastly DaVybe 107.9FM, which he co-founded.
Centenarian John Tranberg, who has been farming on the West End of St. Croix since the early decades of the last century, was also honored by senators.
Tranberg is a multiple award winner at the St. Croix Agriculture and Food Fair, and a veteran who has tales to tell about his time in the armed forces. For years he was part of the social fabric of Frederiksted and willing to tell any inquisitive person the history of the old buildings downtown.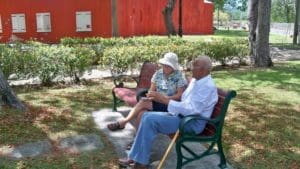 Tranberg told a Source reported when he turned 100 that his life's story is one of hard work, being respectful and obeying the law, nothing special or out of the ordinary. He is now 102.
Stanley Jacobs is another well-known face on St. Croix who was honored. He along with the Ten Sleepless Knights have promoted the official music of the Virgin Islands at home and abroad for over forty years and counting.
One of the goals of Jacobs' life and work has been to bring an appreciation of the traditional quelbe music to the youth of the V.I. No one who has lived on the island through a Christmas season has not heard his band; they crisscross the island playing Christmas carols.
Retired Cpl. Renholdt Jackson was another honoree who has been interested in the well being of the territory's youth. He founded the Estate Whim Police Athletic League, and for over 41 years mentored, taught, and coached countless young people towards successful careers.
Attending the ceremony with Jackson and Tranberg was another honoree Maj. Gen. Renaldo Rivera. He was the second federally recognized Major General of the Virgin Islands National Guard. He also was appointed director of the V.I. Territorial Emergency Management Agency (VITEMA) by then governor John P. deJongh Jr.
Not attending the ceremony were honorees Julio Felix and Victor Lebron. Lebron and Felix were successful jockeys on the international scene. They learned to ride horses at the Randall "Doc" James Racetrack. Lebron rode in the Kentucky Derby in 2013. Also in that race was Crucian jockey Kevin Krigger, who was mentored by Felix.