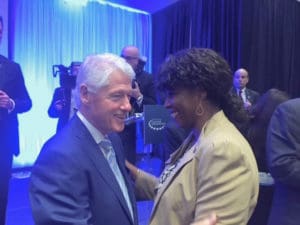 Recovering from the devastation of the two hurricanes that hit the U.S. Virgin Islands last September has created the opportunity to rebuild the islands' power structure to lower energy costs, increase the reliability of the grid, reduce dependence on imported fuel, and keep USVI dollars in the territory, Delegate to Congress Stacey Plaskett told a gathering that included former President Bill Clinton and a host of Caribbean leaders Tuesday.
Plaskett joined Clinton, Gov. Kenneth Mapp, San Juan Mayor Carmen Yulin Cruz and other Caribbean leaders at the Clinton Global Initiative Action Network event at the University of Miami to address post-hurricane relief. The session encouraged participants to partner on solutions to restore electricity following disasters and to come together around a vision for long-term, more sustainable and resilient energy systems, according to a news release from Plaskett's office.
Plaskett said the USVI has abundant wind and solar resources and has a higher penetration of renewable technology than several of the territory's Caribbean neighbors. Accordingly, there is a significant opportunity and need to build on this progress to expand the use of renewable energy in the USVI.
She stressed that the rebuilding effort must be done "the right way," so that when faced with natural disasters in the future we will not have to spend massive amounts to recover. While the federal funding does not include the full amount or all of the requests of the Virgin Islands, it will help us substantially in the rebuilding efforts.
However, she warned that the 2017 tax reform passed by Congress is likely to have the unintended consequence of providing a disincentive to companies operating in the Virgin Islands due to foreign tax treatment. While Plaskett had proposed allowing any available public assistance funding to be used to rebuild facilities and infrastructure to a more resilient state than pre-storm conditions, she welcomes any additional flexibility in rebuilding as a step forward.