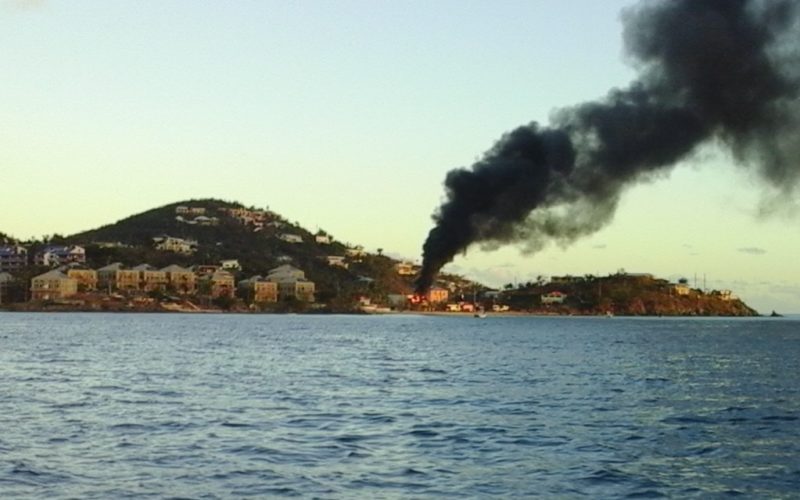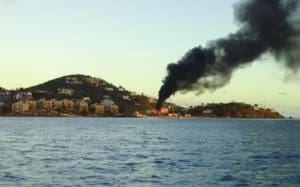 St. John was pitch dark Wednesday night after a fire destroyed a power transformer at the Water and Power Authority's electrical substation on St. John early Wednesday evening. The fire will delay power restoration until at least Thursday evening, WAPA officials say. The Department of Education canceled classes at Julius E. Sprauve school on St. John for Thursday as a result. Classes are scheduled to resume Friday morning. There were long lines for gas and diesel as residents anticipated running short of fuel due to the extended power outage.
According to WAPA officials, the transformer, one of two such units at the facility, became engulfed in flames during the several-hour power outage impacting St. Thomas, St. John, Water Island and Hassel Island Wednesday afternoon.
Police officials told Source reporter Amy Roberts the first alarm came in at 5:49 p.m, Cruz Bay fire and police personnel arrived first and were joined by Coral Bay's fire personnel arrived around 7 p.m. Fire and police were still on scene at 8:30 p.m.
The grounds of the substation must be deemed safe before WAPA personnel will be allowed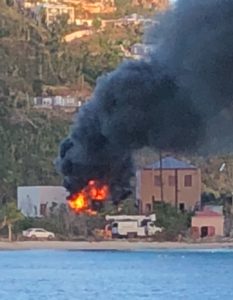 to enter the substation, determine the impact of smoke that penetrated the building, make a thorough assessment of the facility and conduct any repairs, WAPA Executive Director Lawrence Kupfer said in a statement Wednesday night.
"A considerable amount of time will be needed to inspect switchgear, bus bars and other equipment prior to reenergizing the facility which receives electrical service via an underwater cable from St. Thomas," Kupfer said.
After service is restored to St. John, WAPA will look into what led to it catching fire at a time when electric service was interrupted, officials say..
"Given the size of the transformer, it may be several weeks before we know for sure what caused the failure of the device and the subsequent fire," Kupfer said.
"I assure all of our customers on St. John that every effort will be made to restore service to the island's two electrical feeders as quickly and as safely as possible," Kupfer added.