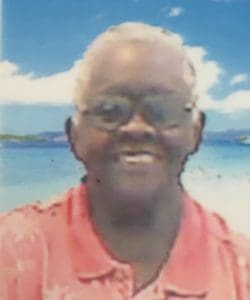 Idalia Varlack died on March 26 at Schneider Regional Medical Center. She was 79 years old.
She is preceded in death by Kye Lucas G'Dorn Smith
She is survived by her children, grandchildren and great-grandchildren: Faye Fredericks, Barry Fredericks Jr., Bryan Fredericks, Brittany Fredericks, R'yahna Garvey, Brannon Fredericks, Gayle Varlack and Tafara Smith
She is survived by sister, Joan Ricci; brothers: Elroy Sprauve, Vernon Sprauve and Liston Sprauve; aunt, Inez Hart; and special friends: Elizabeth Barot, Edwina Dore, Jenecia Fairfax, Janine Plasket Fleming, Alexis Gerrad, Jean Krigger and Rosalia King; and many other relatives and friends.
Relatives and friends are respectfully invited to attend the viewing at 9:30 a.m. and the funeral service at 10:30 a.m., Monday, April 9, at Nazareth Lutheran Church, St. John. Interment will follow at Cruz Bay Cemetery, St. John.
Arrangements are under the care of Hurley Funeral Home and Cremation Center of St. Thomas, St. John and St. Croix.
For online directions and condolences, please visit us at www.hurleydavisfuneralhome.com