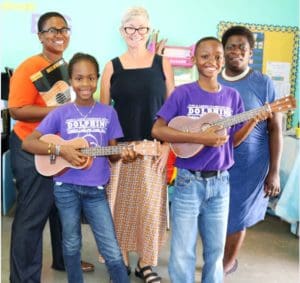 An anonymous donor has donated 20 ukuleles and 10 accompanying method books to the V.I. Department of Education — Division of Music Education.
Territorial Director of Music Education Dionne Donadelle split the donation, giving both the St. Thomas-St. John and St. Croix districts 10 instruments each. Monica Casey of the Pearl B. Larsen Elementary School on St. Croix and Georges Thomas of the Gladys Abraham Elementary School on St. Thomas accepted the generous donations. The music educators were chosen because of their knowledge and experience teaching and playing the instrument.
The anonymous donor is a music educator residing on the mainland. Donadelle thanks the donor and said this support shows the level of support received following the hurricanes in September.
"I am extremely thankful for the ukulele donation." Donadelle said. "I particularly like the choice on instrument because it lends a hand in local quelbe and cariso music. We lost so much after the hurricane, so it is a blessing to have our supporters pitch in where they can. It is much appreciated."
The donor also informed Donadelle of plans to make this charitable act an annual donation.