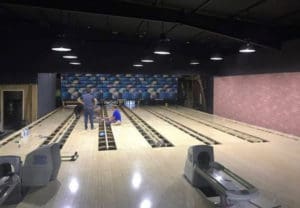 By the time Hurricane Irma hit last September, St. Thomas businessman Hooman Pedram had already bought most of the equipment in the abandoned V.I. Christian Ministries Bowling Alley.
"It was all for sale on Craig's List for months and months, and I talked to my wife about buying in one day, mostly because I like buying old things and fixing them up," Pedram told the Source recently. "Then, the day before the storm, I got on Facebook and I posted a picture of a bowling pin."
Pedram wrote on Facebook that if the territory made it through Irma, he would build a new bowling alley. Interested, residents following on social media took screenshots of the post in hopes of reminding Pedram about his promise and, sure enough, that time came a few weeks later.
Checking in after Irma, Pedram said every piece of equipment came through unscathed and, true to his word, he began the process of removing it from the old building.
"Maybe because it was housed in a church, the Lord really watched over it," he said.
The deadline to get the equipment out was October 1, but with the power out, working without air and in mold became difficult. Two weeks later, Pedram was able to get the deadline extended and eventually brought in a crew of professionals to dismantle what was left. With help from two local trucking companies, everything was brought to Pedram's new space, the former Al Cohen's Liquor store, and construction began.
"Now, we're in the process of putting the finishing touches in," Pedram said about his new business, called Chicken'n Bowling. "We're really trying to build something on St. Thomas that we don't have, and we want to build it at a higher standard, like any great bowling alley you'll see in the states."
The owner of Tap and Still and, back in the day, the Saint Lounge, Pedram said he's been able to get a feel for what residents want to see. Any new business has to be impressive, and just like one you'd be able to find anywhere else.
"You can't just say that because it's on St. Thomas, it doesn't have to be nice," he said. "You have to come correct. And, we have tourists coming in from all over the world, they have bowling alleys, some of them big chains, where they are from, so it has to be nice."
Chicken'n Bowling is housed in a 7,000-square-foot space, and Pedram said that new features include touch-screen TVs and an upgraded scoring system. Each lane is 100 feet long and extends back to the border of the Shipwreck Tavern. Professionals have also been brought in to teach Pedram and his team how a bowling alley functions.
Meanwhile, the space also houses a stage for local and traveling bands. For the restaurant area, Pedram plans to have the best coal-fired rotisserie chicken for sale on island, which he said will marinate for 24 hours in a "secret brine."
While he plans to start doing soft openings this week, lanes will be open to start by the hour. However, Pedram said league days, kid events and other specials could be on the schedule for the future.
"Once we're open, you'll know," he said, adding that the public reception has been "incredible."
More information is available on the Chicken'n Bowling Facebook page.