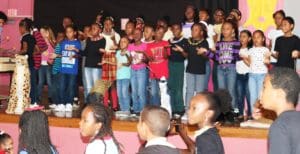 Pearl B. Larsen Elementary School students recognized the rich African culture and history that have infused their way of life, while boosting their multi-cultural home of St. Croix at the school's V.I. History Month program, Friday, March 9.
Following opening remarks from Principal Joan Claxton extolling the rich African heritage that we have inherited, students took turns from kindergarten to 6th grade to show appreciation of their culture and history with poems, placards and songs.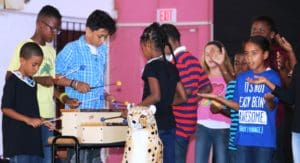 Music teacher Casey and her multi-grade group of students sang the lyrics to two popular West African songs, "Tue Tue" and "Obwissan."  Making the case that African roots are precious and to be respected, the 4th graders gave an outstanding performance titled "Slaves: Priceless." Then the focus shifted to the local culture of St. Croix.
Larsen's Assistant Principal Delicia Espinosa set the tone musically and nostalgically with a "V.I. Music Flashback" by playing local music from the late quelbe performer Jamesie and reggae singer Devon Peters. The students were curious about the records and the phonograph she used, and they quickly cherished the messages in the music that portrayed the beauty of St. Croix. As the program progressed, there were more local musical flashbacks and poems praising the island of St. Croix and its people.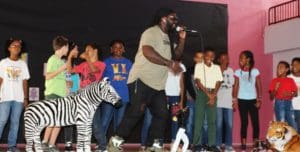 To bring the observance to a close, Lisa Magras' 4th grade class came on stage to sing a local hit.  Suddenly, to the students' surprise, Dynce, the performer of the song, jumped on stage to sing along with them.  The crowd of students, parents and educators showed their appreciation with loud applause and shouts as Dynce belted out the lyrics to his popular tune, "No Place Like Home."  Dynce (Dennis Hospedales) is a singer and businessman and a product of the Virgin Islands public schools who was taught by Larsen's Principal Claxton, among others.