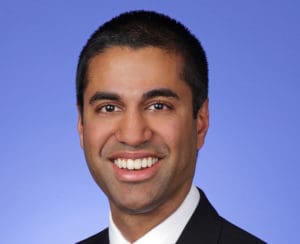 The Federal Communications Commission this week announced it is considering a proposal to create separate special funds in Puerto Rico and the Virgin Islands to provide additional short-term assistance for restoring communication networks in the aftermath of Hurricanes Irma and Maria as well as support for expanding broadband access in the near future.
Under the plan, proposed by FCC Chairman Ajit Pai, there would be $750 million for Uniendo a Puerto Rico Fund (Bringing Puerto Rico Together Fund) and $204 million for the Connect USVI Fund.
Pai is visiting the two Caribbean territories through Saturday to review recovery efforts, evaluate "lessons learned" and prepare for the upcoming hurricane season.
The latest proposal follows other assistance from the commission, according to the FCC news release.
"In addition to providing public information on network outage conditions and sending staff to monitor and aid recovery efforts, the commission offered the territories nearly $77 million in advanced universal service funding to help recovery, accelerated the post-incentive auction transition to support Puerto Rico and U.S. Virgin Islands broadcasters, granted temporary waivers of Lifeline's recertification rules, expedited approval of experimental licenses for Alphabet's Project Loon to provide Internet access to residents, approved targeted and flexible E-Rate support to help store connectivity of schools and libraries, and granted more than 200 waivers and requests for Special Temporary Authority to help re-establish communication in hurricane-affected areas," the release says.
The proposal to establish the new funds will need support from other commissioners on the FCC to become a reality.