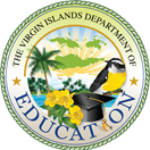 The Virgin Islands Department of Education (DOE) has announced that the 2017-18 school year will come to a close on Friday, June 29, for both the St. Thomas-St. John and St. Croix Districts.
"The Department of Education has made the decision to end this school year June 29, 2018, based upon the approval we have received from FEMA to move forward in the ordering, site preparation and placement of modular and sprung structures for the upcoming 2018-19 school year," said Education Commissioner Sharon Ann McCollum. "We will be undertaking the huge tasks necessary to take the public schools off of split session for SY 2018-19."
Four high school commencement ceremonies will close out the year. The schedule is as follows:
June 23: Ivanna Eudora Kean High School in Digna M. Wheatley Gymnasium at 6 p.m.
June 24: Charlotte Amalie High School in the University of the Virgin Islands Sports and Fitness Center at 3 p.m.
June 27: St. Croix Central High School (location to be announced) at 9 a.m.
June 28: St. Croix Educational Complex at the SCEC Gymnasium at 9 p.m.