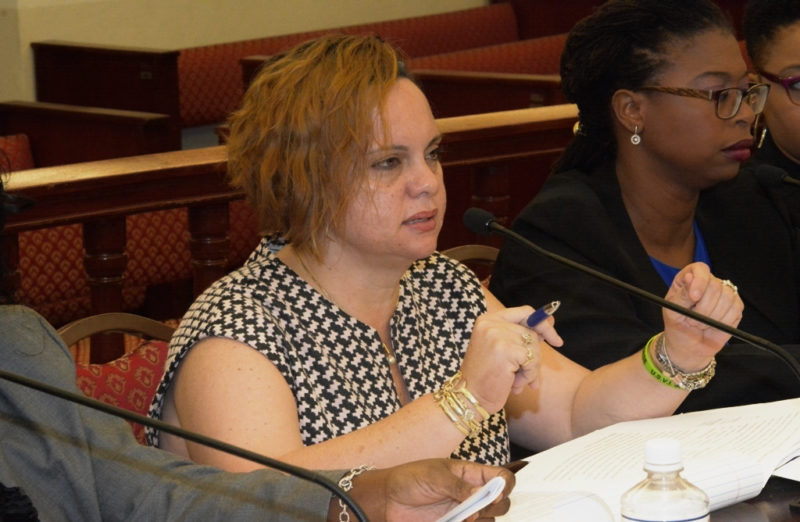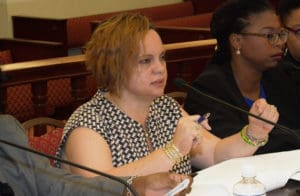 Longstanding financial management and reporting problems at the V.I. Department of Labor are slowing the department's response to residents' needs following Hurricanes Irma and Maria, federal reports received by senators suggest.
Administrative staff for Labor testified before the 32nd Legislature's Committee on Workforce Development, Consumer Affairs and Culture Monday at an information gathering session, but some senators complained that Labor's presentation was disorganized and unclear, a complaint leveled at the department at past hearings.
"This breakdown is ambiguous," said committee chairwoman Sen. Janelle Sarauw in reference to a half-page chart provided by Labor depicting unemployment claims from 2007 to 2017. "It is not an accurate depiction of the number of claimants who filed, received a check and how many checks the individuals has received thus far [post-hurricane]."
What was clear from the document is that Labor has seen a substantial increase in its workload due to September's hurricanes. 7,392 people filed for unemployment insurance in 2017, the highest number on record. Unemployment filings in the V.I. during the Great Recession, which peaked in the territory after the closing of St. Croix's Hovensa oil refinery, reached their highest yearly level at 5,620.
The month with the highest number of unemployment filings in the decade before 2017 was April, 2012, which registered 1,296 filings. In September 2017, the month that two Category 5 hurricanes battered the V.I., almost four times that many people filed for unemployment benefits.
Commissioner of Labor Catherine Hendry said Monday that more than 13,000 unemployment checks have been processed and disbursed since the hurricanes, a number that includes both standard unemployment insurance claims and claims filed through a federal disaster unemployment assistance program. The federal program is designed to help those who don't qualify for standard unemployment insurance.
The application period for the USVI ended Dec. 29.
But senators said Monday that they have received numerous complaints from residents that they filed for unemployment immediately after the storms, yet haven't had their claims processed more than four months later.
Hendry replied that disaster unemployment assistance requires a case by case inquiry, so the process of disbursing funds is more time consuming than usual.
"There are those, I'm sure, who have not been given their benefits," She said. "But it's more than likely due to the fact that there is lacking documentation, or the fact that we are continuing to do our [disaster unemployment assistance] processing so that when we are once again able to draw down from FEMA, they can get paid."
Elston George, the director of Labor's Unemployment Insurance Division, said the department is also waiting on a second disbursement of funds before it can continue paying out disaster unemployment assistance claims. George said there are approximately 200 claims through the federal program that remain to be processed.
Sarauw and Sen. Tregenza Roach both said federal reports given to the committee paint a less sympathetic portrait of Labor. Requests for missing information suggest the department itself slowed the pace of unemployment disbursements by not being timely in its requests and not providing all necessary documents to its federal counterpart.
"This report dated Dec. 29 shows numerous disaster unemployment assistance claims unprocessed," Roach said.
Legal Counsel for Labor's Nesha R. Christian-Hendrickson said Monday a supplementary request for more disaster assistance funds that stretched on from Dec. 21 to Jan. 5 was deemed too sluggish by FEMA.
A recent federal draw down for administrative costs at the department has also not yet been completed because sufficient financial information hasn't been submitted.
Accurate and timely reporting has been a challenge for Labor since at least 2008, when many of its federal programs were designated "at-risk." As recently as March 2017, Labor's administrative staff acknowledged that the department is weak on "internal controls, procurement procedures, financial management and reporting."
In addition to processing unemployment claims, Hendry said Monday, the department is working to find temporary employment for 225 'dislocated workers' under another federal disaster program for which it was awarded $3 million after Hurricanes Irma and Maria. The program funds up to nine months of employment for its beneficiaries in disaster clean-up related fields.
Labor has so far helped place 81 people into these temporary positions, which include jobs with five government entities including the Department of Public Works and the V.I. Waste Management Authority.
Present at Mondays hearing were Sens. Sarauw, Roach, Myron Jackson, Jean Forde, Brian Smith, Positive Nelson, Nereida Rivera-O'Reilly, Janette Millin Young, and Dwayne Degraff.