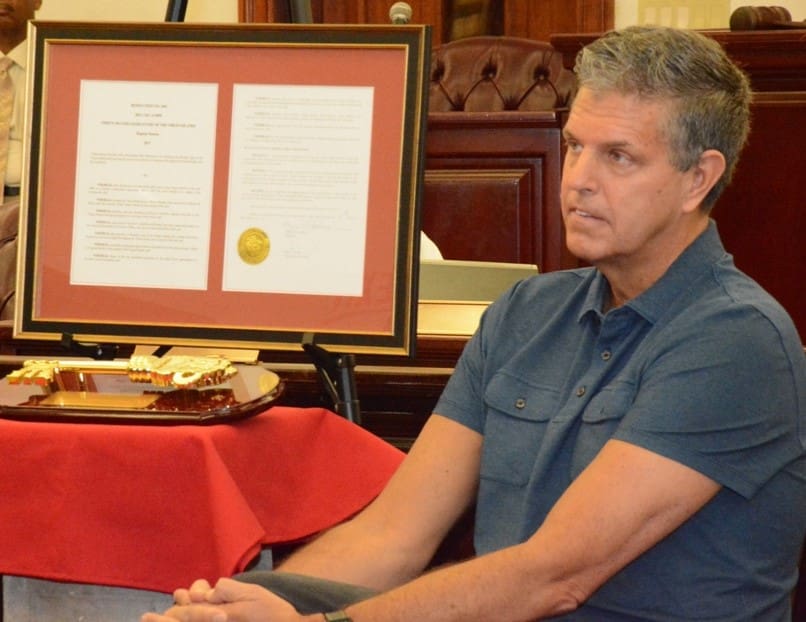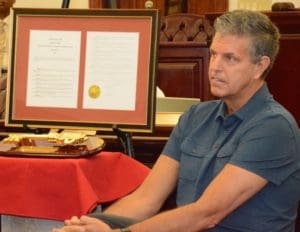 Members of the 32nd Legislature in collaboration with the Office of the Governor held a Key to the Virgin Islands Ceremony at the Capitol Building on Friday. Jan. 26, to honor Nels Hawkinson, founder of Paradise Jam, because of his vision in starting the acclaimed national college basketball tournament in the territory.
Flanked by sports leaders, tourism officials and his colleagues, Senate President Myron D. Jackson presented the key and perma-plaque copy of Resolution No. 1841 to the accomplished coach and player alongside Tourism Commissioner Beverly Nicholson-Doty, who represented the governor.
"Nels has 17 years of investment into the development of sports tourism in the Virgin Islands both nationally and internationally," Jackson said. "The influence of Paradise Jam cultivates young people, and that is very important. The Virgin Islands has developed athletes on regional levels despite not having adequate sports facilities."
"Nels is special to us because this is his home. When hurricanes Irma and Hurricane Maria hit the territory in September, Nels hosted Paradise Jam in Virginia with the "U.S. Virgin Islands" painted on the courts. The athletes wore basketball uniforms that stated VI Strong. That presentation shows Nels' commitment," said Sen. Janette Millin Young.
During the ceremony, which featured heartfelt personal reflections, video highlights and stirring vocals by vocalist Lorna Freeman, Hawkinson said he was humbled.
"Looking at the key, I can't even hold it. I am not about getting awards but giving them. Virgin Islanders have been resilient after experiencing two hurricanes. The one point I want to stress today is I am encouraged by yourselves and your resiliency. Trust in the Lord with all your heart, and he will direct your path," Hawkinson said.
Lawmakers voted on Nov, 30, 2017, to approve Bill No. 32-0099, honoring and commending Nels Hawkinson for founding the Paradise Jam in the Virgin Islands and exposing the territory to millions of Americans throughout the United States and the Caribbean. On Dec. 4, it was signed and sealed as Resolution No. 1841.
Paradise Jam initially began in 2000 as a women's basketball tournament. The following year men's basketball tournaments were added. Paradise Jam brought the Virgin Islands to the forefront with national media coverage through annual television broadcasts and social media.
The participation of leading basketball programs across the mainland, resulted in the visitation of millions of athletes, coaches and support staff to the territory. Paradise Jam has contributed heavily to the economy as hotels, restaurants and various aspects of the tourism industry were utilized during the stay of the athletes.
Senators present were Myron Jackson, Positive Nelson, Dwayne DeGraff, Janette Millin Young, Marvin Blyden, Brian Smith, Novelle Francis and Sammuel Sanes. Other attendees included officials from the Department of Sports, Parks and Recreation; the athletic departments of the University of the Virgin Islands and the Department of Education; the St. Thomas-St. John Youth Scholastic Chess Club; and the VI Hotel and Tourism Association.