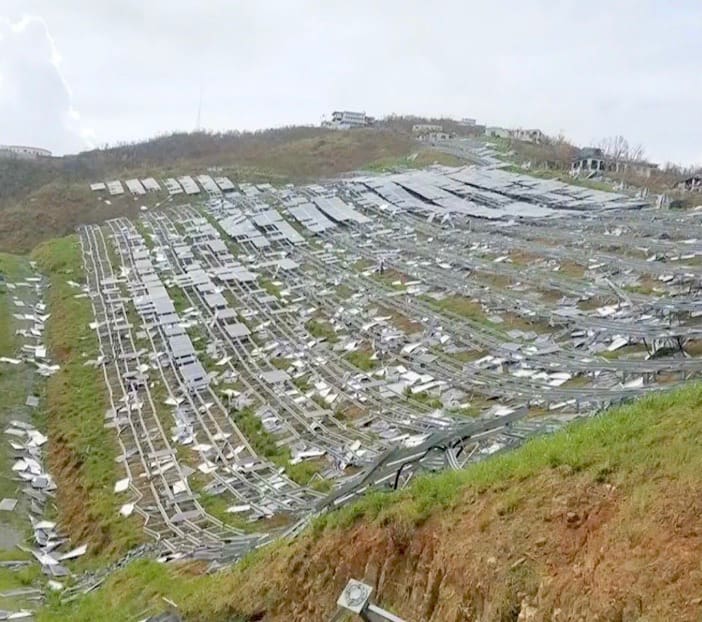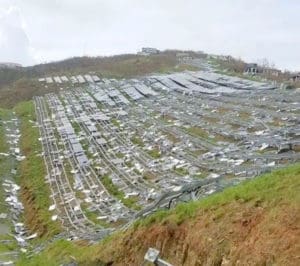 The cost to restore electrical service in the territory came to roughly $400 million, Clinton Hedrington, the Water and Power Authority's acting director, told the Committee on Government Affairs, Veterans, Energy and Environmental Protection Wednesday.
Much of the cost is reimbursable by the Federal Emergency Management Agency. To date, the territory has received almost $72 million in cash from FEMA, and $55 million more is still pending.
"The most extensive damage sustained was to the transmission and distribution system and the electrical grid, " he said. "WAPA is replacing wooden poles with composite poles on various key transmission feeders territory-wide. The composite poles can withstand hurricane wind speeds as up to 200 miles per hour."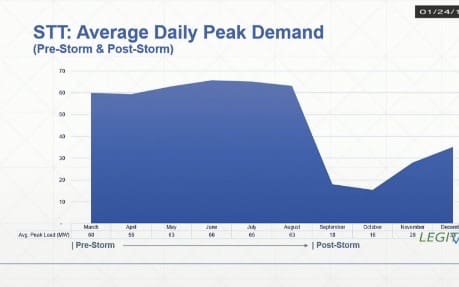 WAPA officials said the St. Thomas-St. John District will receive 4,300 composite poles while the St. Croix District will have 5,900 composite poles.
The territory also lost almost 5,500 transformers, losing considerably more on St. Croix due to its larger size.
Along with the toppling of thousands of utility poles, Septembers storms caused extensive water infiltration to St. Thomas generators and some on St. Croix too, officials said.
The storms effectively demolished WAPA's 4.2-megawatt Estate Donoe solar facility on St. Thomas. The agency will assess it and decide if it can be rebuilt. The St. Croix facility in Spanish Town is largely intact but had some damage to its inverter. It should be back online fairly soon, officials said.
St. Croix is back on propane but St. Thomas is not. Along with work on the generators, the propane supplier needs payment. Propane is currently much cheaper than the fuel oil the plants were built to use.
The loss of service also meant a loss in revenues. WAPA's revenues dropped from $26 million to around $2 million per month after the storms. Revenues are rising but are not yet at pre-storm levels.
But WAPA is getting $75 million in federal Community Disaster Assistance loans as part of a larger package that includes $250 million for the central government. Those loans are specifically for storm-related revenue losses.
Stateside crews are still helping, but are winding up. While some crews have already begun to leave, about 933 linemen and other workers from stateside utilities are still in the territory, officials said.
Once again the V.I. government owes the public utility tens of millions of dollars in past due utility bills. The government owes about $35 million, largely for the territory's two public hospitals – which are also financially strapped. The government also owes $8.6 million for streetlights.
"How prepared is WAPA for the 2018 hurricane season?" Sen. Janette Millin Young (D-STT) asked.
Hedrington said WAPA should be very prepared before the season begins. WAPA engineer Ashley Bryan said territorial hurricane mitigation projects are slated for completion before the next hurricane season.
Sen. Sammuel Sanes (D-STX) the committee chair, praised WAPA officials' responses.
"I have to admit this is one of the best presentations from WAPA because it was informative and enlightening," Sanes said.
Present were: Sanes, Young, Sens. Myron Jackson (D-STT), Jean Forde (D-STT), Marvin Blyden (D-STT), Brian Smith (D-At Large), Nereida Rivera O'Reilly (D-STX), Positive Nelson (ICM-STX), Alicia "Chucky" Hansen (I-STX), Janelle Sarauw (I-STT) and Tregenza Roach (D-STT).