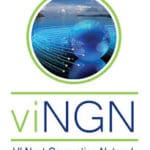 The Virgin Islands Next Generation Network (viNGN) has announced that the company has reached another milestone in its overall recovery and restoration efforts of the territory's all fiber high speed broadband network. The company announced that the post-disaster recovery efforts have now seen 80 percent of the overall network service up and running for local Internet Service Providers (IPSs), enabling them to connect their customers to the viNGN broadband network.
This latest recovery milestone is in conjunction with the already existing 20 high speed viNGN free public Wi-Fi hotspots on the islands. With the sharply limited communications options available to the territory after hurricanes Irma and Maria, viNGN staff began assembling the framework for a robust recovery by establishing the first public Wi-Fi hotspots on St. John. It then continued to establish more hotspots throughout the territory, which have continued to provide critical Internet access to residents, businesses and community organizations.
Dr. Mark McGibbon, viNGN president and CEO, said that the company was mentioned by Gov. Kenneth Mapp during the Annual State of the Territory earlier in the week, "I was very appreciative that the governor recognized the role viNGN played during the territory's overall recovery efforts after the storms during his State of the Territory speech," said Dr. McGibbon.
McGibbon also took the time to highlight the critical role that viNGN's financial and procurement teams have played and the essential work they have performed to program funds that have enabled the expedited purchase of equipment for the territory's Wi-Fi hotspots, along with facilitating the fueling and maintenance of generators at facility access points.
These efforts have allowed viNGN to keep Internet services online and partnering with local vendors to support the entire recovery effort as well as secure materials to respond quickly to fiber breaks throughout the islands.
"In 2017 we received an unqualified audit by Ernst & Young. This means our financial records fairly and accurately portray compliance with what are considered generally accepted accounting principles as well as USVI procurement laws," said McGibbon.
"With these positive compliance results, I'd like to publicly acknowledge the professionalism and hard work of our CFO Cheryl Tobierre and the members of her team Shenel Moorehead, Cindy Obeius and Aisha Webster. Director of Property and Procurement Ken Farrington works closely with Rochelle Lewis and Patricia Jones; and viNGN inventory is managed on St. Thomas by Felix Williams and on St. Croix by Alexander Adams," said McGibbon.
viNGN's recovery and restoration efforts will continue to move forward with the goal of 100 percent restoration in the coming months; the most up to date Wi-Fi hotspot listing and partner ISP listings may be found at www.viNGN.com.
The public is invited to follow viNGN's recovery efforts on its Network Restoration Status page at www.vingn.com/network-restoration-status.