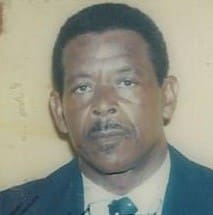 He was preceded in death by his father, Henry Hodge; mother, Elderina Hodge; brother: Arnold Hodge; and sister, Salome Hodge.
He is survived by his wife, Bearteal (better known as "B"); sons: Eliotte Simpson and Reese Chadwell; sisters: Cynthia Weekes, Christine Mussington (special sister), Sylvia Richardson and Monica Hodge; brothers: Henderson Hodge and Derrick Hodge; sisters-in-law: Gwendolyn Richardson and family, Margaret Vaughn and family, and Amy Hodge and family; brothers-in-law: Boswell Richardson and Edward Flemming; cousin, Dr. John Franklin and family; special nieces: Rosemary and Barbara Mussington in Anguilla; special nephew, Garry Hodge; as well as the Hodge, Franklin, Gumbs and Hughes families.
Acknowledgements: Blyden, Ms. Roland, Ms. Joseph, Kevin Rodriguez, and Santanas and family.
Relatives and friends are respectfully invited to attend a viewing that will be held at 9 a.m., Wednesday, Jan. 31, at Celestial Chapel Hurley Funeral Home with service immediately following at 10 a.m. at the Celestial Chapel. Interment will be at Eastern Cemetery.
Arrangements are under the care of Hurley Funeral Home and Cremation Center of St. Thomas, St. John and St. Croix.