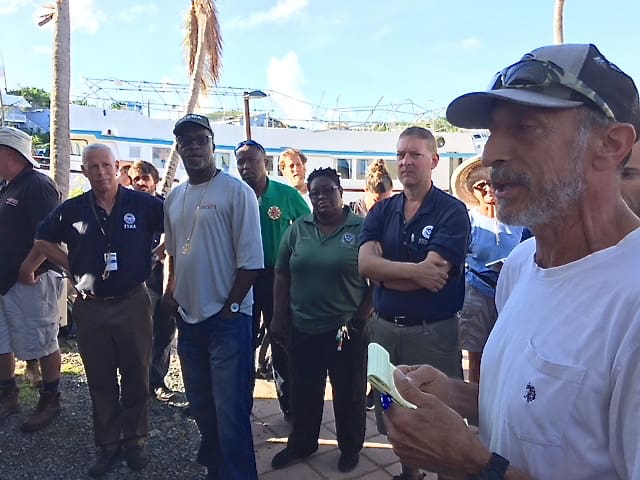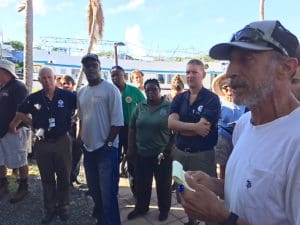 As FEMA Division Supervisor Patrick Cornbill prepares to leave St. John after a three-month stint on the island, he says that things continue to get a little better every day.
"Our programs here have put a lot of money on the street," said Cornbill, noting that almost 2,700 people have applied for assistance, and more than $4 million has been disbursed through various federal programs. And the good news?
"There's more to come," he said.
The deadline for applying for assistance from FEMA has been extended to Jan. 8, and Cornbill urges anyone who has had damage from Hurricane Irma or Maria to apply for aid.
After FEMA inspectors assess a damaged property, homeowners can receive up to $17,000 to make repairs to their residence. In some cases, FEMA may give grants for rental assistance.
Those who have more than $17,000 of damage can apply for a permanent housing solution to "meet the minimum standards to make the house habitable," said Cornbill.
According to Eric Adams, FEMA Media Relations Specialist, "the permanent housing construction program is for eligible survivors who have sustained at least $17,000 in verified loss, but whose home was not destroyed by the hurricanes. Survivors who participate in the permanent housing program (PHC) will be provided assistance in the form of direct repairs to their pre-disaster primary residence in lieu of financial assistance from FEMA."
"The estimated labor and repairs to the home must not exceed $75,000. Repairs will be determined on a case-by-case basis. FEMA urges homeowners to make sure contractors are licensed, insured and have proper building permits," Adams continued.
Those with more extensive damage can apply for low-interest SBA loans for home replacement costs, and Cornbill emphasized that applicants are under no obligation to accept any loans SBA offers. He advises applicants to read their letters from SBA and FEMA very carefully and not get discouraged.
If applicants are turned down, they can file an appeal, and their applications will be read by "a fresh set of eyes," according to an SBA official. Applicants may then qualify for grant assistance if their appeal is rejected.
Cornbill said the Blue Roof Program was winding down after the installation of more than 300 temporary roofs on St. John, and more than 3,000 throughout the territory.
As of Dec. 9, FEMA had distributed throughout the Virgin Islands more than $35 million in individual household grants, more than $107 million in SBA loans, and more than $109 million in public assistance.
Cornbill introduced his replacement, Kevin Stewart, and received a warm round of applause as he said farewell to the crowd at the weekly VITEMA briefing in Cruz Bay on Wednesday.
"I won't forget this wonderful, incredible community effort," he said.
Boats
The Dec. 1 deadline to contact the Coast Guard about boats that are sunken or aground has passed, but Coast Guard officials are still urging boat owners who haven't made contact to do so immediately by sending an email to usvi_esf10@gmail.com.
Bridgette Brown, deputy operations branch director for St. John, said the Coast Guard was now working to remove 126 disabled vessels on the island. The crane barge is in Cruz Bay and two beached vessels were pulled out of Cruz Bay on Tuesday.
Brown said the Coast Guard had "closed out" 31 damaged vessels. Nine boats have been returned to their owners, and the Coast Guard is working to refloat 22 more, planning to return them to their owners.
Derek Hardy, St. John operations branch director, praised Brown for her success with tracking down owners of boats that haven't been claimed.
Brown said she had been in contact with a boat owner who was in Italy.
"It's been a community effort," she said. "We've had to get with the right people who know someone, who knows someone else, and so on."
Boat owners who don't have insurance and don't have the funds to refloat their boats may apply to the Coast Guard for "special consideration."
Exactly what will happen with the derelict boats that are being removed is still a question.
Mark Foust, the incident commander for the National Park Service, said the NPS was working with the Coast Guard to use the park property in Red Hook on St. Thomas to store the boats temporarily.
National Park Service
The Incident Command Center for the NPS is starting to wind down, according to Foust.
"We're going to start going away," he said at the VITEMA briefing Wednesday morning, which means the dozens of park employees from all over the country will move back home, and the Visitors Center in Cruz Bay will go back to its former state as an information hub for visitors and residents.
Contractors will be hired to begin the work of rebuilding park service facilities that were damaged or destroyed by Hurricane Irma.
Chief Ranger Rick Gupman said of 19 units of park housing, only four were now habitable. As housing is repaired or replaced, VINP employees who have been temporarily assigned to other locations will return to St. John.
Park officials also announced that the beach at Maho Bay is open. The beaches at Francis and Lameshure bays are expected to open by Saturday. Park Service staff continue to monitor the water quality at the VINP beaches.
More than 27 miles of trails within the park had been cleared by Dec. 8, according to Tonia Lovejoy, development director for the Friends of the Virgin Islands National Park.
"With the help of the Friends/VINP and our crews, we hope to have all the roads, beaches, and trails open for tourism before we go," Foust said.
Although beaches are open, many of the amenities, including restaurants and bathrooms, remain closed. The snorkel rental shop at Trunk Bay is open, and park officials hope to have bathrooms and showers operating soon.
– Debris Removal/Roads
Contractors and Department of Public Works employees set a record on Tuesday, removing 974 cubic yards of debris in one day. That broke the record set on Monday of 726 cubic yards, according to Steve DeBlasio, a disaster expert from Witt/O'Brien's.
DeBlasio, who has been on contract with the Bloomberg Group since shortly after the storm, said crews were now removing debris from private roads that were not gated.
Pam Gaffin, a resident of Coral Bay, had warm words of praise for the crews hired by the Bloomberg Group. They had managed to remove 10,000 pounds of concrete block that fell and blocked her driveway after Hurricane Irma hit. Prior to the storm, the concrete had supported a roadside culvert on a steep slope above her home. "It took me three months of begging to get it removed. No one else would touch it," she said.
Now Gaffin is worried about the stability of Route 10. "There's nothing holding up Centerline Road there now," she said.
The condition of the roads is a major concern on St. John. Crews patched the cavernous potholes in front of the Marketplace in Cruz Bay on Wednesday, but temporary repairs are only a short-term solution.
DeBlasio said that the potholes in Estate Adrian, which had been filled only two weeks ago, needed filling again.
"To solve the problem, we're going to have to replace the culvert in Adrian," he said, and that would involve closing Centerline Road for a period of time. DeBlasio said plans were being made to determine an alternate route.
The Bloomberg free shuttle service is still making runs in the morning and afternoon from Cruz Bay and Coral Bay to cut down on cross-island traffic.
Contractors are still collecting wire that has been left along roadsides. DeBlasio said that one of his nightmares was that wires would get entangled in a vehicle's axel. It was another reason that the public should drive carefully. "Be patient; it's for the betterment of the island," he said.
– Hazardous Waste Collection
The EPA has established a special day for Coral Bay residents to drop off hazardous household waste, according to Pam Gallichio, EPA community involvement coordinator for St. Thomas/St. John.
On Saturday, residents can drop off batteries, paint, pesticides, TV's and computers, fluorescent bulbs, and auto fluids at the Coral Bay Fire Station from 10 a.m. till 2 p.m. However, large appliances, medical and infectious waste, gas cylinders, and other explosive or radioactive materials will not be accepted.
The EPA is continuing to collect household hazardous waste at the Myrah Keating Smith Community Health Center from 7:30 a.m. till 4 p.m. Monday through Saturday. Further information can be obtained by calling 1-888-283-7626 or checking online at www.epa.gov/hurricane-maria.
Schools
New students are starting to enroll at the Julius E. Sprauve School in Cruz Bay, according to Principal Marion Lynch-Esannason. Three students from the Dominican Republic started classes last week, she said.
Lynch-Esannason said enrollment had declined from more than 280 students in the 2016-17 school year to slightly more than 120 students this year but, "Attendance has been good. The students are eager to come, and classes are smaller." Three teachers resigned following the hurricanes.
Because classrooms in the main building were damaged and declared unsafe, only 13 classrooms are now in use. The school is operating on double sessions – elementary students attend classes in the morning, and junior high students in the afternoon.
The St. John School of the Arts is extending the school days and offering free classes in music, movement, and art.
The JESS Christmas Concert will be held 10 a.m. Dec. 20.
Some students who might have attended the Sprauve School if the storms hadn't ravaged the islands, have instead enrolled at the Gifft Hill School, which opened its doors to any student who wished to attend and waived tuition for the those in need. Head of School Laurie Bottiger announced that GHS will re-open its Upper Campus on Jan. 3. All students pre-K to 12th grade have been attending classes at the Lower Campus.
Police
Assistant Police Chief for St. John David Cannonier said the recovery on St. John was progressing, and that in general there has been a reduction in calls for assistance for the police.
Cannonier, who took over his position Sept. 14, said the Cruz Bay station's landline, (340) 693-8880, has been operational for more than a month. No major crimes on St. John have been reported. The only notable crime in two weeks, a burglary reported on December 5, resulted in an immediate arrest.
Although there is no permanent police station in Coral Bay at this time, Cannonier said roving patrols monitor the area on a regular basis.
Ferries
Ferry Service is continuing its regular hourly schedule, making runs until 8 p.m. from Red Hook. However, Transportation Services, one of the two franchises that operates regularly between Red Hook and Cruz Bay, was taking time off to repair its vessels.
While the repairs are underway, all runs are being completed by Varlack Ventures, the other ferry franchisee, according to Capt. Diane Griffith of Varlack Ventures. Some evening runs, such as the 7 p.m. boat from Red Hook, have been cancelled temporarily. Passengers were urged to check with ferry personnel to confirm hours of operation on the day they travel.
Editor's Note: This has been updated to clarify that only those who are turned down for loans may file an appeal, not those who do not accept a loan.
Shared content for Virgin Islands Source and St. John Tradewinds.