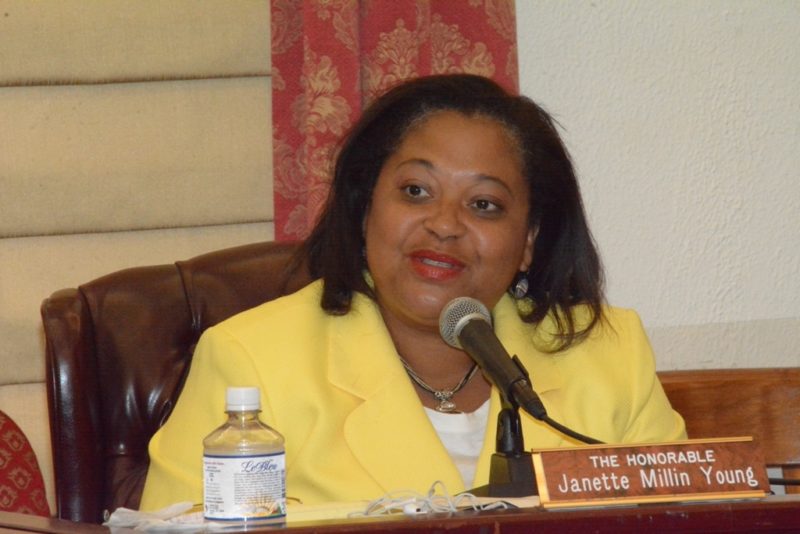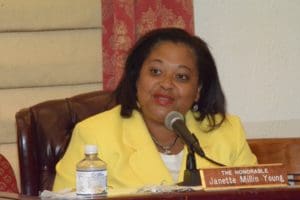 The burning issue was hardly touched on at a Senate committee meeting Wednesday, but trash was on the senators mind.
The Committee on Housing, Public Works, Waste Management, and Planning received an update from Virgin Islands Waste Management Authority's
the authority's engineering manager.
"All of our wastewater facilities have been impacted at some damage level from the hurricanes."
But the senators' questions were more about solid waste – garbage and storm debris, and garbage and debris mixed together. Why was it not being picked up?
Sen. Marvin A. Blyden, chairman of the committee, had his own photos of bin sites where garbage was in large piles, sometimes even blocking access to the bins.
How often did WMA pick up the garbage at the bin sites, asked Sen. Janette Millin Young. Solid Waste Manager Olivia Robles replied, "Twice a day."
Millin Young found that answer unacceptable, responding, "no, no, no." She said that may be the case today, but it has not been that way since the hurricane. She said she had seen garbage remaining at bin sites longer than one day. She asked when WMA began clearing bin sites twice a day. Robles could not give a date.
"The public can't take the trash anymore." said Millin Young, adding, "All I want is a process that works."
Blyden was concerned with the possible illegal-dumping by professional haulers at the bin sites. He urged waste management either to get surveillance cameras placed at the bin sites or have enforcement officers there.
He also expressed concerned that all the debris would not be removed before the March deadline set by FEMA. Cost of removing debris after the deadline will be borne by the territory instead of the federal government.
"Right now we are all over the place," Blyden said.
Several senators indicated that it appeared agencies were not cooperating with each other in the cleanup. WMA is responsible for household garbage; Department of Public Works the U.S Corp of Engineers are responsible for debris cleanup. Apparently when debris, garbage and/or sewage get mixed no one wants to pick it up.
Sens. Millin Young and Jean Forde did say they would block any new effort by Gov. Kenneth Mapp to burn debris. Millin Young said that the burning "can make us sick."
Mapp announced Wednesday evening that he was vetoing the burn ban.
Last week the governor said there is no way for the territory to pay for composting 100 percent of storm debris and the Legislature's recent burn ban hamstrings only the government, leaving private companies and property owners free to burn away.