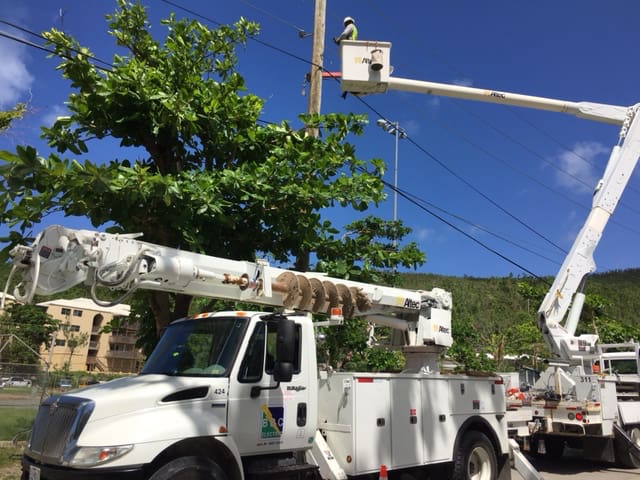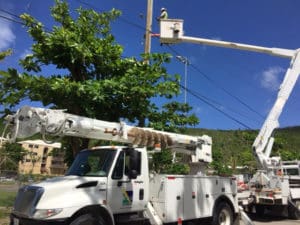 Cool Sessions' lead singer Tishelle Knight broke into song on Friday afternoon for good reason: For the first time since Hurricane Irma hit on September 6, she could flip a wall switch and turn on the lights.
After more than seven weeks without any publicly generated power anywhere on St. John, Water and Power Authority linemen quietly went about reconnecting the first homes to the grid, beginning in the Pine Peace neighborhood in Cruz Bay.
WAPA crews began connecting homes, which use single-phase power, before connecting businesses which use three-phase power, according to first-class lineman Roy Freeland. The WAPA crew was moving fast as evening fell to try to get power to the area of the Animal Care Center next.
Glowing street lights were intermittent Friday night, and at least one Cruz Bay restaurant switched off its generators, according to a resident who dined out that night.
Earlier in the week, WAPA line superintendent Richard Lanclos had announced a target date of Wednesday, Oct. 25 to energize Cruz Bay, but he added a disclaimer.
"If the lights don't come on then, don't kill me," Lanclos had said.
When the power failed to come on, VITEMA leader Irvin Mason introduced Lanclos as "the bravest man on St. John," at the Thursday morning public briefing in Cruz Bay.
Even though power was not restored on Wednesday, the crowd still gave Lanclos several rounds of applause. WAPA's efforts have been very visible on St. John. Their blue and orange trucks have been joined by a legion of white trucks from BBC Electrical Construction, a stateside contractor based ib Joplin, Missouri.
WAPA was one of a dozen agencies and NGO's to report at the public briefings held at the Virgin Islands National Park headquarters at 7:30 a.m. on Mondays and Thursdays.
At Thursday's meeting, Lanclos reported that there were no injuries when an electrical contractor's truck slid off an embankment in Grunewald on Wednesday.
"We pulled the truck back up and it drove off," he said.
Health
Later in the briefing, the crowd gasped when a member of the Johns Hopkins Go Team, which has been assisting government medical staff since shortly after the hurricane, announced that the Myrah Keating Smith Community Health Clinic was "condemned" and "would not be opened in the foreseeable future."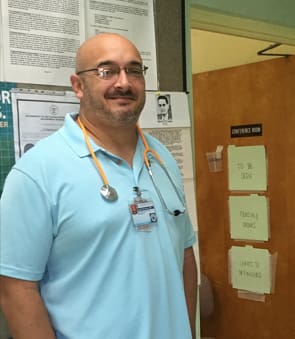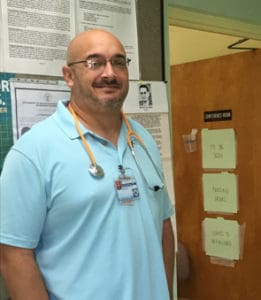 Dr. Joseph DeJames, one the clinic's staff doctors, later clarified that "condemned" was not a term that was being used by hospital officials, but said, "It is true that the clinic was determined to be not functional." Hurricane Irma caused structural damage to the Susannaberg clinic that led to flooding and then rampant mold growth in the following weeks.
Most health services available at the Myrah Keating Smith Clinic moved to the Morris DeCastro Clinic in Cruz Bay soon after Hurricane Maria struck the territory on Sept. 19.
"We can do what we need to do here," said DeJames, although "Quarters are a little cramped. The Department of Health works out of here, too."
The Department of Health announced that Wednesday it will offer its first immunization clinic since the storms. This is the only day this service will be offered on St. John for a month, according to a DOH spokesperson.
Some services usually offered at Myrah Keating Smith clinic, including X-rays, are not yet available at the DeCastro Clinic. (Fun fact: At least one St. John resident got X-rays at a veterinarian's office rather than travel to St. Thomas.)
"We're now in the planning stage for long-term operations," DeJames said. The plans for St. John were falling under a territory-wide plan for rebuilding the hospitals on St. Thomas and St. Croix and the cancer treatment facility on St. Thomas.
"Do you build a new hospital? Repair what's there? And do you build the same thing to get destroyed in the next hurricane? Do you go for what's cheaper?" DeJames said these are some of the questions being considered. In the meantime, the government plans to put in a modular hospital unit on St. John, although its location has not been determined.
Wi-Fi
Free public Wi-Fi access is expanding, according to Rob Tutton of St. John's Global Disaster Recovery Team /Information Technology (D.I.R.T. I.T.) The name for free public access service has been changed from "VINGN Free" to "DIRT Free." Tutton said with the arrival of new equipment, new hotspots would be available next week.
Boats
The Coast Guard had big news for the 400-plus boaters whose vessels have sunk or are up on the shore in territorial waters. Boat owners have until Dec. 1 to contact the Department of Planning and Natural Resources (DPNR) to state whether they have insurance or other means to remove their boats; whether they will let DPNR salvage their boats as debris; or whether they need special assistance.
Boat owners who want to save their boats but don't have the means to do so may apply for a "request for special consideration." Federal funding may be available.
Owners can contact Buddy Dye at the Vessel Owner Notification Hotline at 340-423-6353, or send an email to USVIDPNR@gmail.com to let officials know.
Dye emphasized that boat owners don't have to remove their boats by the Dec. 1 deadline; they just need to make their intentions known.
"The last thing we want to do is take someone's boat away who doesn't want that done," he added.
Boat owners whose vessels have sunk or are ashore within National Park waters should contact Chief Ranger Rick Gupman at NPS headquarters.
Because of hazards that remain in coastal waters, the Coast Guard is still limiting ferry service to daylight hours. The last ferry from Cruz Bay leaves at 5 p.m., and the last ferry from Red Hook leaves at 5 p.m. The schedule may change this coming week, according to one ferry captain.
Barges continue to operate at the Creek in Cruz Bay. The Coast Guard is assessing the dangers from sunken vessels at Enighed Pond where barges normally come and go.
FEMA
FEMA opened two Disaster Recovery Centers on St. John. The Cruz Bay DRC is in the lower level of the Legislature Annex across from the Julius E. Sprauve School. Entrance is through the parking area. The Coral Bay DRC is in the Town and Country Building across from the fire station. Hours of operation are 8 a.m. through 5 p.m. Monday through Saturday.
Residents can go to the centers to apply for Disaster Survivor Assistance, Small Business Administration loans, or the Blue Roof Program.
Disaster survivors usually have 60 days from the date of the declaration of disaster to apply for assistance, according a FEMA press release. However, those who have lost their roofs and have applied for the Blue Roof Program must submit their Right of Entry (ROE) papers to FEMA by Friday, Nov. 3.
Capt. Zdaniewicz of the U.S. Army Corps of Engineers, which has been awarded the contract to operate the Blue Poof program, said the Corps had received 175 ROE's as of Oct. 25. After estimating the damage caused by the hurricanes, the Corps expected at least 500 homeowners on St. John to apply.
Joe Robinson of the Bloomberg Response Team requested that the deadline be extended.
"We don't want to underserve the community," he said.
One contractor asked Zdaniewicz if the Corps could change the materials being used. The contractor characterized the "white plywood," which is currently being used to repair the roofs, as "termite food" and asked if chemically treated plywood could be used in its place.
Irvin Mason said the Blue Roofs were meant to be temporary, but the contractor said pressure treated plywood could serve as a base when homeowners made permanent repairs. He added that the white plywood would end up in the landfill which has already reached capacity.
Debris
What to do with the hurricane debris is still problematic. Officials have decided not to incinerate debris. The Susannaberg Transfer Station is full, but officials are making it available to residents to prevent them from dumping debris at roadside bins meant for household waste.
Contractors are still picking up debris left within 10 feet of the roadside on main routes.
Cris D'Onofrio, an on-scene coordinator for the Environmental Protection Agency, said a site on St. John was being sought to store discarded hazardous materials, including pesticides, paint, and used oil.
Shuttle
The Bloomberg Response Group announced that free shuttle service operating between Cruz Bay and Coral Bay will now be extended to Calabash Boom. The shuttle makes several runs in the mornings and afternoons.
Red Cross
The Red Cross still has bulk distribution and shelter teams on island, according to team leader Chris Mattera. The Red Cross is distributing goods in neighborhoods "kind of like an ice cream truck. We'll drive through slowly and honk the horn. Neighbors can come and pick up supplies for neighbors," he said.
Shared content for the Virgin Islands Source and St. John Tradewinds.