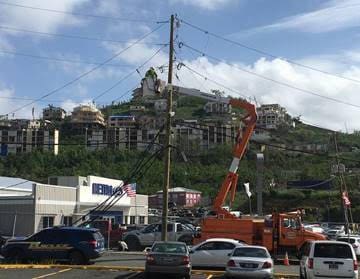 HURRICANE RESTORATION UPDATE ELECTRIC SYSTEM
WAPA and off-island crews worked Tuesday in Christiansted, St. Croix.
On St. Croix, restoration work included planting new poles on the paths of Feeders 1A and 2A, while clean-up crews continued clearing school campuses of hurricane debris. There was also reconstruction and clean-up work carried out Tuesday along Feeder 8B in Hannah's Rest as well as on Feeders 6A and 6B.
On St. John, crews continued efforts to prepare the Cruz Bay area for power restoration. Work focused on the areas surrounding the St. John Fire Station and the potable water standpipe.
On St. Thomas, crews worked in Lindbergh Bay and along the highway from Petrus Plaza west toward Cancryn Junior High School. Portions of Feeder 7A were energized as were the departments of Tourism and Finance office buildings.
Crews from Western Area Power Administration made additional progress on a transmission feeder that will facilitate electrical service being restored to the WAPA East End Substation over the next few days. This will allow for subsequent service restoration to the Red Hook and Nazareth areas and St. John.
Oct. 17, 2017 — HURRICANE RESTORATION CREW WORK NEAR FOUR WINDS PLAZA ON ST. THOMAS
WAPA personnel has removed electrical meters at locations where damage was apparent to either an electrical meter base and/or weather head. In these instances, the customer is responsible for all repairs. WAPA will not reinstall meters until repairs are made and certified by a licensed electrician. Home and business owners are advised to make repairs to their damaged weather heads and or meter bases as soon as possible. Once crews have reached your neighborhood, those customers who have not had their weather head or meter base repaired, will not have service immediately restored.
POTABLE WATER SYSTEM
There are four days of emergency water storage on St. John, eight days on St. Thomas and three days on St. Croix.
On St. John, repairs are pending at the Cruz Bay pump station. Until these repairs are completed, the town of Cruz Bay is being provided potable water service from St. Thomas. Water crews will flush the system early Wednesday to address reports of water discoloration.
On St. Croix, water pressure will continue to increase over the next few days in Frederiksted and other west-end communities. Clean up contractors and homeowners are reminded to exercise caution when piling debris on and around potable water meters. There are a growing number of instances where water meters are being damaged by clean up equipment grading the debris and causing damage to the water meters. The damage caused by heavy equipment poses difficulty in maintaining or restoring water service to customers.
On St. Thomas, water service has been interrupted to Contant Knolls housing community, Contant and surrounding areas. Crews are working to restore faulty pumps at the Contant station which failed on Monday night.
OTHER INFORMATION:
Emergency Call Centers operate 9 a.m. to 5 p.m., seven days a week.
St. Thomas-St. John district, 774-1424; St. Croix district, 773-0150
WAPA telephone contact: St. Thomas-St. John District, 774-3552; St. Croix district, 773-2250
Customer Service Offices operate Monday through Friday, 10 a.m. to 4 p.m. at Sunny Isle on St. Croix and at Port of Sale Mall on St. Thomas
WAPA website: www.viwapav.i; Facebook: Virgin Islands Water & Power Authority