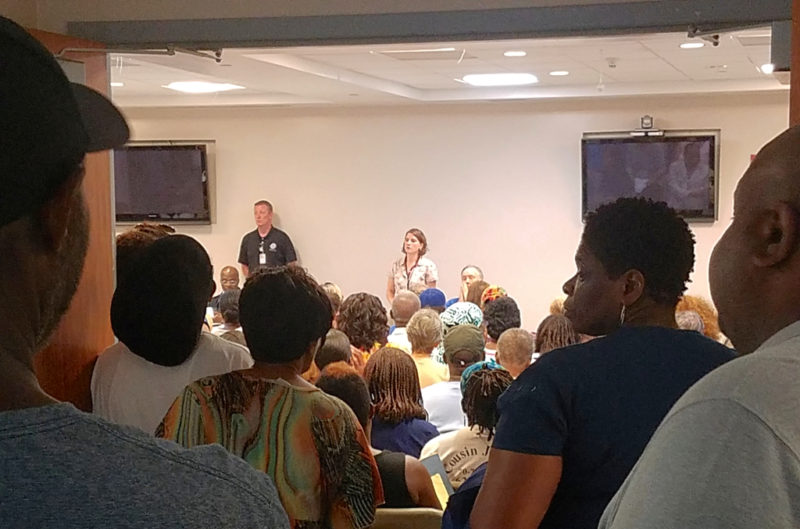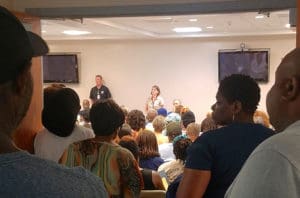 Both individuals and business owners affected by Hurricanes Irma and Maria are eligible to apply for aid from the Federal Emergency Management Agency (FEMA) and from the Small Business Administration, as representatives of FEMA and SBA explained Wednesday at an information session sponsored by the St. Croix Chamber of Commerce.
The interest rates on the loans are as low as 1.75 percent for individuals. Even if someone doesn't believe they can afford a loan, the reps said, there is an advantage to applying because left-over grant money might be available for those who cannot afford a loan.
Individuals affected by Hurricane Maria can apply for two types of grants from FEMA, Housing Assistance and Other Needs.
Homeowners can apply for financial assistance to repair their homes. FEMA will provide financial assistance in order to make the home "safe, sanitary and habitable," said Leah Lubin, individual and households program specialist for FEMA. For renters, FEMA is able to provide rental assistance if individuals have to move to a different location.
Lubin advised homeowners and renters to go through their insurance first if they have it, as FEMA is not able to duplicate benefits, but both should also register with FEMA online at disasterassistance.gov or at a disaster recovery center on island, because there might be some aspects of repair or rent assistance that insurance doesn't cover.
She said FEMA is looking into a multifamily repair program in order to rehabilitate multi-family housing to enable more individuals to rent a home.
The Blue Roof program is another program FEMA offer to home owners and renters for those individuals whose homes have lost portions of their roofs.
In the "other needs" category. FEMA provide assistance for services such as: free disaster legal services to help individuals navigate insurance paperwork; personal property repair or replacement; disaster unemployment assistance for self-employed individuals or business owners not eligible to apply for regular unemployment insurance; medical/dental assistance for injuries related to the storm; funeral expenses for a death caused by the storm; childcare assistance for increased childcare costs as a result of the storm; and transportation expenses due to a vehicle being damaged in the storm.
Individuals who do not qualify for FEMA grants or those who want to fix their property past the "safe, sanitary and habitable" state that FEMA provides through grants, the Small Business Administration offers loans with low interest rates. Small Business Administration public affairs specialist Jack Camp said loans for individuals through SBA are as low as 1.75 percent for loans as long s 30 years. Homeowners are eligible for as much as $200,000 in loans for home repair. Both homeowners and renters are eligible for loans as mich as $40,000 loans for personal property replacement or repair.
SBA is offering businesses affected by Hurricane Irma or Maria as much as $2 million in loans at rates as low as 3.305 percent. There are different loans available, including loans for physical losses and loans for economic injury to the business.
"If you've been referred to the small business administration and you don't want a loan, still apply," Kemp said.
There are instances where an individual may make too much money to qualify for a grant from FEMA and FEMA will then send that individual to SBA, but then SBA may determine that the individual is not able to afford a loan and they may send them back to FEMA to see if there are left-over grants for which that individual may now qualify.
Applications for FEMA grants can be done through applying at the FEMA disaster centers on island, online at disasterassistance.gov or by calling 1-800-621-3362.
SBA loans can be applied for online at disasterloan.sba.gov.
FEMA now has a Facebook page with information directly geared to the U.S. Virgin Islands recovery at Facebook.com/Femausvirginislands.