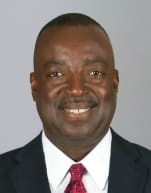 Lt. Gov. Osbert E. Potter, who is also the territory's commissioner of insurance, informs public adjusters and residential property owners that rules and regulations governing the actions of public adjusters in the territory, which were promulgated in 1995 by then Lt. Gov. Kenneth E. Mapp following Hurricane Marilyn, are still in effect.
These regulations are needed for the protection of all residential policyholders who contract with a public adjuster to represent their financial interests in an insurance policy by preparing, completing or filing their insurance claim form and negotiating the settlement of a claim for loss or damage covered by a homeowner's insurance policy.
Potter said, "In the aftermath of hurricanes Irma and Maria, numerous public adjusters have come into the territory and have been licensed by the commissioner of insurance."
H further advised that no public adjuster may charge a fee or receive any compensation from the residential property owner, which exceeds 5 percent of the residential insurance settlement.
"My office is receiving telephone calls and emails from a few residents who want to pay a public adjuster more than 5 percent of the insurance settlement. Know that if this is done, you, as the residential policyholder, will have no right to appeal before the commissioner of insurance should there be a disagreement between you and the public adjuster with the outcome because the maximum amount set by Regulation is 5 percent," said the lieutenant governor.
In concert with the V.I. Code, each public adjuster shall have readily available at his/her business address for inspection by the commissioner or the employees of the Division of Banking — Insurance and Financial Regulation a statement of any fee or compensation received from a homeowner or residential insured, as well as a detailed record of the related adjustment.
Failure to comply with the provisions of these regulations shall subject a public adjuster to the penalties set forth by law.
Customers with questions regarding an insurance policy or about an adjuster, should contact the Office of the Lieutenant Governor, Division of Banking, Insurance, and Financial Regulation at 774-7166 (for St. Thomas, St. John and Water Island) or 773-6459 (for St. Croix).
Customers may also come to the division's office on St. Thomas in Nisky Center, 2nd Floor, or to the office on St. Croix at 1131 King Street, 3rd Floor.