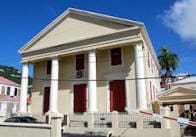 After 20 years of very little hurricane activity, 2017 has brought the Virgin Islands not one, but two Category 5 hurricanes in a two-week span. Category 5 hurricanes are the highest on the Saffir-Simpson scale which measures strength, and Hurricane Irma was branded the most powerful storm to ever come out of the Atlantic. In their wake, these storms have left a path of devastation on St. Thomas as well as many other Caribbean islands.
St. Thomas Reformed Church (STRC) has been coordinating on the ground relief efforts. Our church undercroft that had just been renovated flooded not once, but twice. Yet miraculously, all roofs remained intact and our sanctuary, offices and new retreat center remained usable and dry (relatively!). Our sanctuary is being used as a staging ground, storage area and distribution site for essential supplies that are extremely scarce on the island right now. We have partnered with the Salvation Army and My Brother's Workshop in a free feeding program. Originally, the goal of MBW was to serve at least 500 meals a day. One day last week, MBW staff and volunteers served 957! (You can check out more info about MBW by visiting its Web site at www.mybrothersworkshop.org or its Facebook page at https://www.facebook.com/MyBrothersWorkshop
On the Sunday immediately following Hurricane Irma, the church gathered to worship — no power, no sound system, no printed bulletin, but many, many grateful hearts and hands ready to serve. Still with limited gas, impassable roads, horrible traffic, limited cell service and an island-wide curfew, it took days to locate and check on all the church's families. Miraculously, the church has regained power, but for most of the island's residents it will be 9-12 months before they have electricity and running water. Supermarkets can only be open during certain hours resulting in outrageous lines. Coupled with the tremendous blow to our tourism-based economy, many on the island literally cannot access supplies and resources needed to survive including water, food, infant needs and basic hygiene items.
The outpouring of volunteer support has been tremendous. Congregants who have lost their homes are the very same who are coming to sort and distribute supplies. One of the island's nursing homes was badly damaged yet residents remained. Some of our wonderful congregants have also been bringing supplies to the nursing home. But the need for tangible supplies is very great and even as recently as this weekend that supply chain ran out. In the coming months of recovery, we want to continue being able to provide supplies for a least 200 families a day.
Also, MBW is organizing work teams to help put up tarps as so many in the community lost their roofs but have no option but to remain in their home. With the assistance of volunteer teams, we hope to be able to assist MBW with this type of labor soon. For others, we are assisting in trying to get people off island, including those with medical conditions or who have lost everything.
Pastor Jeff had the privilege of leading a worship service at the island's only hospital, which was badly damaged and had to evacuate most of its patients stateside via U.S. Navy assistance. The hospital staff doctors and nurses are holding on by a thin wire and trying to attend to the patients through the emergency room in a badly damaged facility. Many are working 24-hour shifts. These are just a few of the things people are doing to help and to care and to love our neighbors. We are very proud and happy
to be part of a church with so many resources and such a desire to care for their community. The well is deep when we draw from Christ's living water!
Almost three weeks after Hurricane Irma ravaged the USVI, our islands remain in desperate need of hope and relief. St. Thomas Reformed Church has answered the call and will continue the good work that has been started until the island is fully recovered — likely a multi-year process. You can help us in this work by donating to STRC
Ways to Donate:
Through our website (this will take you to a Paypal link. Add in Memo: Hurricane Relief) – http://stthomasreformedchurch.org/g-i-v-i-n-g/online-giving/
Mail a check payable to St. Thomas Reformed Church – PO Box 301769, St.Thomas VI 00803. Please add in Memo: Hurricane Relief.
Any monetary donations to St. Thomas Reformed Church are tax deductible.
Also, we are humbled by the outpouring of support and offer of volunteer crews. If you have a desire to come to St. Thomas and work on this effort, please contact us! We would love to have you. If you're interested, please contact Nicole Jackson, our Youth and Retreat Center coordinator, at youth@stthomasreformedchurch.org.
I know many of you may not be on Facebook, but I encourage you to visit our page periodically (it is a public page, so you don't even need a login to view it) to follow our transformational journey, fully replete with highs and lows and just as many miracles. Here is the link for that: https://www.facebook.com/stthomasreformedchurch/
Thank you to everyone who has assisted us this far. Your unceasing prayers have provided strength where sometimes there feels there is no strength left. We have peace that surpasses all circumstances because we serve a God who gives us that and so much more freely. The need is great, the struggles are many, and the community is tired. Yet the sun is slowly creeping out and we are full of hope. We serve a God of resurrection, mercy, hope and love!
"Praise be to the God and Father of our Lord Jesus Christ, the Father of compassion and the God of all comfort, who comforts us in all our troubles, so that we can comfort those in any trouble with the comfort we ourselves receive from God." — 2 Corinthians 1:3-4