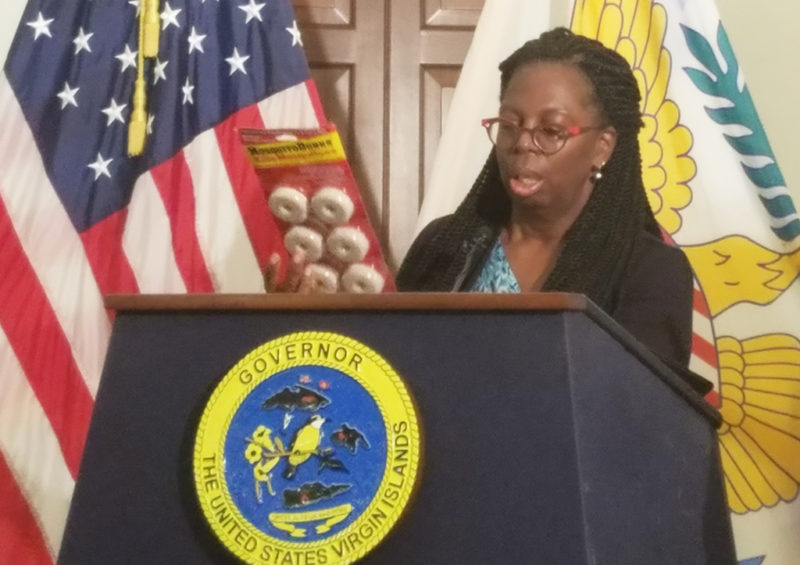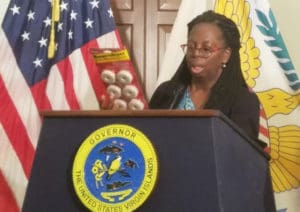 Gov. Kenneth Mapp announced Sunday that the Henry E. Rohlsen airport on St. Croix will be open for flights on Thursday, and that residents of St. Croix will start having much better cell phone reception beginning Monday.
FEMA will start processing application for the Blue Roof Program starting Monday.
Vice President Michael R. Pence and his wife Karen Pence are scheduled to arrive on St. Croix Friday, and will fly over St. Thomas, St. Croix and St. John to view the damage from both Hurricane Maria and Hurricane Irma. President Donald J. Trump is still scheduled to come to the territory at a future date, the governor said.
Seaborne seaplane flights have already resumed, taking passengers between St. Thomas and St. Croix.
AT&T is scheduled Monday to start installing its generator systems to power cell towers until the V.I. Water and Power Authority is able to provide power to the cell towers. Once these are in place, communications throughout the island and territory should improve, Mapp said. A large part of the island of St. Croix has gone without cell voice or data reception since Hurricane Maria hit the island on Sept. 19.
FEMA has been visiting homes of those who have registered for disaster relief, but the agency has been having trouble finding some homes. Territory residents have become accustomed to using landmarks, house colors and tree types to give directions to different areas and addresses, and this is making it difficult for FEMA officials to find homes, especially since so many landmarks have been obliterated by the storms. Mapp asked residents to spray paint or paint their plot number and estate on their houses.
"Some people who are not from here may not even know what a mango tree is," Mapp said
If a house is far from a main road, Mapp encouraged residents to put up posters directing FEMA officials to their house.
Bill Vogel, federal coordinating officer for FEMA Region II, announced that many residents should have received a text message today about the Blue Roof program. On St. Croix, the locations will be Pearl B. Larson School, Department of Public Works in Anna's Hope, Sunshine Mall K-Mart, Alexander Henderson School and Charles H. Emmanuel School. Location times and dates will be announced Monday. Raymond Konan, who attended the governor's press conference on Saturday and assisting with intergovernmental relations for FEMA, said that the information exchange between FEMA and the government of the Virgin Islands has been excellent. FEMA is on the ground and their main goal is to assist individuals who have sustained damage to their dwelling or contents due to the hurricane.
Konan urged affected individuals to fill out applications for both FEMA grant money and U.S. Small Business Association loans, and he reiterated that applying for an SBA loan does not disqualify an individual from applying for a FEMA grant. Those who need assistance can call 1-800-621-3362 or go to Disasterassistance.gov. The Blue Roof Program can be contacted at 1-888-766-3528.
No food or water distributions are planned Sunday on St. Thomas, St. John or St. Croix. Distributions will resume on Monday from 10 a.m. to 2 p.m. on St. Thomas and from noon to 4 p.m. on St. Croix.
Asked whether those in St. Thomas were receiving cans of Vienna sausages and candy bars in place of MREs at distribution points, Mapp responded, "We are not asking for anymore inflow of supplies" and confirmed that those going to distribution sites on St. Thomas were being given mostly cans of Vienna sausages and other items from the snack bar.
"Many people are just taking the water, they are not even taking the food items," Mapp said, and those who are asking for food items are getting what is left over. This was attributed to the second provisioning of supermarket, and Mapp was hopeful that he could start discussing reduced qualifications for food stamps next week for individuals who may be in need.
Commissioner of Health Michelle Davis announced that urgent and emergency care is available on all three islands. Gov. Juan F. Luis Hospital and Medical Center is open for these services on St. Croix. On St. Thomas those in need of urgent or emergency care can go to Schneider Regional Medical Center, and on St. John, the Morris De Castro Clinic is open.