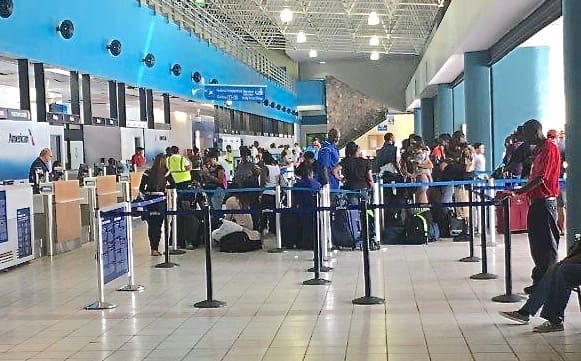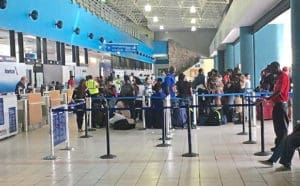 When a Delta Airlines plane touched down at the Cyril King Airport on St. Thomas Thursday, shouts and applause broke out in the battered terminal's waiting area.
Eager to board were almost 200 people, most of them island residents who had been unable to leave the island for three weeks thanks to Hurricanes Irma and Maria.
It was the first day since Hurricane Irma hit the island that the airport was able to handle commercial flights. Both American Airlines and Delta landed 757s and both took off full, according to Monifa Morreno Braithwaite, public information officer for the V.I. Port Authority. American's capacity is 176 seats; Delta's is 199.
Friday a Jet Blue aircraft arrived with relief supplies and also picked up passengers, but Braithwaite was unable to say exactly how many.
A Jet Blue spokesman said service will continue through the weekend, but stressed that the airline is offering "relief flights" only, as opposed to regular service. Normally the airline flies between San Juan and St. Thomas but with the Puerto Rico airport also closed because of the storm, Jet Blue's mercy flights are originating in Ft. Lauderdale.
American is running just one flight a day for now, operating only between Miami and St. Thomas. Delta also is bringing just one flight a day, operating between Atlanta and St. Thomas.
"This is a huge step for us in terms of recovery," Braithwaite noted.
A minor hitch was reported by a Delta passenger on the Thursday flight. Many of those on board, including the pilot, were unaware that the passengers would have to clear Customs in Atlanta. It caused a slight delay on landing and making connections.
Braithwaite said the Port Authority had made it clear in its talks with airline officials that Customs is not offering pre-clearance at the King Airport yet. David Mapp, the executive director, had also made a public announcement on the radio, but evidently the word didn't trickle down to everyone concerned.
She said she doesn't know how long it will be before Customs again operates at the airport.
"It's a telecommunications issue that they're having," she said. "I don't have details."
But she had more good news: Cape Air is expected to begin flights between St. Thomas and St. Croix on Saturday. And the tentative reopening date for the Henry E. Rohlsen Airport on St. Croix is Oct. 5.