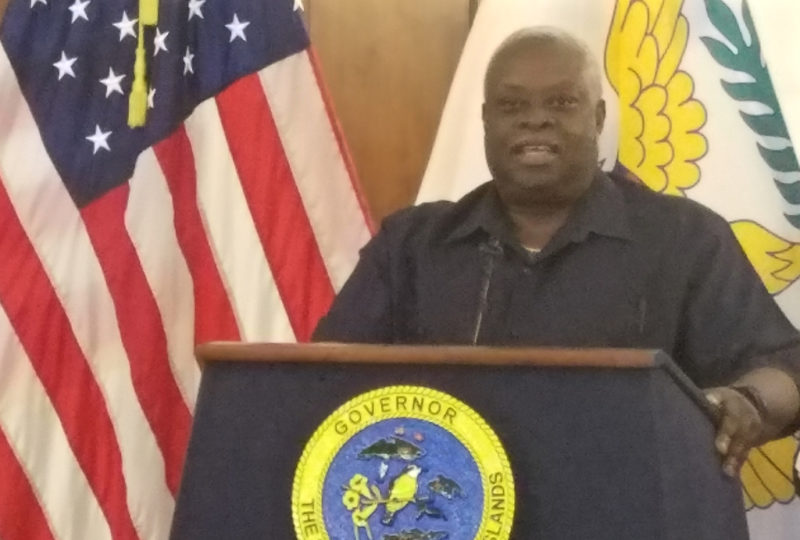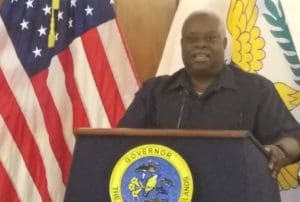 The Virgin Islands has an adequate supply of fuel, Gov. Kenneth Mapp said Thursday, damping fears of a shortage.
"There is enough fuel," Mapp said at the opening of his Thursday night news conference on St. Croix.
The governor also announced the resumption of flights by Seaborne Airlines and the start of mail delivery on Friday on St. Croix.
TRI Island Energy is again delivering fuel to St. Thomas and St. John, and 110,000 gallons of fuel were just delivered to the STT/STJ district to alleviate any immediate worry about running short on fuel for cars and generators.
Mapp also announced news that had been rumored for days – that Seaborne has resumed seaplane service between Christiansted on St. Croix and Charlotte Amalie on St. Thomas. The seaplane carrier will have three flights a day and will accept walk-ups at $70 for a one-way ticket. This will make travel between St. Croix and St. Thomas possible and will enable individuals who want to leave the island soon to board a flight out of the territory at the Cyril E. King airport in St. Thomas.
Seaborne also will resume shortly regular airport service between St. Thomas and St. Croix.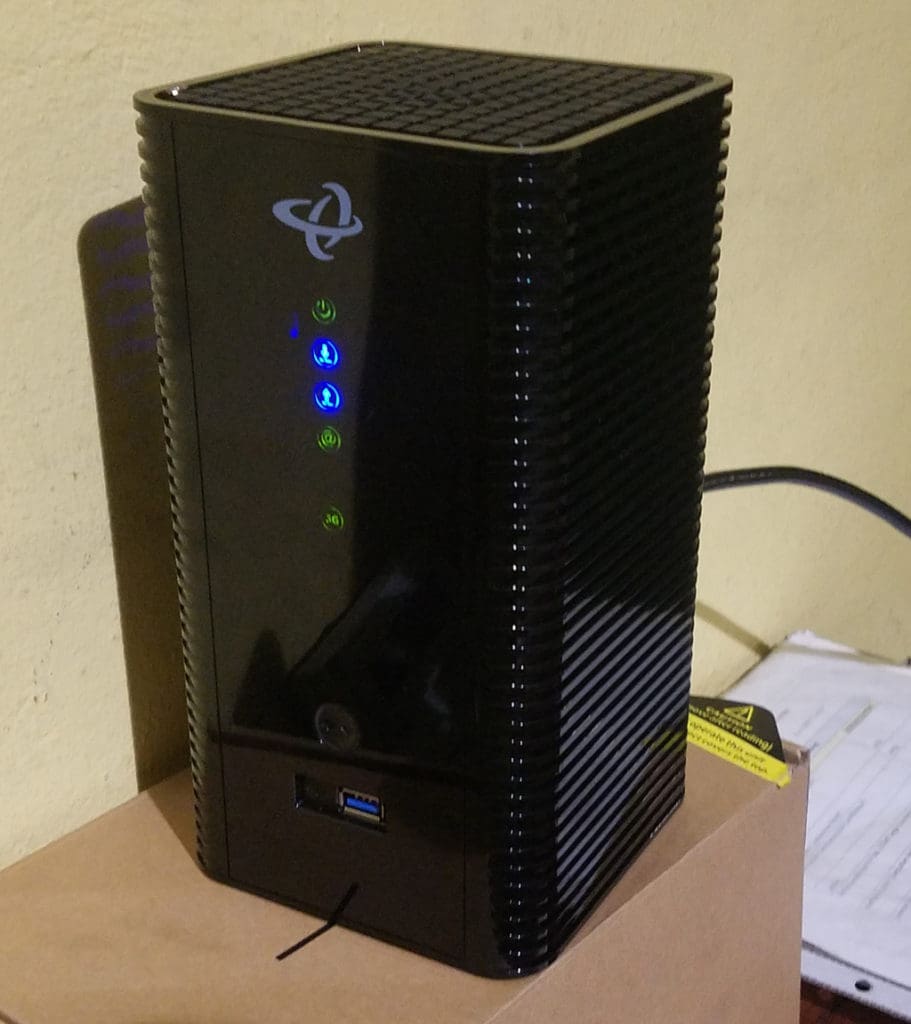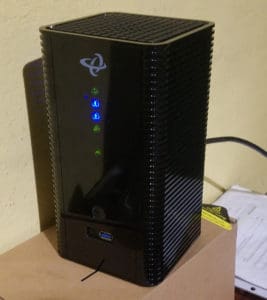 Royal Caribbean will pick up passengers in St. Croix on Friday for its mercy ship voyage to Fort Lauderdale. Passengers who are scheduled to depart on this ship from St. Thomas will be picked up on Saturday. Also, a mercy flight is scheduled Friday in St. Thomas that will take 100 passengers. Those passengers already have been contacted. Limetree Bay had a plane departing the territory today and provided a mercy mission for 50 individuals.
In total, 2600 individual have been evacuated from the St. Thomas/St. John district since Hurricane Irma.
Distributions of food and water will take place Friday and Saturday on St. Croix only from 12 p.m. to 4 p.m. at the following locations:
– Alexander Henderson School
– Juanita Gardine Elementary School
– Cotton Valley Fire Station
– Educational Complex
– Eulalie Rivera School.
There will be no distribution on Sunday of this week.
Individuals whose roofs were severely damaged during the two hurricanes that ripped through the territory in September can register for FEMA's Blue Roof Program. FEMA will begin taking applications starting on Saturday.
Those who need assistance for losses sustained in Hurricane Irma or Maria, can contact FEMA at 1-800-621-3362 or online at at Disasterassistance.gov.
Bill Vogel, federal coordinating officer of FEMA Region II, said FEMA staff in the territory will increase in the next couple of weeks and there will be field teams in both Christiansted and Frederiksted making sure that those on St. Croix are getting the help that they need.
"We're still here in full strength," Vogel said.
IRB Director Marvin Pickering announced that federal tax due dates have all been extended to January 31, 2018, for residents of the Virgin Islands. This includes payroll tax and due dates for the filing of tax returns for those who had extensions. However, the extension does not apply to local taxes such as gross receipt tax.
Many on St. Croix are waiting on supplies that are being shipped from the U.S. mainland will be pleased to learn that mail delivery will resume Friday on St. Croix with the opening of the Kingshill Post Office.
Mark McGibbon, president and CEO of the V.I. Next Generation Network, announced that the fiber break that took place yesterday on a main fiber cable servicing St. Croix, St. Thomas and St. John has been repaired, as has a fiber break at the Buccaneer Hotel on St. Croix. Hot Spots available on all three islands include:
St. Croix:
Florence Williams Public Library
Gallow's Bay Bistro
VITEMA
Plaza Extra West
Plaza Extra East
St. Thomas:
Cyril E. King Airport
GERS
Tutu Park Mall
Havensight Mall
Buccaneer Mall
St. John (Cruz Bay area):
Grande Bay Resort
STJ Marketplace
There are other hot spots throughout the territory and more are being added to ease with decreased Internet coverage in the territory at this time.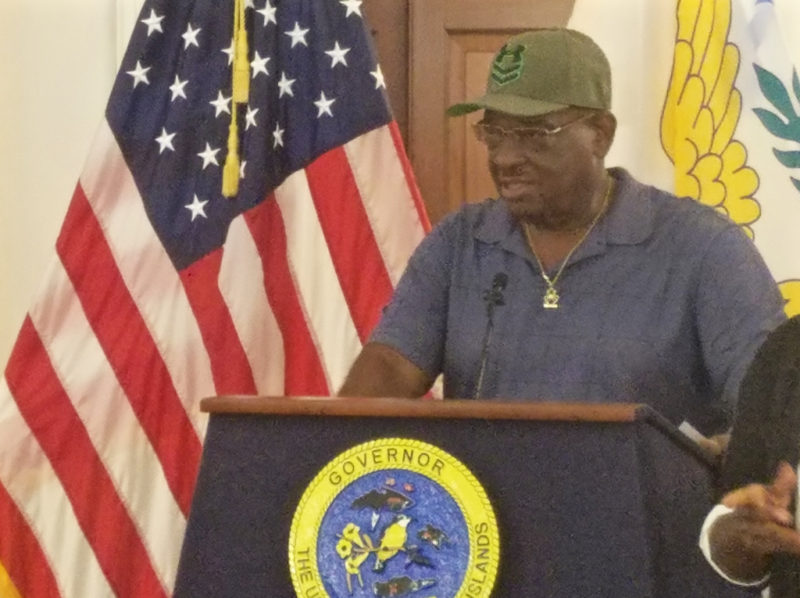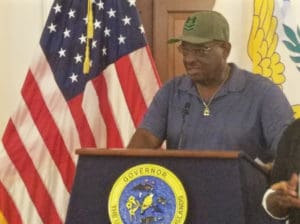 Police Commissioner Delroy Richards cautioned drivers that since most stoplights are still out, individuals need to slow down as they reach the intersection. It is becoming dangerous as motorists speed through the intersections. Also, Richards said that he was going to start cracking down on individuals who are using curfew passes hours after their business has closed.
Mapp has invited the St. Croix business community to Government House on St. Croix around noon or 1 p.m. Saturday The exact time will be announced before Saturday. Just as he has done on St. Thomas, he wants to hear from the business community about how they have fared after the hurricane, and how business can be improved going forward.
Dr. Michelle Davis, commissioner of the V.I. Department of Health, alerted individuals who need to keep their medications cold while the power is out can contact the Department of Health or the VITEMA Emergency Operation Center and inquire about obtaining a generator to keep those medicines cold.
Asked whether the Marriott would be pulling its brand from the territory due to the damage sustained at their properties after the hurricane, Mapp replied that the Marriott will be staying, but much work needs to be done.
It will take "over six months, they will not only be doing repairs but a complete refurbishment of their facility because of the extent of the amount of the repairs," the governor said.
Since AT&T reception has been terrible to non-existent since Hurricane Maria hit St. Croix last Tuesday night, . Mapp was asked if there was a timeline for getting good reception back on the island. He said that "the barge [with AT&T supplies] has left the mainland and is on its way to the Virgin Islands and St. Croix."
AT&T has asked for an escort from the Virgin Islands for the supplies once they arrive on St. Croix and this escort will be given.
Mapp was asked whether he would address voting rights for Virgin Islanders in presidential elections with President Donald Trump when he visits the territory in the near future. Mapp stressed that the focus of discussions with Trump will be on the devastation faced by the territory after Hurricane Irma and Maria and that voting rights will not be a discussion point.