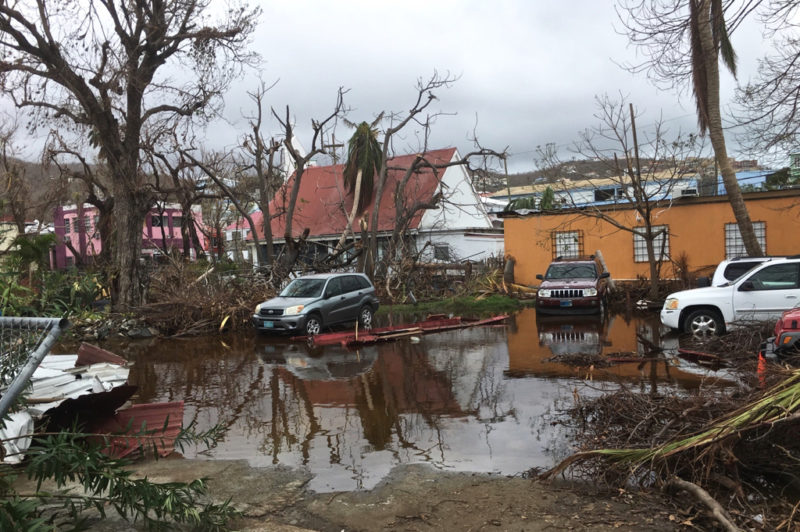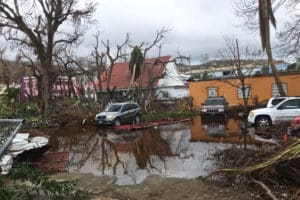 The Myrah Keating Smith Clinic held up through the onslaught of Hurricane Maria Wednesday, a week after taking the worst Hurricane Irma had to offer, but officials are now wondering if it's still up to the task of continuing to provide health care for St. John, according to Dr. Joe deJames.
The building is now leaking and officials from FEMA and the V.I. Department of Health and the hospital administrators are studying whether services should be moved to another location.
The clinic holds one advantage over any other place it could be moved – a working helipad, deJames noted.
Despite the leaks, the clinic's medical staff saw patients there Wednesday and Thursday. They are also looking forward to the expected return of the U.S. Navy's Disaster Medical Assistance Team. The DMAT, which includes doctors, nurses, nurse practitioners and medics, helped stabilize and stock the clinic after Hurricane Irma but had to pull out in the days before Maria came on as the Navy repositioned its resources out of harm's way.
A medical team from Johns Hopkins University is also expected, deJames said.
Elsewhere on St. John, other buildings were showing the strain of successive hurricanes. The shelter at the Julius Sprauve School in Cruz Bay lost power Wednesday night when the water pump on its generator went out. The shelter housed about 80 people Wednesday night.
St. John has been working with recovery and relief since the day after Irma left the territory, taking a break only to hunker down for Maria. With that storm now spinning off to the northwest, St. Johnians are getting back to work.
Officially, the territory-wide 24-hour curfew is in effect, but enforcement on St. John is more relaxed, as many residents get up and about the business of recovery between 6 a.m. and 6 p.m.and relief.
The 10 a.m. daily community meetings at Mongoose Junction have resumed, a place where information can be distributed and volunteers organized.
– Matt Gyuraki said a temporary Wi-Fi network is set up, but is not receiving any signal from St. Thomas as of Thursday morning. He said it will take several days to get the Wi-Fi hot spots going.
– Caneel Bay's generator is down and they can't make water or ice. However, there is plenty of ice in stores and at the ice store in Cruz Bay
– The big problem on St. John Thursday was the lack of fuel, especially diesel, because the island's diesel supply was coming from Puerto Rico, which also got slammed by Maria,
The E&C Gas Station was open Thursday selling gasoline. Race Track Gasoline has diesel, but the station's generator is broken so they cannot pump the fuel.
– Coral Bay resident Bruce Curtis said Maria's storm surge washed up as far as the restaurant Aqua Bistro, bringing lots of wreckage with it.
– Three barges were reported sunk or on the rocks. The Captain Vic and General II are ready to go.
– Cruz Bay Landing served sandwiches from noon to 2 p.m. Thursday and Longboard served from 2 to 4 p.m. Friday they expect to feed as many as 1,000 people.
– John Dickinson, owner of the Pink Papayas shop, was asked if he had a roof. He replied, "Yes, I have two. Mine and my neighbor's."