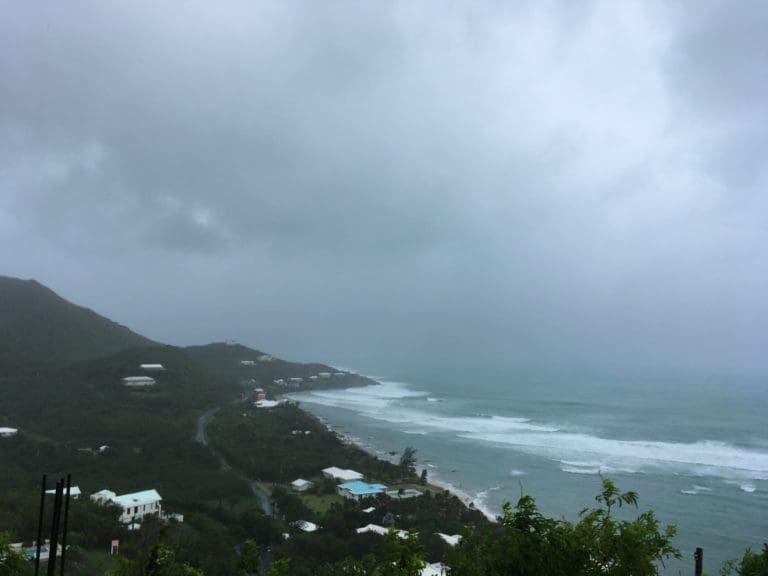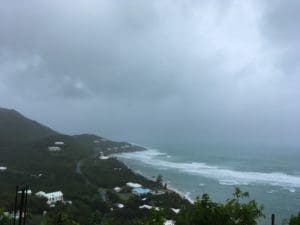 Hurricane Maria has moved west of it's projected path somewhat and is now projected to pass 10 to 20 miles south of St. Croix, Gov. Kenneth Mapp said in a 5:15 p.m. Tuesday statement from Government House on St. Croix.
That is an improvement over having the eye pass directly over part of St. Croix as projected earlier today.
Mapp's update consisted mostly of the latest information from the National Weather Service.
At 5 p.m., Maria was 80 miles southeast of St. Croix, with 165 mile per hour winds, moving northwest at 10 miles per hour. The barometric pressure in the eye of the storm stood at 916 millibars; just very slightly higher than Hurricane Irma. The lower the number, the more powerful the storm, as a rule of thumb.
Waves are expected to be around 20 to 30 feet high on the south shore of St. Croix.
With the move to the west, maximum winds are now expected to be about 120 miles per hour on St. Croix and 68 miles per hour on St. Thomas and St. John, Mapp said.
Hurricane force winds are expected to begin on St. Croix between 9 and 10 p.m., with peak winds around midnight to 1 a.m., then declining to below hurricane force at around 4 a.m. Tropical storm force winds are expected to continue on St. Croix until 2 to 4 p.m. Wednesday.
For St. Thomas and St. John, tropical storm winds should begin around 6 to 7 p.m.
Mapp said V.I. National Guard Adjutant General Deborah Howell would give the order to bring first responders in for the night on St. Croix around 6 p.m. and a bit later on St. Thomas and St. John. They will resume activities after the storm, late morning Wednesday.
Mapp again said there would be a ping sent to cell phones in the territory to warn of the approach of peak winds, to warn residents of St. Croix in particular to move to the safest location and take cover.
"You will feel the low pressure … like your head is going to pop. That is just normal and a part of the experience that we are all going through," Mapp said, asking Virgin Islanders to stay calm and stay safe.