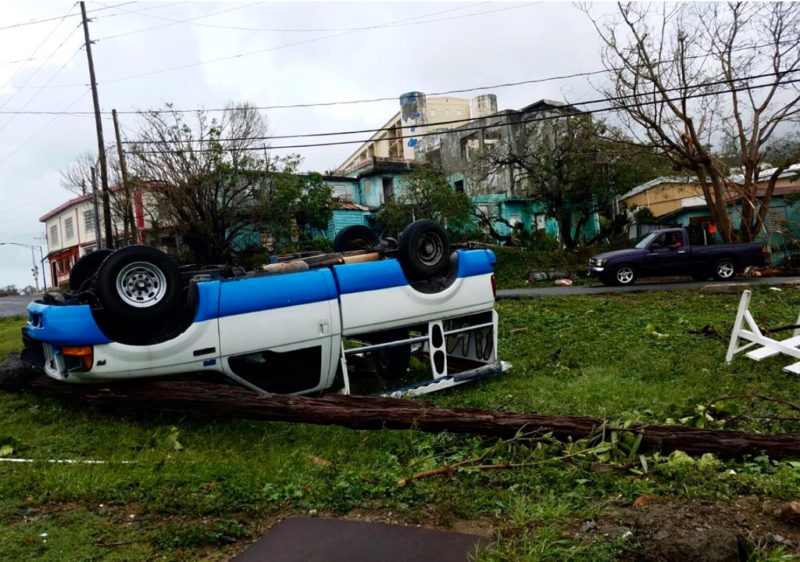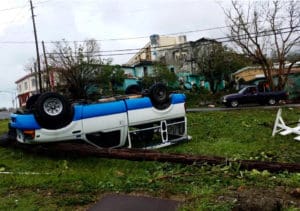 Scenes of both ruin and resilience were everywhere to be found in the territory Friday, but they weren't easy to get to. Cell service and most communication with St. John remains extremely limited and roads blocked by debris make getting to the sites difficult.
The following are random reports culled from Source staff who took time from their personal recovery efforts to get out into the community, along with text and social media posts.
Multiple reports say there is severe devastation throughout St. John, but no serious injuries reported so far.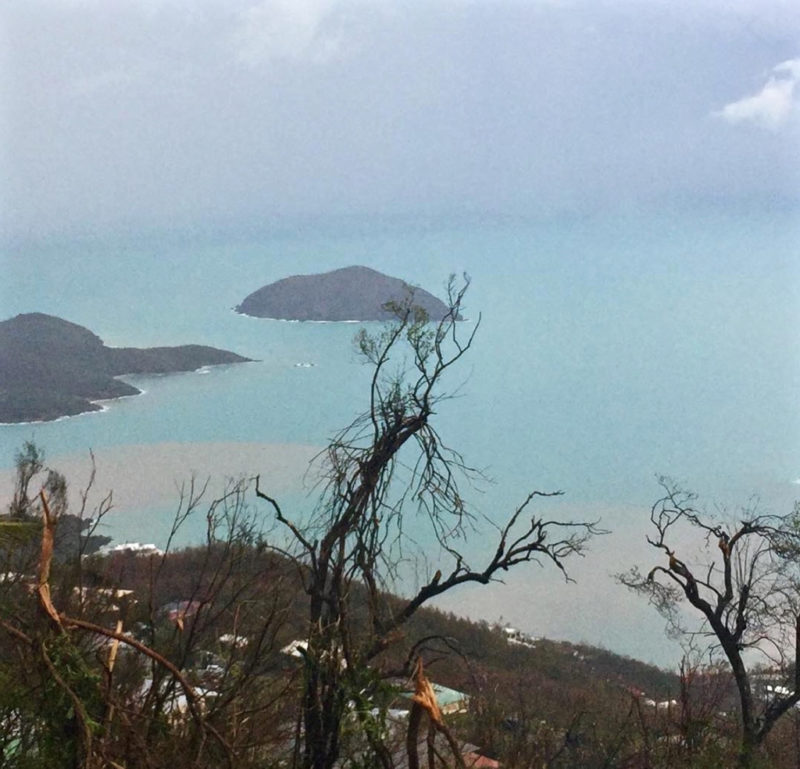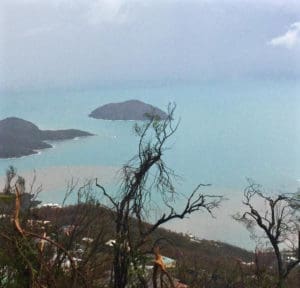 Paige Cope of the V.I. Source reported that at 4 p.m. Friday there were lots of military helicopters dropping off supplies and personnel.
Coral Bay is devastated. Westin Resorts St. John is badly damaged. Major roads are impassable.
On St. Thomas, damage is extreme but not as severe as St. John.
Shaun Pennington of the V.I. Source reported there were traffic jams all over St. Thomas as people ventured out attempting to get gasoline and food and trying to find out if friends and family are OK.
Galvanized metal roofing is strewn all over Sub Base. Police are out trying to direct traffic and asking people why they are out in defiance of the curfew.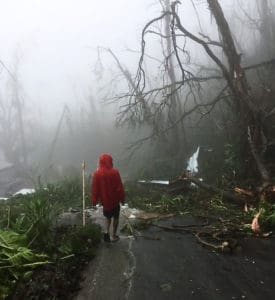 There is a report of attempted looting in Sub Base, but the source who reported it said police quelled it quickly.
No gasoline is available except for emergency vehicles.
Addelita Cancryn Junior High is trashed. The Frenchtown Post Office lot most of its roof. Part of the terminal at Cyril E. King Airport is missing, windows are blown out and there is debris and water everywhere.
Mud covered many roads, including Garden Street.
Amid the stress and gloom, there were smiles as people passed one another in traffic and saw friends and family members for the first time since the storm and finally knew they were OK.
Kelsey Nowakowski recounted how St. Thomas appeared to her on Friday.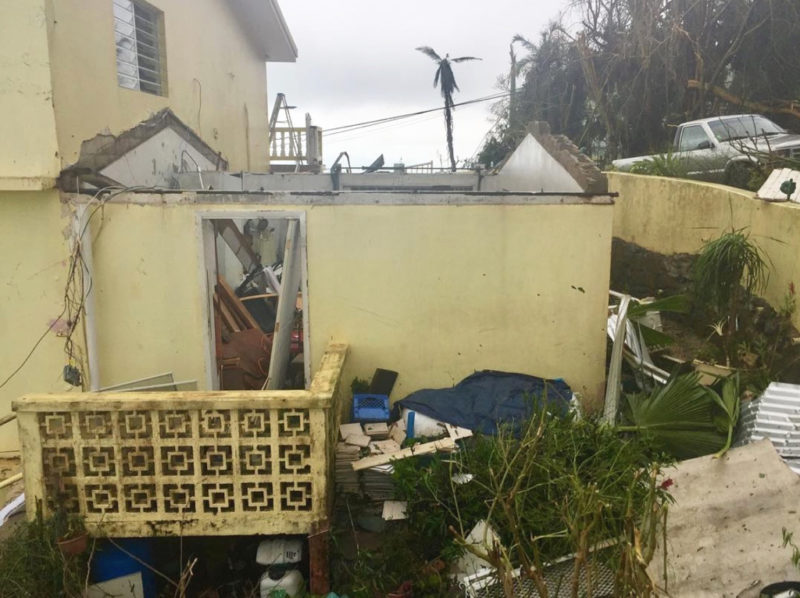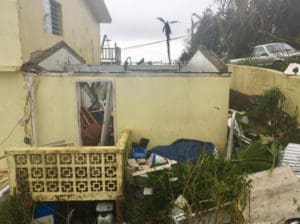 "All we can hear now is the sound of chainsaws clearing roads, helicopters passing overhead and generators buzzing."
"Early in the morning I drove to a small carry-out on the nortshide to get some supplies. Luckily the store was pretty well stocked. I took roads up on the mountain – most of them are only cleared enough for one car to pass. There is debris and trees everywhere. But citizens – not the government – have cleared the road.
"Then I drove down Scott Free Road to Crown Mountain. The bottom neighborhoods around Crown Mountain are devastated. There are roofs blown off in every direction. All of downtown is full of mud, since the waterfront flooded. People were trying to get gas and food all day around town but the police were trying to enforce the curfew."
"Everything is very orderly and people are being respectful of one another so far. I've heard some accounts here and there of small acts of looting but nothing major," she said by text.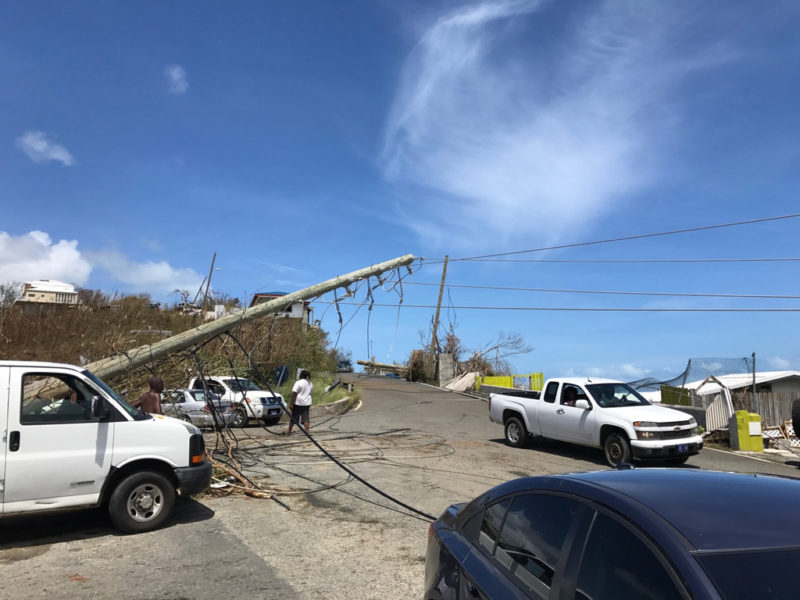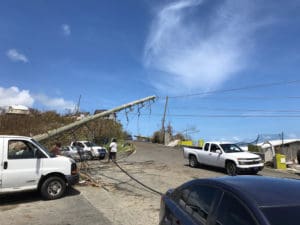 "The road running north from Four Corners is just covered in a mess of trees and in some places only one car can barely squeeze through.cWhen I trekked back up the mountain there were more police and National Guard persons enforcing the curfew of 6 p.m. more strictly. Throughout the day people were wondering why they'd lift a curfew just as it was getting dark out, since it seems dangerous."
Source reporter James Gardner headed from Charlotte Amalie, where he and his family had weathered the storm, to check on his house on the northside.
"National Guard convoys have been traveling around St. Thomas, This one was moving around the Frenchman's Bay area Friday afternoon.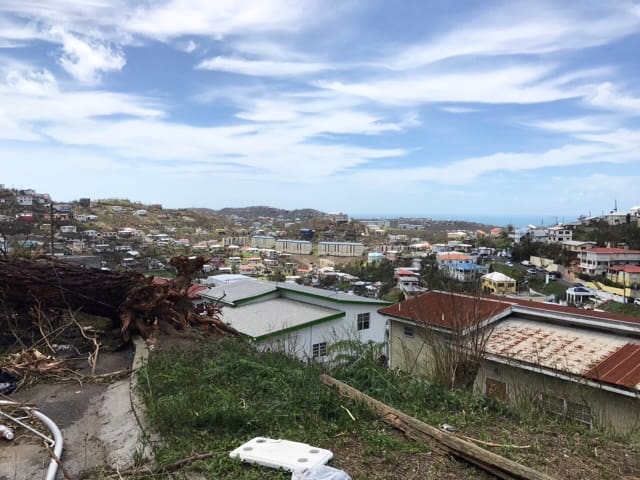 "Main Street St. Thomas and the back areas, including Synagogue Hill, have been mostly cleared of debris. Many of the storefronts appear intact," he said in a mid-afternoon text.
"Anna's Retreat and Tutu Park area were two of the hardest hit on St. Thomas," he continued. "Traffic has been backed up most of the morning despite the curfew. There is a a large pole in the middle of the main intersection leading from Anna's Retreat and going toward the mall, and residents have been working to direct traffic and clear the area of debris. The Tutu high rise projects were badly impacted."
Gardner added that there are unconfirmed reports of Tutu residents missing, but there has been no time to determine if that is the case.