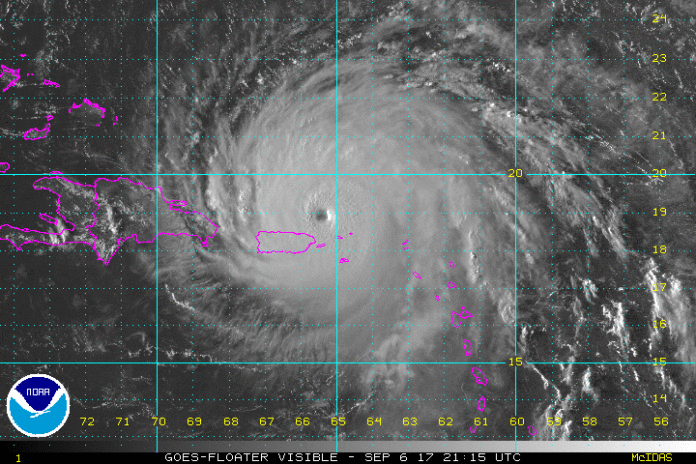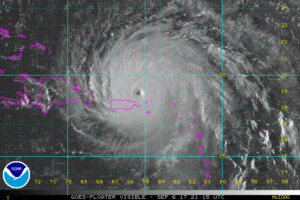 The eye of Hurricane Irma passed over the northernmost Virgin Islands Wednesday afternoon and is now located just to the northwest of St. Thomas, lashing the region with catastrophic winds and rain, according to the National Hurricane Center.
And as Irma passed, the following system, Jose, has been upgraded to Hurricane Jose, and is predicted to follow a similar path throught the Antilles, possibly as early as this weekend.
A wind gusts of 131 miles was recorded on Buck Island, and 87 miles per hour on St. Thomas.
An Air Force Reserve reconnaissance aircraft reported peak winds of 188 miles an hour at flight level in the storm's eye.
The National Weather Service said destructive wind gusts of mroe than 115 miles an hour raked St. John and St. Thomas, "producing swaths of tornado-like damage."
Dropsonde observations – readings from instruments dropped into the storm by the hurricane hunter aircraft – indicated that the pressure rose a few millibars this morning, but the most recent aircraft report shows that the pressure has fallen to 914 millibars.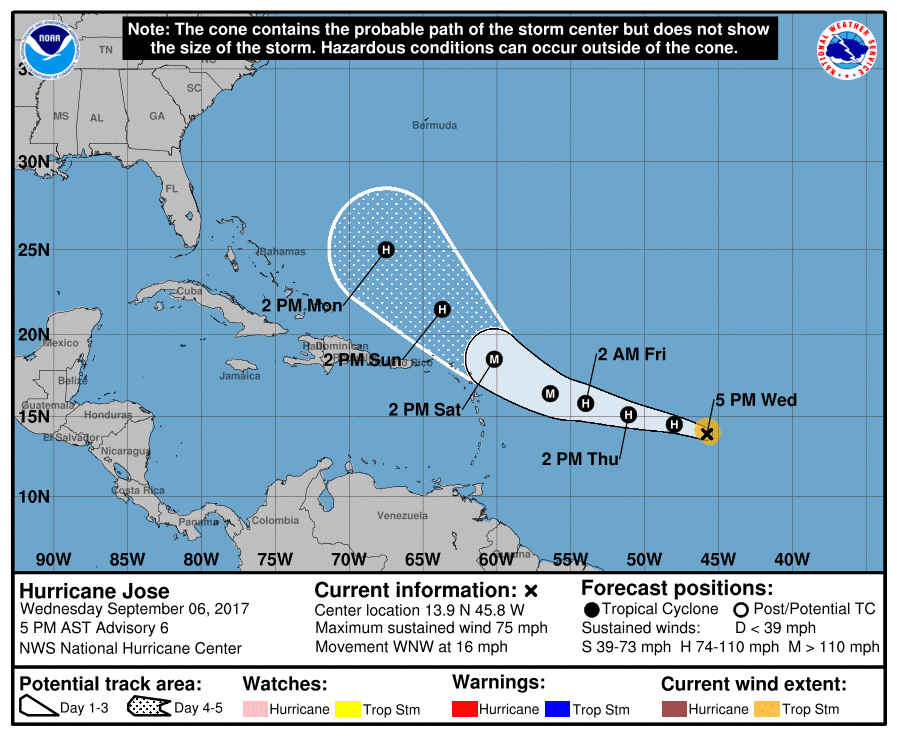 The hurricane remains on a west-northwestward motion at about 14 knots (nautical miles per hour.) A high pressure ridge over the western Atlantic is forecast to keep Irma on a west-northwestward course over the next 48 to 72 hours. The track guidance is still in good agreement during that By the weekend, a shortwave trough diving southward over the east-central United States is expected to cause Irma to turn northwest and north. Conditions should allow it to remain an extremely powerful storm as it tracks in on the U.S. coastline, with evacuation beginning in the Florida Keys.
Flood warnings were continued in the territory, with flooding rains expected to continue through at least Friday.
In the meantime, Hurricane Jose has continued to become better organized. An eye-like dimple has occasionally been observed in visible imagery during Wednesday afternoon.
The initial intensity is now 65 knots, or 74 miles an hour, and "there is no reason to believe that the recent intensification trend will end soon," according to the NHC 5 p.m. Wednesday update.