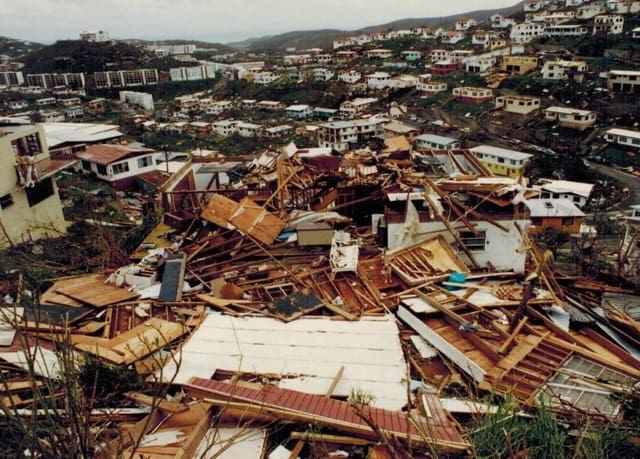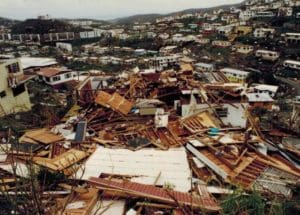 Hurricane Irma was about 1,500 miles east of the U.S. Virgin Islands Friday night. That's a long way to go and it may well still miss the territory. But at the very least, the U.S. Virgin Islands are in for heavy waves, rain and possibly wind.
The time to prepare is now, emergency officials say. Don't wait until a storm is upon you.
"The National Weather Service is saying it is still too soon to say" if Irma will hit the territory, VITEMA spokeswoman Christine Lett said Friday. "So people should be really monitoring this on their own and be ready to act if they have to."
Some have expressed concern that the federal emergency relief agency, FEMA, may be too busy with the aftermath of Hurricane Harvey in Texas to help here, Lett said. But she said VITEMA is in daily contact with the FEMA, and the agency has personnel ready to deploy to the territory if needed.
Hurricane Hugo, which devastated St. Croix 28 years ago this September, Marilyn in 1995, or the less severe Hurricane Omar in 2008, showed that winds from storms whose centers are as far away as 200 miles can cause damage. Periods of severe activity can last a full day. A hurricane watch usually takes place 36 hours before a possible impact. A hurricane warning means a hurricane is expected to strike within 24 hours.
Prepare your house and yard and make a plan.
"Think of everyone in your household, including your pets," Lett advised during a phone call Friday.
If shelters need to be opened, VITEMA and other agencies will give notice and say which ones, depending on the severity of the storm. Typically, the Knud Hansen Complex on St.Thomas (1303 Hospital Ground); the Herbert Grigg Home in Estate Upper Bethlehem on St. Croix and St. John Methodist Church on Contant Road, near Cruz Bay, St. John, are the first shelters to open, but that has not been determined yet, and there may be others.
If the storm looks likely to impact the territory, the America Red Cross will be expecting pets and will put out information on what shelters will accept pets when the time comes.
"Make sure you have enough prescription medicine," Lett said, adding that VITEMA Director Mona Barnes is recommending keeping about five days or more of prescription medication on hand, just in case it is difficult to get after a storm.
"Clean your yard of anything that could be a projectile that could harm the house or anyone in it, Lett added.
When a storm is bearing down:
– Be sure your house is ready, with hurricane shutters and supplies;
– Have a detailed plan ready that the whole family is familiar with;
– Prepare an emergency kit, with food, water, a first aid kit and other essentials; and
– Make sure relatives on and off island know where you are likely to be and how best to try to contact you.
An emergency supply kit should have essentials to last at least three days, if not a week. Plan on a gallon a day of bottled water, plus plenty of canned food (don't forget a can opener,) a radio, and a well-stocked first aid kit. Get some cash, too, because if there's a long term power outage ATMs won't work.
Good items to have include Band-Aids, gauze pads, adhesive tape, Merthiolate, antibiotic cream, roll bandages, medical alcohol, peroxide, Benadryl and aspirin.
If you live in a sturdy house somewhat inland, you may be able to weather a storm at home, in an interior room, away from windows. Pay attention to storm alerts and public notices on television and radio.
To get your home ready
– Tie down or secure items outside of house so they don't become flying missiles;
– Fill your gas tank and any extra containers in case power failures close gas stations;
– Check your flashlights and make sure you have fresh batteries;
– Check batteries and oil in cars and boats; and
– Cover or protect glass windows and doors and secure doors so they can't blow open.
If you own a generator, check it monthly and make sure you have fresh gas at least every six months. Have heavy-duty extension cords on hand to handle the load safely. Keep at least two good fire extinguishers in your house and check them periodically.
Plug cistern inlets before a storm to avoid excessive overflow and contamination of water supply. Make sure you have a safe, dry place for important papers. Fill the tub and spare containers for washing and flushing. If the power goes off, keep refrigerators and freezers closed and covered. Shut off all circuit breakers until power is restored.
Draw drapes and criss-cross glass patio doors with duct tape to minimize danger of flying glass. Remove and store screens so they don't blow off. Don't seal the house completely, as sudden major drops in atmospheric pressure during hurricanes can blow out walls and doors. If you are staying in the house, keep track of the wind direction and leave a window cracked on the opposite side of the house.
Don't go outside during lulls in the storm and stay away from the shoreline. A marine VHF radio can provide communication when telephones and cell phones are down. If you go to a shelter, bring food, blankets, pillows, something to sit on, a cooler, prescriptions, trash bags and everything you might need to camp for several days except a tent. Bring toilet paper, wash cloths trash bags and a bucket, if you can.
VITEMA's website has been down for some time, but weather advisories will be disseminated through V.I. Alert, the VITEMA Facebook page and Twitter feed (@readyUSVI) as well as news outlets.
You can have alerts sent to your email and texted to your mobile phone by going to: www.vialert.gov and enrolling.
To inquire directly, call VITEMA on St. Croix at 340-773 2244; on St. Thomas at 340-774-2244 and on St. John at: 340-776 2244.
In an emergency call 911.