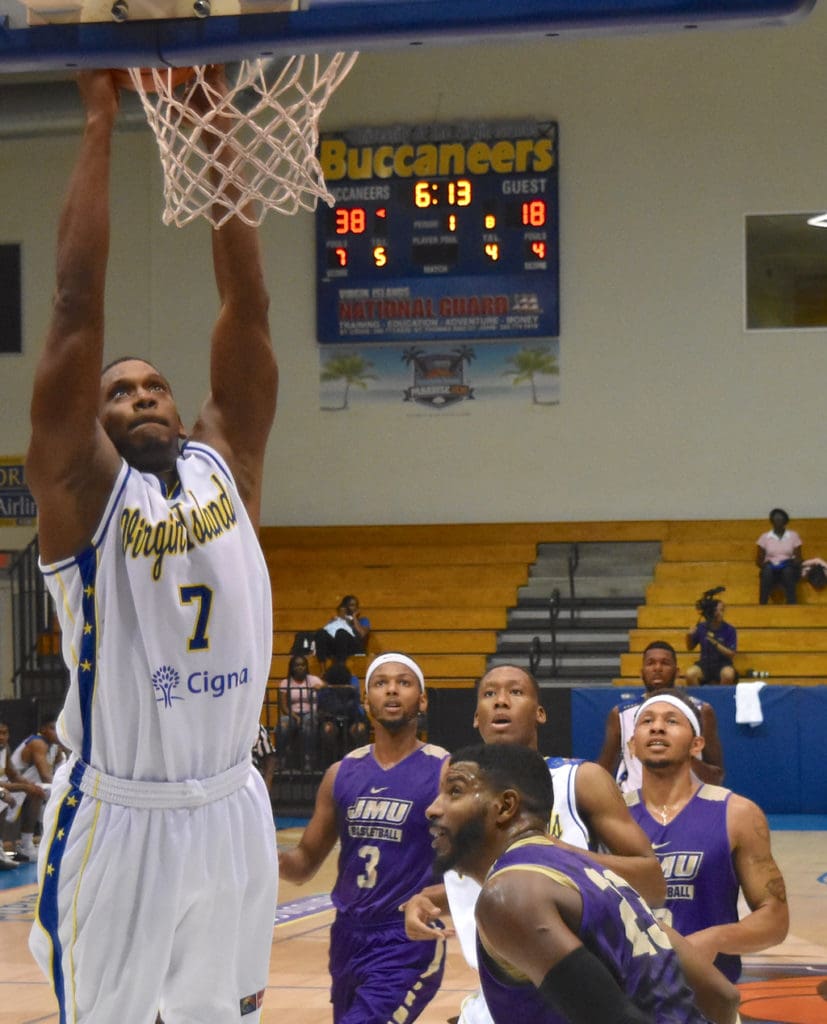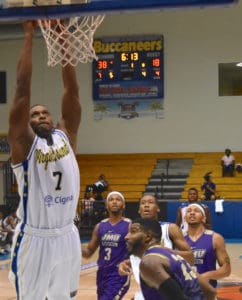 The U.S. Virgin Islands Men's National Basketball Team defeated James Madison University, 96-71, Wednesday night to conclude the Paradise Jam Summer Tour. The game marked the first time in 15 years that the team had played on St. Thomas.
The V.I. squad started with the hot hand and tallied 53 first-half points behind Cuthbert Victor's 17 first half points. The offensive onslaught continued into the second half and created a gap too big for James Madison to bridge.
The islanders scored every which way, connecting on 11 of 22 three-point shots and showing a strong inside presence. The runaway victory was clear well before the final horn sounded.
Victor led the way with 21 points. Stephaun Adams added 18 points and Johnathan Gray chipped in 16 points in the win. Phil Jones was flawless from the field and finished with 11 points in only 12 minutes of play.
"We play well together," said USVIMNT guard Javier Martinez, "and we're excited to represent the Virgin Islands next week in Argentina," where the team will take part in the international AmeriCup competition.
Besides its impressive shooting performance and well-run set plays, the V.I. team was great at communicating. In a gym that was relatively empty, the sound of squeaking sneakers and teammates executing their defensive strategy echoed throughout the UVI Sports and Fitness Center.
JMU freshman Matt Lewis was the lone offensive spark for the young Dukes. He finished with 20 points on 6-13 shooting.
"I needed that." Lewis said when asked about his five made 3 pointers. "It feels good seeing the ball go in."
The 2017 AmeriCup is less than a week away, and in just a handful of practices the V.I. players USVIMNT have taken on the persona of their head coach, Sam Mitchell, who can be seen orchestrating the game plan from the sidelines. Mitchell is no novice to high caliber basketball and has spent time coaching in the National Basketball Association, both as an assistant and, most recently, a head coach.
The USVIMNT is scheduled to play the 2017 AmeriCup in Group B. Their first game is on Sunday, August 27, in Bihia Blanca, Argentina. Other Group B teams include Argentina, Canada, and Venezuela. More information is available here.