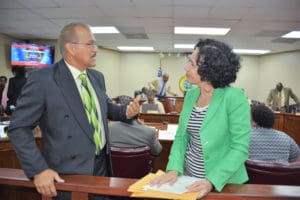 Pedro Cruz, commissioner of Sports, Parks and Recreation, said Wednesday that the vans the department uses to transport student athletes in its youth programs are in "deplorable" condition and on the verge of being unusable.
Cruz told members of the 32nd Legislature's Committee on Finance that the condition of DSPR's vehicles is a critical issue. The department was one of three government entities whose representatives testified at a budget hearing on Wednesday.
According to Cruz, his department has only three vans in operation for transporting children and teens enrolled in its programs, which include enrichment camps in tennis, swimming, steel pan, dance and other activities. Each island has one 15-passenger van, Cruz said, and these are in danger of breaking down.
The Legislature's post audit report of Sports, Parks and Recreation lists a vehicle fleet in worse shape than that of many other agencies. Of the 35 vehicles under the department, 22 are classified in the audit as being in "poor" or "old" condition, including all the vehicles on St. Croix. Some senators said they felt the poor condition of the department's vehicles was unfair given the facts that they are for public use, and that some agency heads are driving brand new government cars.
"I'm seriously getting the feeling that only those in high positions are getting new vehicles," said Sen. Kurt Vialet, chairman of the Finance Committee.
Vialet said the FY 2018 budget hearing process has revealed that many commissioners and deputies are driving cars purchased in the last two years, while some vehicles used to deliver services are 10 years old or more, and in bad condition.
"I see all these new vehicles for the Government of the Virgin Islands, for literally every department," Vialet said. "Every commissioner, every assistant commissioner, every deputy is driving a new vehicle. But then you have an entity that is providing services to the children of the Virgin Islands, and you don't have one new van."
Like almost every government agency, DSPR is facing a cut to its budget in FY 2018. The recommended budget for the department in the upcoming fiscal year includes a seven percent cut from the General Fund, approximately $491,000 less than FY 2017. The budget includes $6.6 million from the General Fund, and an additional $500,000 from the Tourism Revolving Fund.
DSPR's recommended FY 2018 budget also includes slightly more than $1.2 million in miscellaneous appropriations from the Executive Budget. That money is for distribution to various sport and recreation related non-profits. The largest beneficiaries in the FY 2018 budget are the Boys & Girls Club of the Virgin Islands, with an appropriation of $100,000, the V.I. Olympic Committee with $90,000, and the St. Croix Swimming Association with $88,200.
The two other entities whose representatives testified at Wednesday's budget hearing receive less funding from the General Fund than Sports, Parks and Recreation.
The V.I. Department of Labor's recommended FY 2018 budget includes approximately $3.9 million from the General Fund. The budget also includes an appropriated $1.14 million from the Government Insurance Fund. Together that amounts to $650,000 less in appropriated funding than FY 2017, an 11 percent cut.
Labor's recommended budget also includes $798,000 in non-appropriated local funds, $6.3 million in federal funding, and $1.5 million under the miscellaneous section of the budget to pay the interest on the Unemployment Trust Fund loan.
The Department of Labor spends approximately $636,000 on rent for its offices, and in FY 2017 paid more than $1.8 million in professional services, mostly for website and software development via a contract with Evertec Group, LLC.
The third entity whose FY 2018 budget was on the agenda at Wednesday's hearing was the Office of the Adjutant General, which oversees the operations of the V.I. National Guard.
Few questions were asked by senators about the troubling federal report released by the U.S. National Guard Bureau in August, which alleged instances of sexual assault, harassment and fraud at the V.I. National Guard during recruitment and training. (Related Link: Mapp: Sexual Assault Within V.I. National Guard Will Not Be Tolerated)
Adjutant General Deborah Howell said in her testimony that the investigation behind the report was ongoing, and that she could offer few details. When asked if federal funding for her office or the V.I. National Guard is in jeopardy due to the report, she responded that it is currently not.
"The V.I. National Guard consists of 760 service members," said Howell. "I speak for the 703 soldiers and 57 airmen serving in our ranks and their families, when I say we are committed to correcting our course."
The Office of the Adjutant General receives far less in local funding than it does federal funding. The office's recommended FY 2018 budget includes projected federal funding of $5.4 million, in addition to $1.1 million from the V.I. Government. Recommended local funding for FY 2018 is $125,400 less than the current fiscal year, a cut of slightly more than 10 percent.
Present at Wednesday's information gathering hearing were Sens. Vialet, Marvin Blyden, Neville James, Nereida Rivera-O'Reilly, Brian Smith, Tregenza Roach, Dwayne DeGraff, Novelle Francis Jr., and Janelle Sarauw.