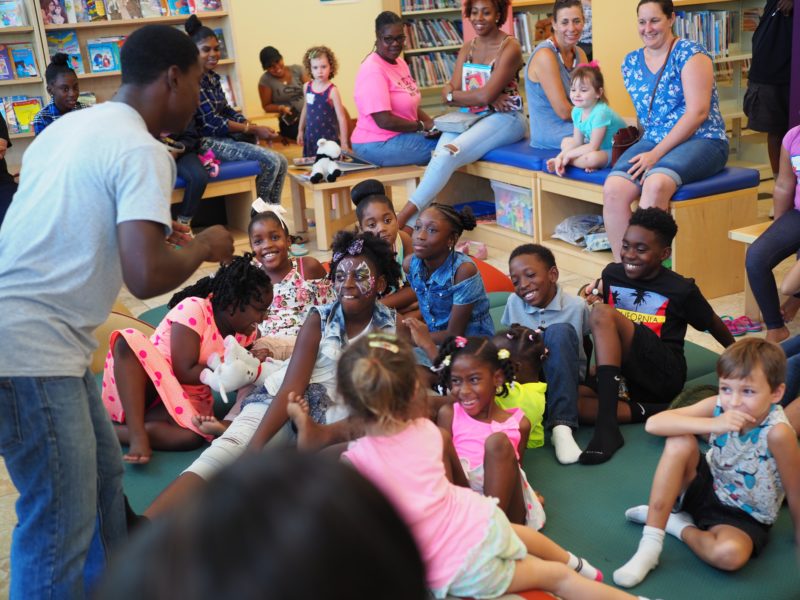 Families in the St. Thomas-St. John district enjoyed a fun, literacy-filled evening of activities at the 2017 Back to School Night at the Library, held on Saturday, Aug. 19, at the Charles W. Turnbull Regional Library.
In its second year, Night at the Library is a joint effort between the Virgin Islands Department of Education and the Department of Planning and Natural Resources' Division of Libraries, Archives and Museums. The family-friendly event is a celebration of literacy; it supports the 9th annual Governor's Summer Reading Challenge (GSRC), which challenges students in grades K-6 to read five or more books over the summer.
It kicked off with classic storytelling by Rick Grant, who read his book, "When I Grow Up," to an audience of parents and children. Grant's book is one of six titles featured in this year's challenge. Master storyteller Yohance Henley followed with an entertaining folkloric Anansi story told in local oral tradition. Education Commissioner Dr. Sharon Ann McCollum attended the event, and echoing students' feedback, she asked for Henley to tell one more of his moving tales.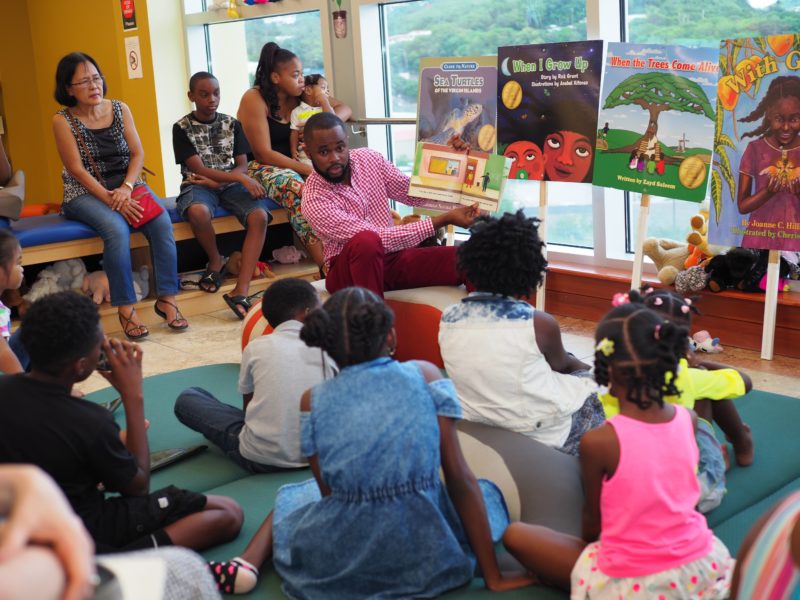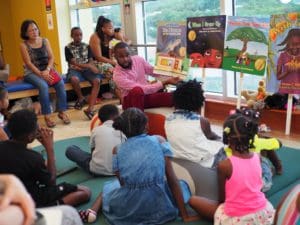 Primary and pre-school students participated in an imaginative coloring workshop where they paired up with other students to produce original stories based on their artwork. University of the Virgin Islands (UVI) professor Pamela New facilitated a poetry breakout session for intermediate students. She taught students how to recite a poem with emotion and buzz words that they would later perform for their parents and event attendees in the library's state-of-the-art theater.
Parents joined in on the fun, as well. They were treated to a workshop by the Positive Behavioral Interventions and Supports (PBIS) team on strategies to encourage reading and how to use praise and token economies. They also assisted their children with art activities.
One of many highlights came from local magician Melo Magic's incredible show. Students, their parents, staff and volunteers were all captivated by several unbelievable tricks and illusions. The evening ended on a high note with a scavenger hunt leading the kids to several locations in the library.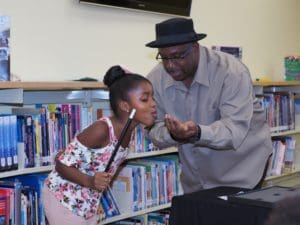 Following the event, students received a Viya reusable bag of goodies containing a V.I. activity/coloring book, playing cards, a Home Depot Kid's Workshop Kit, an application for a library card, a self-assemble paper visor, stickers promoting the DPNR's anti-litter Squeaky campaign, and copies of Student Quarterly Magazine. An assortment of books was also available for students to select from and take home.
Volunteers for Night at the Library included members of local Chapter No. 6 of the Eastern Stars, Friends of the St. Thomas Public Libraries and a handful of community members.
The St. Croix edition of Night at the Library will be held from 5-8 p.m., Saturday, Aug. 26, at the Florence Williams Public Library.