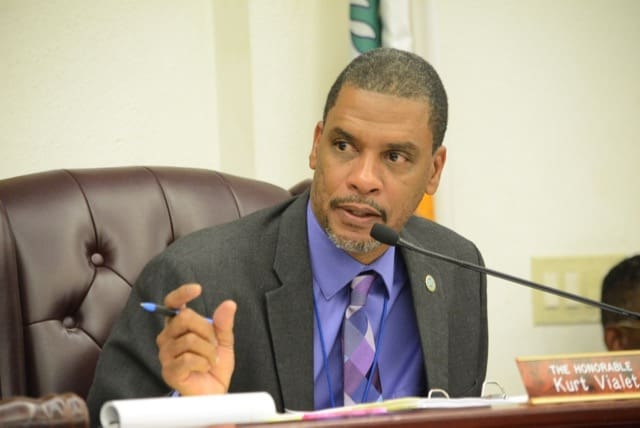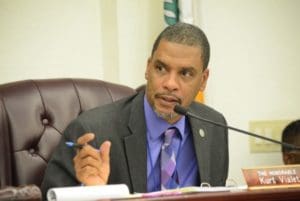 Multiple members of the 32nd Legislature's Committee on Finance said Tuesday that they questioned the adequacy of the Bureau of Economic Research's role in the government's FY 2018 budget process.
The Bureau of Economic Research, which is under the Office of the Governor, provides statistical reports on aspects of the V.I.'s economy which are used by various agencies and businesses for budget projections. The BER was one of four entities whose representatives offered testimony at a budget hearing before the Committee on Finance on Tuesday.
While some senators said they understood obstacles the bureau faces in producing its reports, including months-long lag times in getting access to data from its sources, others said the bureau was not meeting their expectations.
"I don't know if we are getting accurate information," said Committee Chairman Sen. Kurt Vialet.
Vialet pointed to a BER-generated report on hotel occupancy rates to demonstrate his point, data he also made reference to during a budget overview hearing on July 26. Vialet said that the reported occupancy rates appeared to him to be low, and did not match month to month fluctuations in the collection of hotel occupancy taxes.
BER Director Bernadette Melendez pointed out that submission of occupancy numbers by hotels is a voluntary process, to which Vialet suggested that it should be made mandatory and BER should be aggressive in collecting the data.
At times during Tuesday's budget hearing, Melendez's responses to senators' questions appeared to contradict information attributed to her bureau by the FY 2018 budget overview submitted to the legislature a week earlier by Nellon L. Bowry, Director of the Office of Management and Budget.
When asked how the bureau perceives economic growth in the territory, Melendez said it was "basically moderate," although the BER's most recent report on GDP, for the year 2015, indicated the territory's GDP had leveled off to a slow recovery at .2 percent growth after declining by almost a third over the previous five years.
When asked what industries were driving economic growth in the V.I., Melendez mentioned construction and manufacturing, although BER research cited in the overview indicated that construction jobs declined in 2016.
On the subject of tourism Melendez said Tuesday that cruise ship arrivals have seen a "slight decrease" in the past year. BER research, however, states that cruise visitors have declined territory-wide by almost 20 percent, most dramatically on St. Croix, where the decline has amounted to almost 75 percent.
"The issue I'm having is, it's not a slight decrease. St. Croix lost half its ships," Vialet said.
The BER has five employees, none of whom are located on St. Croix. Melendez said the bureau's staff is down from 15 people 15 years ago.
Vialet and Sen. Nellie Rivera-O'Reilly both said they would like to see BER eventually incorporated into another agency, instead of the Office of the Governor.
"I have always maintained that BER is not maximized," said Rivera-O'Reilly. "That what BER is doing, based on what bureaus of economic research do nationally, should be intensified."
Rivera-O'Reilly said she had in mind a more integral role for the bureau in helping plan certain aspects of the budget, rather than "just being a place that collects data." She echoed other senators' concerns that often data is compiled into a report after policies have already been set and made, rather than the bureau working hand in hand with policymakers.
Melendez indicated that BER has been involved in conversations with Gov. Kenneth Mapp and his financial team during the budget process, but not at the level she would like. Mapp has not had a senior economic advisor on his staff since the 2016 departure of Simon Jones-Hendrickson, a fact for which the governor was chastised at Tuesday's hearing by Sen. Neville James.
James also took issue with the fact that the early part of the hearing was dominated by questions about the operations of BER, rather than its budget and the budget of the Office of the Governor.
"This is a budget hearing. You're running from talking about budget, which is costs, not operations. This is a budget hearing." James said to his colleagues.
The requested budget for BERS, which includes a small cut of $8,000 for FY 2018, makes up just six percent of the proposed budget of the Office of the Governor.
Present at Tuesday's hearing were Sens. Vialet, James, Rivera-O'Reilly, Janette Millin Young, Marvin Blyden, Brian Smith, Tregenza Roach, Dwayne DeGraff, Janelle Sarauw, Novelle Francis Jr., Jean Forde, and Myron Jackson.