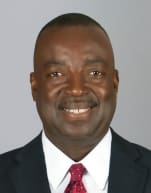 Virgin Islands residents should safeguard their savings from investment fraud by becoming informed investors, according to a press release issued Wednesday by the Office of the Lieutenant Governor.
Lt. Gov. Osbert E. Potter said, "Fraudulent schemes may include newspaper advertisements promising free money; unsolicited phone calls or e-mails promising individuals a supposed 'high-return, low risk' opportunity; or financial seminars where high-pressure tactics are used to extract monies from investors. Red flags should be raised, for example, if securities are unregistered and if there are restrictions on the resale of securities. Caution should also be exercised whenever an investment promises the avoidance of taxes or an individual is pressured to recruit family and friends to the investment opportunity."
Members of the public are also advised that they should always check the background and registration status of persons and companies providing investment advice or offering 'money-making' opportunities. Investment funds should never be entrusted to anyone simply because that person is a friend, family member, co-worker or member of one's church.
Any individual or entity offering investment advice or selling a financial product in the V.I. must be registered with the Division of Banking, Insurance and Financial Regulation. In addition to verifying an individual's and a company's registration status, the Division can provide critical information about a company's operations and regulatory history.
"Virgin Islanders need to protect their assets at all costs. Members of the public are urged to always call the Division to verify whether any individual or firm claiming to be a broker-dealer, financial planner or investment adviser, or representative thereof, is registered in the territory," said Potter.
For further information, contact the Office of the Lieutenant Governor, Division of Banking, Insurance and Financial Regulation on St. Thomas at 774-7166 or on St. Croix at 773-6459. Consumers may also obtain information on this topic and other banking, insurance and financial regulation topics by visiting www.ltg.gov.vi